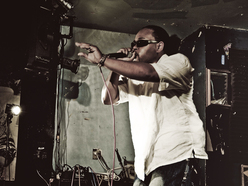 In this issue, Synchronized Chaos is spotlighting a new single from an extremely talented Bay Area-based hip hop creator. The song is "STOP!", from the not-yet-released EP "MANish," and the singer is Bink$ Win$ton, whose artist's statement you can read below
Bink$ Win$ton is a new hip hop artist originally from Oakland, CA. His independent brand, Dolla Bill Entertainment, was created in 2006 and is part of a larger network (Cali House) which includes other artists, consultants, and management. 
As an artist, Bink$ has never been known to "pull any punches". His writing is often brutally honest and tends to reflect the blue collar perspective of the people from the Bay Area. His music conveys a "realness" that in some ways gets lost in today's hip hop culture. Bink$' music is most often identifiable to the average man and woman, not only in "the ghetto", but also in other communities where people face common issues (which may only look different). 
He frequently performs locally (most often with his childhood friend K.nighshift and Deejay Crimson), and has worked with other artists such as The Dime (Richmond, Ca) and has collaborated with artists from Grizzly Bear Entertainment (Jersey City, Nj). His promotional video "STOP!" is from his upcoming EP entitled "MANish". 
More of Bink$ Win$ton's music and info can be found on sites such as Facebook, Twitter, Soundcloud, and Reverbnation; while he is managed by Blue Funk Management out of Oakland, CA (blue.funk.mgt@gmail.com).
And now, without further ado, here's the music video for "STOP!" It was directed by Cynthia Blancaflor of Rising Star Productions, produced by Bres$Ez for Rapture Entertainment, and filmed in Oakland.
Be sure to take a look at Bink$' social media pages:
Facebook: http://www.facebook.com/BinksWinston
Twitter: http://twitter.com/BinksWinston
ReverbNation: http://www.reverbnation.com/binkswinston