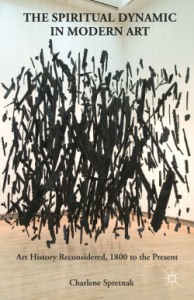 Charlene Spretnak, a stellar literary artist in her own right, has recently unleashed her revisionist tour de force, The Spiritual Dynamic in Modern Art: Art History Reconsidered, 1800 to the present.
This, Charlene's seventeen-year labour of love, leaves few stones unturned; as she provides us a narrative of modern art history via her personal spiritual prism.
I particularly enjoyed her treatment of acclaimed earth-body artist/a, Ana Mendieta (pp. 165-6); whose pioneering contributions, though highly profound, were greatly limited by a shortened life.
The Spiritual Dynamic is about modern art as much as it is about modern people. Nowhere is that more evident than in the afterword, where Charlene's true passion is on full display:
"We moderns have long been slipping into a detached solipsism that shrinks us further into ourselves….but the great works of modern art have never surrendered to it." (p. 204)
Great writers author great books because they feel burdened to do so, and Charlene Spretnak is no exception; for The Spiritual Dynamic in Modern Art is more than a mere exposé of our collective creative burden..it is an invitation for everyone to join in the lifting. Count me in.
---
Interview