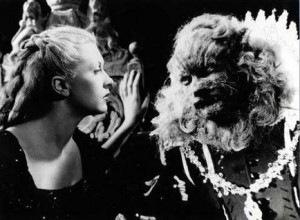 Josette Day as "Belle" and Jean Marais as "the Beast" in Jean Cocteau's La Belle et la Bête.
GIVE ME BACK MY BEAST!
La Belle et la Bête
An Opera by Philip Glass
(based on the film by Jean Cocteau)
The Philip Glass Ensemble, with vocal soloists
Conducted by Michael Riesman
To celebrate Philip Glass's 75th birthday, the Philip Glass Ensemble came to San Francisco to perform the magisterial minimalist's opera, La Belle et la Bête ("Beauty and the Beast," based on Gabrielle-Suzanne de Villeneuve's celebrated fairy tale).
What makes this work unique is not that Glass based his work on a film; he had already done so with the first of a trilogy of works based on work by the unforgivably talented, unapologetically gay, and compulsive appropriator of surrealist gestes, Jean Cocteau: the chamber opera Orphée.
Here he went a good deal further. He stripped out the entire original soundtrack (which took some gall, as it's a very fine one, composed by Georges Auric, an original member of the bad boys of French modern music, "Les Six") and replaced it with an original score, with singing parts for the original spoken ones, the entirety performed live as the film is screened overhead.
And he chose a nearly perfect source, as Cocteau's 1946 film – with actors Jean Marais, Josette Day, and Raoul Marco, and handsome camera work by Henri Alaken – considered by many critics to be Cocteau's masterpiece, is a work itself of near-operatic fantasy.
What might have turned out to be one more lamentable exercise in postmodern kitsch is a near-masterpiece, a posthumous collaboration that would probably have tickled the ever-experimenting Cocteau.
The story is almost too well known to recount, yet is told with a few fresh twists: Belle, a Cinderella-like figure, is scorned and exploited by her two wolfish sisters and ne'er-do-well brother, though doted on by a father oblivious to his daughter's misery – Belle is an unwittingly willing victim, in which those who love her, and even she herself (through an ideology of self-denial that reinforces the victim's weakness and the power of the dominant – sound familiar?), comply in her servitude. She has a lover, a companion of her irresponsible brother, whom she refuses to marry because she feels bound to take care of her oblivious father, who allows Belle to be bullied and exploited by her two older sisters, who intend to get married and out of the household as soon as they find victims – er, husbands.
The father goes off to the city after promising Belle he will bring her back the only thing she asks for: a rose. After a business venture goes badly awry, he rides back home through a forest at night, where he discovers a magic castle, magically alive, which he enters and is served a feast by magical servants. Later he visits the castle's garden, where a rosebush blossoms. Remembering his promise, the old man plucks the loveliest rose for his daughter. Upon which the prince of the castle, a hideously deformed monster (in the film, he looks like a giant cat, with sensitive ears that telegraph his feelings, perking him up when he says a prey for his next meal in one of the film's deftly humorous touches), appears and tells the old man he has committed the one crime that is unforgivable in that castle, and now must die. The old man pleads for his life, and the monster relents, telling him he can go home to give the rose to his daughter, but only if he promises to return.
Once the old man is home again and tells his children of his plight, Belle refuses to let him go back, and goes in his stead, to face death as punishment for her father's crime. But the monster, upon seeing her, falls instantly in love and instead of killing her, imprisons her in his castle and begins to woo her, even though he is aware that his hideous ugliness makes it impossible for anyone to genuinely love him.
Some men feel a curious self-contempt when they become aware of the strong physical feelings they have for women they admire and love; this story works well as an allegory for this, in an age that likes to pretend it is beyond such callowness.
The film, while never losing its fairy-tale quality, never falls into camp or archness, satire or over-sweetness, even at the dangerous happy-ever-after ending: it has a darkness, a fadedness and grittiness, that gives it, for all its fantasticality, a hardness, an actuality – like any poem worth its salt. This helps make the film's final transcendence peculiarly credible and moving. Never has wishful thinking had a kinder, more eloquent advocate. (Though the final transformation of the Beast into a prince has disappointed some; is fabled to have made even Marlene Dietrich cry out, "Give me back my Beast!")
Cocteau, who had made only one film before this one, in 1930, the surrealist classic Blood of a Poet, had refined his cinematic technique so that he knew just how much magic he needed to create in his world: disembodied arms holding candelabra in darkened hallways, disembodied hands pouring wine into the old father's goblet, the masklike heads carved into the fireplace mantel shifting their eyes in curious glances at the innocent human partaking of his magic fare without so much as a question, Belle moving down a long corridor wafted by curtains blowing from floor-length windows, on invisible wings, without stirring her dress or seeming to move a shoe.
Joining Cocteau's magie, douceur et poésie is Philip Glass's. The signature style of the master musical stylist of our time is much in evidence. The essentials are all there: a steady rain of eighth-note ostinati, with the occasional long arpeggio, broken unpredictably by stately static chords; a steady house-music like pace that rarely varies over the 90 minutes of the work; continuous harmonic variation; and a keen sense of orchestration, which his ensemble, which includes several keyboards that can produce a theoretically infinite number of different sounds, makes possible.
Glass does not always avoid the danger of monotony, though what is remarkable is that he fails so rarely. He does this by constantly varying the melodic shape of the rhythmic ostinati and rarely allowing the music to sink into a groove of exact repetition except where such figures work to create a feeling of oppression or suspense. The singing lines are not arias but quickly paced, almost conversational lyrical recitatives, which cut through the ostinati like shards of roughness through what is sometimes an excessive smoothness of musical texture.
One peculiarity (noted by Romancha Pralapa) is that the original film is 94 minutes long, but the opera is only 90 minutes, as Glass, when composing the score, seems to have used a version of the film projected at too fast a speed. The result is that the performers in the film act and speak at just slightly too brisk a tempo, which has the effect of making the film seem a little like old-fashioned screenings of silent films before modern projectors were able to project them at the originally intended speeds.
The Ensemble has this music in their blood and clearly love the score. The admirable singers were Gregory Purnhagen, Hai-Ting Chinn, Marie Mascari, and Peter Stewart.
The opera was performed, as part of San Francisco Performances, at Yerba Buena Center for the Arts' Lam Research Theater.
Christopher Bernard is a poet, novelist and critic living in San Francisco. His novel A Spy in the Ruins was published by Regent Press (http://www.regentpress.net/spyintheruins). He is also a co-editor of the literary and arts webzine Caveat Lector (www.caveat-lector.org).