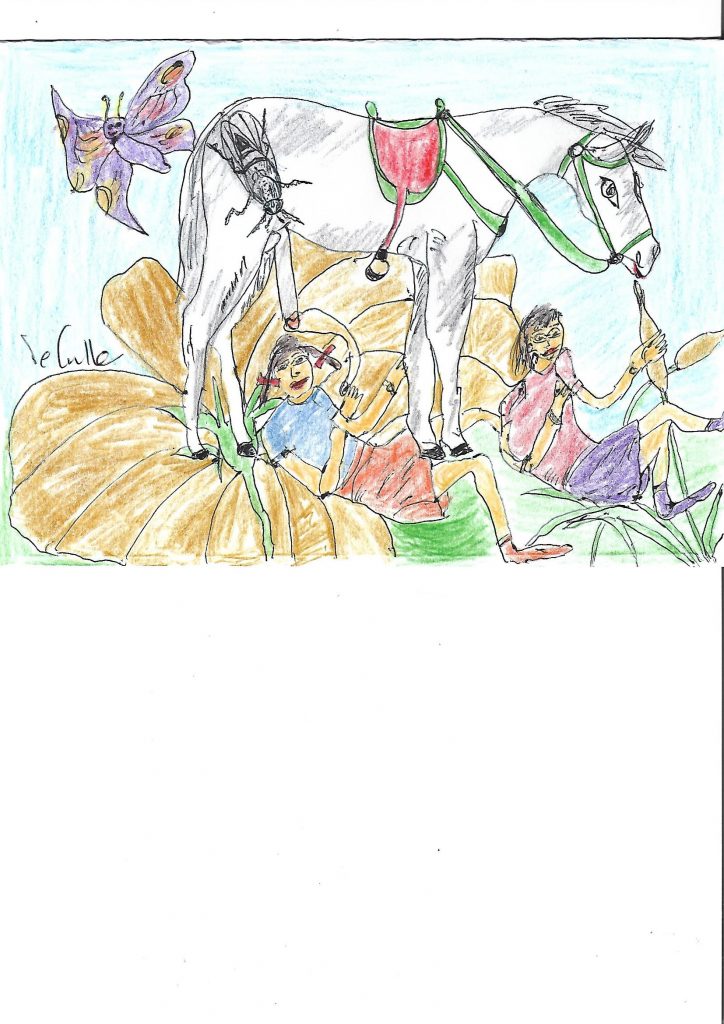 THE ANNE AND ELIZABET'S FALL FROM EVE'S WHITE HORSE In a threshing floor from Moradillo de Roa, Burgos, I was reading about the Crossing between a female Drosophila with red eyes and a male with white eyes from which is obtained in the first filial generation only exemplars with red eyes, both males and females; in the second generation, 75% of individuals have red eyes and 25% have white eyes; but the latter are all males, when, suddenly, I heard neighing, firing or emitting its voice the Eve's nice white horse, throwing through the air, at the same time flapping his front legs, her cousins ​​Anne and Elizabeth who, luckily, fell on grass, flowers and reeds without hurting with any consideration.
I believe that horse was stung by a fly, of those people call "harmful of balls"; that horse saw a gray rat, which looked like a rabbit with long ears; or that an Ass, walking, rebuzzed picking on a She Ass on the road that goes to Fuentenebro, crossing the Puddle of Frigs", where, according to people, Ass fell in love with the She Ass, with punctuality and accuracy, faithful and exact in the fulfillment of duty, showing itself as the phenomenon that is among living beings.
The townspeople came and swirled to know what had happened; asking if girls had suffered any harm. The white horse was high in relief, and the girls stood out very clearly that they had not suffered in the fall. Eve tightened her horse more closely, mounted it and, like a power that governs and directs such a beautiful animal, marched towards La Sequera, moving with the wind, showing herself excellent in her actions.
Next day, Anne and Elizabeth felt pain or an ache of some rib that was injured in the accident. Now, at this moment, they were helping their grandmother filling with minced meat or other ingredients, Anne a bird; Elizabeth, a cake. Meanwhile, I hammered the point of a nail into the wall after being nailed in order to give it a greater firmness by hammering, and that it could not damage any garment that was hanging on the rack.
The grandfather and the others had gone to Las Viñas (Vineyards), to work with fatigue and eagerness, "as God commands", as the grandmother generally says. -Daniel de Culla –
Daniel de Culla is a writer, poet, and photographer. He's member of the Spanish Writers Association, Earthly Writers International Caucus, Poets of the World, (IA) International Authors, Surrealism Art, Friends of The Blake Society, and others. Director of Gallo Tricolor Review, and Robespierre Review. He participated in many Festivals of Poetry, and Theater in Madrid, Burgos, Berlin, Minden, Hannover and Genève .He has exposed in many galleries from Madrid, Burgos, London, and Amsterdam. He is moving between North Hollywood, Madrid and Burgos; e-mail: gallotricolor@yahoo.com