The Taste of Artistic Compassion:
Interviewing Egyptian film director Dina Abdelsalam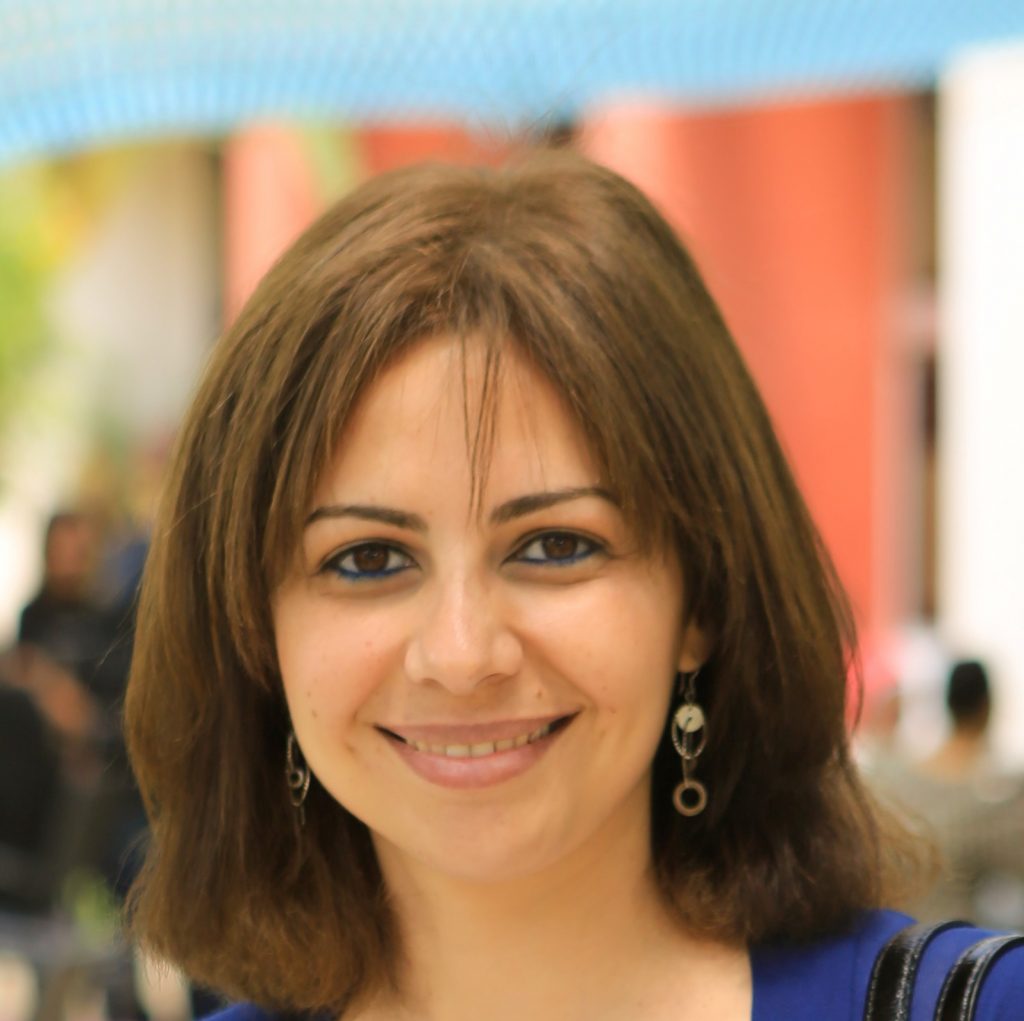 Director Dina Abdelsalam
It was the end of an abusive friendship.
My abusive relationships share a common theme of ending during summer. To celebrate, my Mom invited me to attend a movie screening at the prestigious Atelier of Alexandria; one of the major hubs for nurturing contemporary culture in the cosmopolitan Egyptian city. Before watching the feature narrative titled Mesteka and Rehan, I looked up more details on Google and found out –to my delight- that the director was a female and this was her third film. Dina Abd Elsalam had more titles attached to her name. A short film titled Rest in Peace, a documentary titled Girls of a Feather, and two published books, one which I have read earlier A Text without Heroes.
Mesteka and Rehan are the two titular protagonists. Mr. Rehan, an elderly Christian man, befriends his elderly Muslim neighbor Mrs. Mesteka and they bond over food, shared memories of the past, and the will to survive despite a constrained life. Audiences laughed throughout the film, where simplicity and dedication to telling tales of normal people overthrew the need to showoff directorial prowess. The experience delighted and fascinated me. I was furthermore intrigued by the female director's choice of her topics, plots, and subjects.
There aren't that many Egyptian female directors, especially in the post-millennial world after the glow of controversial director Inas Eldeghedi died out with her last flop "The Princess Fanatic" which featured an impossible, fantasy love story between the late Princess Diana and an Egyptian stoner!
Yes, there are Kamla Abu Zekri, Ayten Amin, Hala Khalil, and Mariam Abo Ouf, but still, the female directorial experience has a long way to go as compared to the ever-evolving relationship between the artistic and the mainstream experience of their male peers.
Dina Abd Elsalam is an award-winning director. She won awards –both nationally and internationally- from prestigious film festivals and associations such as the Egyptian National Film Festival, the Ismailia International Film Festival, Rencontres de L'image Film Festival (French Institute-Egypt), the Alexandria International Film Festival, Shnit Worldwide Short Film Festival and L-Dub Film Festival.
I sought Dr. Abd Elsalam – who holds a Ph.D. in Critical Theory and currently works as an associate professor at the English Department at the Faculty of Arts at Alexandria University- on social media and our interview started with the inevitable question:
How can a successful university professor be a prolific director, an auteur with a distinct style, cinematic language, and persistent tone?
"I graduated in 1998 and started my career as a TA in 1999. After I got my Ph.D. in 2010, I pursued further studies and was promoted to an associate professor. I have been teaching for 21 years. It has been a long academic journey. Academia is nurturing and fulfilling of course, but the need to engage in creativity has been lurking underneath for years and I knew it would surface one day. I still teach at the university, in addition to directing films and writing. As for writing, I wrote a novel [which you read] and lately managed to publish a short story collection titled Recycling, in addition to publishing articles on varied cultural themes every now and then. I also write or co-write the scripts of my movies. Lately, I have collaborated with Ashraf Mahdy on a number of scripts; the idea is usually mine, then we develop the script together. That was the case with Mesteka and Rehan as well as my latest movie Wesh El Afas – Cream of the Crop."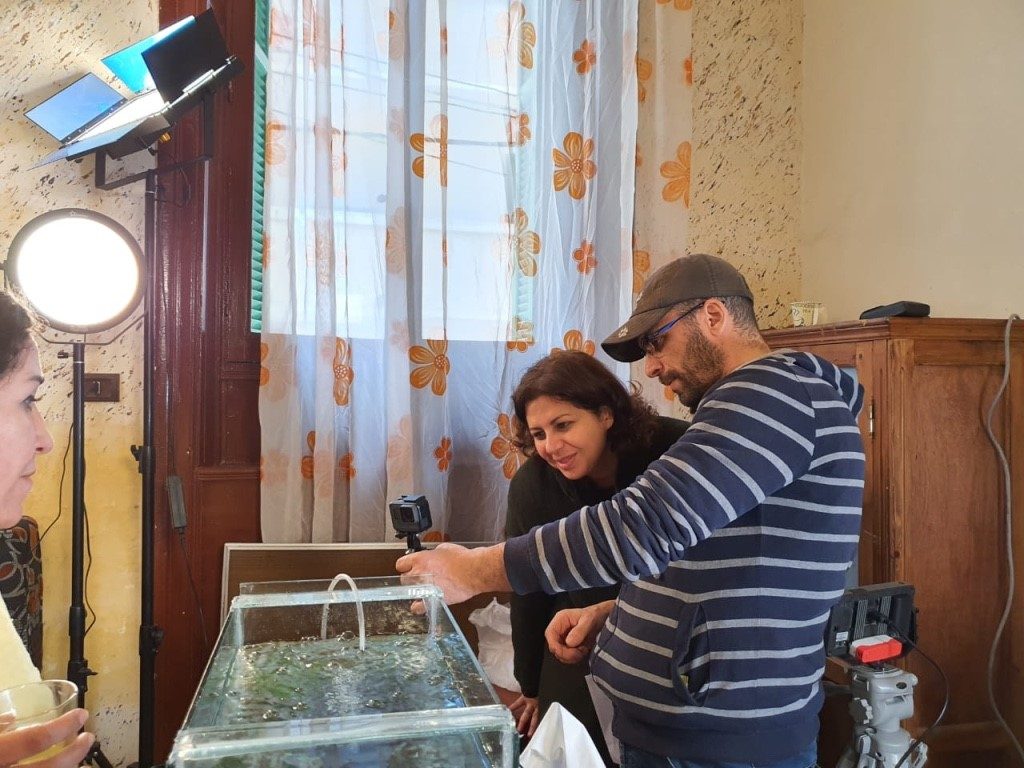 Behind the scene photo from Abdelsalam's film Wesh El Afas – Cream of the Crop
It's obvious that Abd Elsalam's films belong to the auteur cinema; she has the original idea, writes the script, and directs. She has a distinct style, tone, choice of topics and camera work, I wondered who had an influence on her as an artist,
"My films belong to what is known as auteur cinema, in which case the director is also the writer of the film, has the main vision of the work and is in full control of the script either by writing it or taking an active part in the scriptwriting process.
I have always known about Abbas Kiarostami [the great Iranian director] and have watched "The Taste of Cherry" early on in my life. When I started my directing career in 2010, I had not watched the full corpus of Kiarostami's films. Three years ago, I watched them all and was struck by the affinity I had with his movies. This guy did everything I'd love to do with my art. His low-budget films profess a great deal of authenticity, sincerity, and truth. I instantly felt we shared the same vocation. Despite the lack of funding and resources, I strive to document authentic, real moments of life without forced directorial intervention. My target is to capture humane, precious moments as they unfold without unnecessary artistic preparation and intervention."
Abd Elsalam–to my joyful surprise- retains the curiosity of a young teaching assistant stepping into her career with wide eyes and an openness that is usually reserved for younger artists. I had to ask her how she was able to juggle a demanding, well-respected career such as a univesity professor in the Egyptian society with the liberated, evolving artistic ventures of an auteur; to be specific an independent film director,
"To be able to answer this question I have to go back in time. But let me start with an analysis of how people perceive me as a unviersity professor.
Many people think that the prestigious position of a university professor is more than enough and I have often encountered many people wondering why I ever need to make movies or write. But my answer is simple. Academia would have consumed me totally had I not given way to my passion for creativity. Early in my childhood, I discovered that I had an artistic side in me. I used to play the piano and I still remember my Italian teacher, Ms. Pappo, very vividly. She was around 80 and I was a teenager but we hung out as friends, and not just as mentor and pupil. She taught me a lot about art and life. I also used to draw, sew, act in front of the mirror and read avidly whatever I could lay my hands on.
Graduating from high school is the defining moment for any Egyptian, since it's at this point that one has to make up one's mind about the career one wants to pursue. Unfortuanely most Egyptians let their grades decide for them, and most of them are pushed by their parents to join the so-called "top-ranking" faculties, namely Medicine and Engineering. When the time came, my grades were very high. I could have easily joined the Faculty of Medicine. The pressure was even greater because my father is a physician and he has a clinic. Everybody was pushing me towards taking this road, except my parents, who were amazingly understanding. My journey would have been completely different had I chosen to study Medicine and practice with my Dad. But I didn't find it in myself to become a doctor. I dreamt of applying to the High Cinema Institute. But back then it was in Cairo –which was a major hindrance- as at that point, it would have been very difficult for me to leave Alexandria and settle in Cairo all by myself. I was a young, sheltered, family-oriented girl, like most girls my age. The closest thing to nourish my thirsty artistic self was to join the English department at the Faculty of Arts at Alexandria University where I would be able to read a lot of novels and study drama. I was already passionate about English literature and there is no denying that the cinema and literature are inter-connected in so many ways. I never regretted joining the English department. It helped formulate my ideas, gave me substance and a solid literary background which enhanced my writing abilities. It also enabled me to develop a fine taste and appreciation of good art. We also did philosophy and civilization which broadened my knowledge and opened up my senses to the world.
But I never for once forgot about my old dream. My passion for cinema came back in my early thirties, which I think is a very rich age for people in Egypt, for this is when they start to bloom and know exactly what they want to do with their lives. It was then that I pursued my artistic drive and fulfilled my urge to make movies. I made my very first film in 2010 This is not a Pipe which I consider a graduation project more than an actual film. In making it, I was trying to find out what it was like to make a film. It was not until my second film Rest in Peace that I started to find my feet, and to formulate my own artistic voice and language."
It has not been an easy road. A lot of Egyptian middle-class families discourage their kids from going down the "true artist" bumpy road, whether because of societal and religious restrictions or because of the lack of financial stability and societal security which this road incurs. Abd Elsalam faced that sort of astonishment and incredulous reactions when her acquaintances and friends learned that she did not make money out of her movies, and actually had to pay from her own pockets to finance them,
"People don't understand that I have something inside me that craves creating these stories and characters and delivering them in film form. They think my head is in the clouds. People weigh everything in terms of financial gains. The fact that critics wrote about my films and that I won awards doesn't count for them.
Sometimes I do ask myself why am I doing this? I have an established career. I could have easily resorted to writing instead of making movies, since it is much easier. Of course writing is demanding; you think a lot; you put a lot of your feelings into what you are doing; you are preoccupied with your work day and night. But making a film is a completely different story. You handle the film throughout all three stages – pre-production, production, and postproduction. What makes it worse is that as an indie filmmaker, you are the writer, director, producer, editor, and sound mixer if need be. You also have to look for a harmonious team, pull all the threads together, pay a lot of money and rent equipment and hire technicians.
I sometimes say to myself during moments of extreme exhaustion: why not end it all? I could vent my artistic urge through writing books. It would be much easier. These moments of doubt usually attack me after I wrap up every film of mine (because it is at this that I'm at the peak of exhaustion), then I find myself moving on to a new film project. The calling is too big to be curbed, I guess."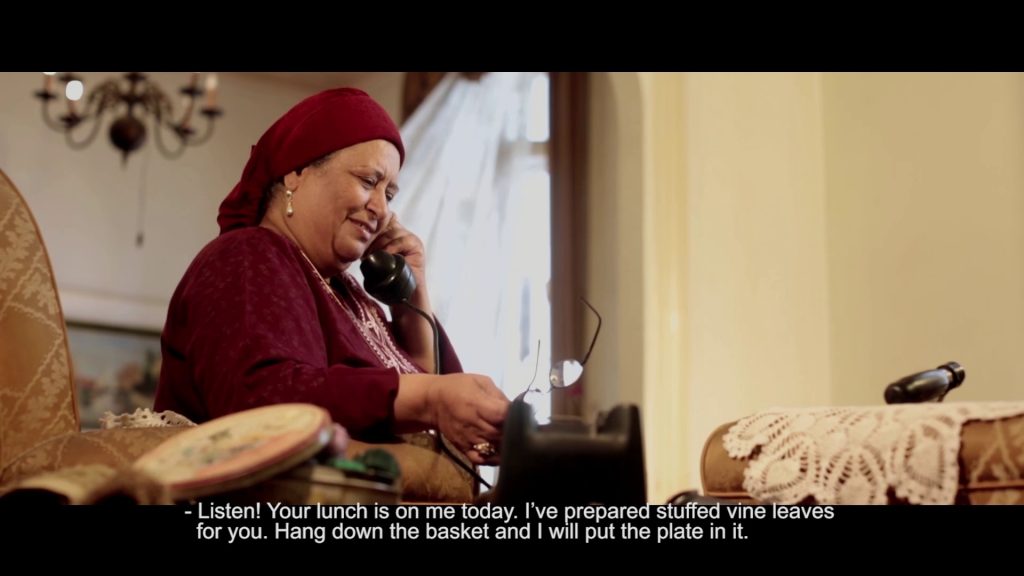 Still from Abdelsalam's film Mesteka and Rehan
Abd Elsalam loves to reflect on issues while answering her questions. I find it a common trait while interviewing multiple women, how detail-oriented they are when it comes to talking about anything in their lives from toxic masculinity in the workplace to feminine expression. This is no surprise. To find your voice in a world dominated by men who are constantly trying to silence you is a long, bumpy road. I asked Abd Elsalam when it was that she found recognition for her directing style,
"I guess that happened with my second film Girls of a Feather as that's when I started hearing the comment "Is this a film by Dina Abd Elsalam? It has her spirit and signature". People started recognizing my voice. Of course having a distinctive voice is a wonderful thing, but for me, it's never final. To do the same thing over and over again, means one has stopped trying, and this signals the beginning of the end. I keep working on myself; finding my style [or voice] is a continuous process of self-development at each step of filmmaking. Scriptwriting, rehearsing with my actors, retailoring the scenes according to the characters I have, and editing are all part of my self-evolving artistic journey. I am not one-track minded. I am always open to innovation and the creativity around me, be it in the actors', the locations, the DOP's eyes, or the music composer's ears. I keep talking to my creative collaborators until they become active participants in the filmmaking process."
Girls of a Feather tells the story of how a group of elderly ladies usually go on trips together. The film starts as they head towards the fishermen's village at Elmax in Alexandria to spend the day and eat fish, but more importantly, their love, sisterhood, and solidarity shine as the place gradually becomes more beautiful and radiant. The film was shot with small, handheld cameras in the presence of minimal cinematic equipment. One might ask if Abd Elsalam's documentary shows the reality of Egypt's aging female population,
"Yes my films belong to what is broadly known as realism, but I personally belive there is no such a thing as a realistic film, rather it's the artist's point of view of life. If we ask someone to make a movie about a group of old women, they might choose to film them in a care home, not on a trip as I did. It's all about one's angle of vision. Art is not a reflection of reality, rather it's the point of view of the artist concerning certain issues.
Some people might view my documentary Girls of a Feather as unrealistic. Elderly women do not have fun with all the health complications they suffer from. They spend most of their time in bed needing daily care and monitoring. This could be true. But I chose to focus on the positive side in those women's lives and their survival techniques. To my mind, this minor population has the ability to enjoy the simplest of things in life, which is becoming increasingly difficult in our modern material-driven world."
I asked Abd Elsalam for the inspiration behind Girls of a Feather which you can easily watch here:
"One of my aunts used to go on similar trips as the women in the documentary. She visited places in Egypt which I have never been to before. Never had she been an outdoors person. And suddenly in her sixities, she abandoned her sheltered life and started embracing the world afresh. After long years of caring for her children, she finally had time for herself. It was this sociological change in the lives of home-oriented women that I wanted to focus on in my documentary. In the past, similar trips would have been unheard of. This new societal change was something I wanted to document in my film.
For this particular film, I had to befriend these women. I got introduced to them through one of the actresses whom I collaborated with in a previous film. I am still in contact with them to this day. Luckily, and partly due to my skill with the elderly, they liked and trusted me. The two cameramen who were with me then –Ashraf Mahdy and Abdallah Dawestashy- also befriended the ladies to break the ice and make them forget the presence of cameras during the shooting process, which might have made them self-conscious or uncomfortable [which was] the last thing I wanted in this movie."
One of the things I enjoyed about Abd Elsalam's cinema is how she views the small, confined lives of sheltered women through a positive lens. She does not condemn them but accepts their existence without passing judgement about how they choose to live their lives,
"In Girls of a Feather we see the old women suffering from signs of senility, and walking with difficulty. But still, I love their solidarity, their survival techniques, their stamina, and strength. They were also very funny which impressed me. I admire their desire to go on and how they manage to bring joy to their lives through the simplest of things such as going on trips to ordinary non-extravagant hotels, or cafes or non-fancy hangout venues. Their meal was a simple, cheap fish meal too; and yet they were so happy enjoying it together. Their satisfaction with their simple lives is definitely one of their survival techniques. This film is a celebration of their ability to enjoy life against all odds, their solidarity, their sisterhood, and their resilience. "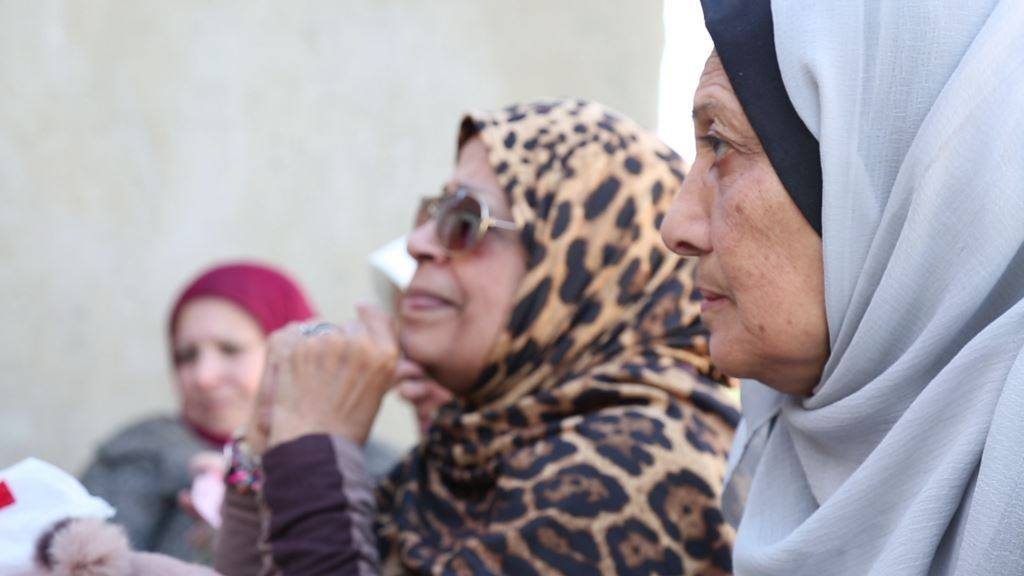 Still from Abdelsalam's film Girls of a Feather
There are two kinds of directors; those who allow actors' input and others who resist it. Abd Elsalam belongs to the latter,
"Some scenes require changes in the script since as we're shooting, actors sometimes come up with different ways of telling their lines. There are elements in the location that might inspire the actors or me to change the script accordingly. I always encourage actors to be completely immersed in the story and start acting the character in the way they like. That's why I always receive the compliment that acting in my films is spontaneous. It is spontaneous since I give my actors that scope of freedom."
Sound is a very recognizable element of the narrative in Abd Elsalam's films. I asked her how she was able to capture that unique sound to reinforce the mood,
"I believe that cinema is a combination of sound and image, that's what distinguishes it from silent cinema. Sound is not merely the musical score but every vibrating sound in the surroundings contributes to the atmosphere of the film. It also brings home the feeling that I want to evoke in the viewer. In Rest in Peace, you can hear a recording of the Qur'an to set the mood. When the women turn it off, the mood of the film shifts dramatically. The soundtrack of the film is also of great importance because it has to retain and further the overall spirit of the film. In Girls of a Feather, several sounds were inserted, though they did not originally exist in the actual film environment."
As a feminist Egyptian writer interviewing a female director who graduated in the Faculty of Arts – English department –which is home to modern Egyptian feminism both intellectually and theoretically- I had to ask Dr. Abd Elsalam whether she considers her artistic expression feminist,
"This is a very difficult question to answer. Typically a feminist is someone who defends and stands up for the rights of women, criticizing the status quo, sending a very strong message about the bad conditions of women which is not what I do. I expose the lives of these women, putting them under the limelight and giving them the chance to express themselves without passing judgment on how they choose to live their lives. These women have the same traditional mindset as the majority of Egyptian women. The film doesn't urge them to change their lives.
But then again my films document societal changes. My grandmother, for example, hardly ever left home; she spent all her life rearing her kids, sewing, cooking, and drinking coffee with her female neighbours. Going on trips on her own was unthinkable at her time. Now things are different due to the increase in tour companies which target this population. These homemakers are no longer home-bound. They have all joined the workforce in the 60s and are now on pension. They have monetary independence and empowerment."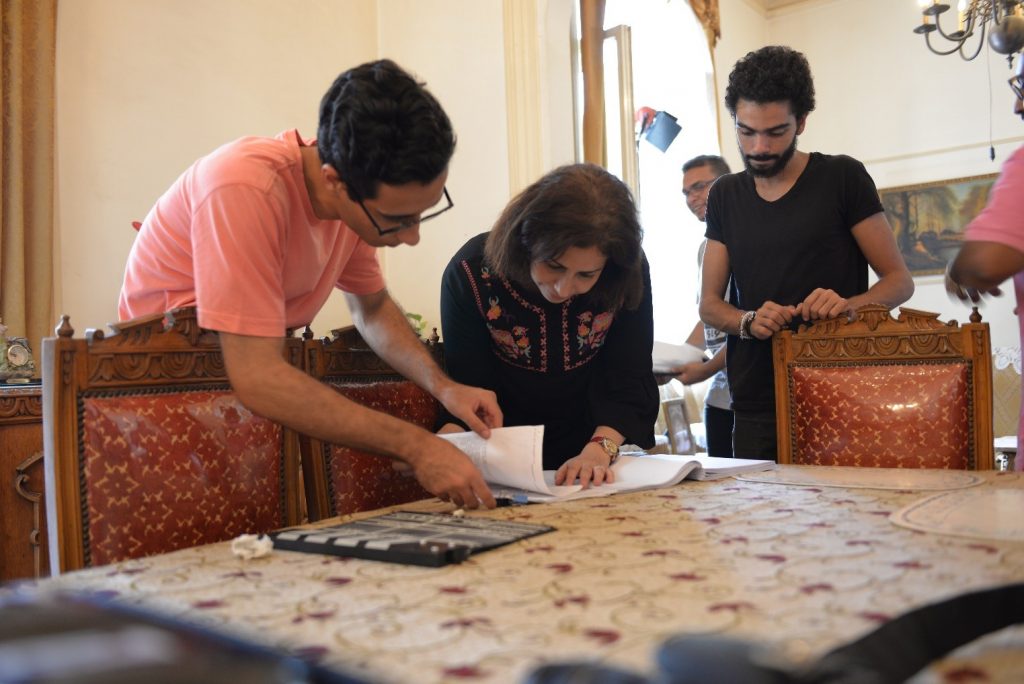 Behind the scene photo from Abdelsalam's film Mesteka and Rehan
One of the scenes which piqued my interest was in Mesteka and Rehan when Mr. Rehan chose to ignore his alarming medical records during his phone call with his distant son. It showed how nonchalant he was about his mortality even though a simple detail showed that it could be sooner than viewers would have expected,
"This is a very smart thing of you to notice. His X-ray result was bad. But he did not mention this to his son. He even asked Mrs. Mesteka to promise to take care of his cat after he passes away. He is at peace with his illness without breaking down or sobbing in a corner. He will go on with his life and enjoy whatever little slice of whatever is given to him. He has this capacity to love and care for those who are around him such as his neighbors and his lazy cat Za'atar, even though he knows he is going to die soon."
By inspecting Abd Elsalam's career –until her recent film Cream of the Crop– all her main protagonists come from the elderly population. She is fascinated by telling stories about middle-class aging men and women as they try to navigate modernity, multiple health ailments, and regrets,
"It's something that I grew up with. Ever since I was a kid, I used to befriend old women. I was so different from girls my age back then. I believe that old people are more willing to open up about their past lives without inhibitions or restrictions. Generally speaking, a person in their 70s or 80s, would look back with maturity to appreciate the good moments and overlook the quarrels and tension. They are more at peace with their past and more tolerant towards their mistakes and those of others. They are willing to freely look back at their past without shame. Moreover, old people are always full of stories and I love the fact that the older you get, the more childish you become. There are tons of contradictions in the elderly; they'are old and wise, but they lose their temper quickly and are difficult to handle. They offer advice and support, but they constantly need our help. Modern technology is a mystery to many of them; handling an ATM, for example, is an arduous venture to most of them."
As one of the pioneer female independent directors in Egypt, I asked Abd Elsalam to give me an overview of what it is like to direct independent films nowadays,
"I have to be honest, this road's no picnic. One thing is that I am implicated in all stages of making a film such as location hunting, sending the call for casting, setting appointments, setting the budget, editing, sound mixing, and contacting all the crew members all the time. I don't have the luxury of hiring assistants to manage this complicated system for me. But again this is the nature of most indie films. The director has to be involved in every single detail of the process.
Another thing is that in the indie scene, most people do not make films for a living. It's either they have another job to support them financially, or they depend on funds all the time to make their films and earn a living, which is very confining and restricting in so many ways.
Though at times you could get help from fellow indie filmmakers, but I was also let down several times by people from the indie scene and my illusions about solidarity and standing by each other's side have been dispelled. I am not denouncing any fellow indie filmmaker by any means. I just became more down to earth over the years, that's all. The indie scene is no different from any other walk of life: there's no black or white, just the grey area in between."
I always thought being a female director in a male-dominated field such as filmmaking requires personal and social skills beyond the average female leadership trope that women often come across in modern workplaces. Abd Elsalam had a different opinion altogether,
"When it comes to directing, I don't think that the way I direct my movies is about bossing people around and throwing orders. My presence onset is usually quiet. I like to make my actors feel at home and befriend them so that they show me the best they've got. The atmosphere is usually friendly and lacks the loud, cringey, authoritative voice. I believe that a taut mood in the location does more harm than good. In my film Rest in Peace people asked me whether these actors were acting or did I capture a genuine moment of two women chit-chatting? I believe the mood of the set allowed the actors to be themselves and to be creative. As a director, there are moments when I need to be domineering, and put every individual back on track to get things going, but these are usually rare on my set. Every member of my cast and crew is creative in his/her own way, and had it not been for them, I would have never been able to make my films".
Abd Elsalam's words fascinated me. I had to see for myself how art was born, polished and the catacombs were drafted to finalize a product that people would understand and associate with the mind behind creating it. I had the pleasure of visiting the set of Abd Elsalam's new film Cream of the Crop and watched the magic unfold. It was my second visit to a movie set –the first being on the set of Egyptian medical drama LahazatHarega – Critical Moments-and the experience was so overwhelming that I decided to write about it in detail. Stay tuned for the next essay where Dr. Abd Elsalam answers questions about directing actors, how writing books differs from scripts, and where she sees her movie after the coronavirus pandemic –hopefully- subsides.
Stay safe!