The Man who Roamed the World
Upcoming Australian Talent Jackson Gallagher Speaks on Photography, On-screen Machismo and Being an Icon of Modern Fan Culture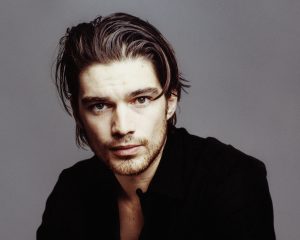 (Jackson Gallagher – credit: Oli Sansom)
One might try a little harder if they plan to scare Jackson Gallagher.
Going from one extreme to the other seems to be his game. From directing serious documentaries to flirting on-screen with countless love interests on the famous Aussie soap opera "Home and Away", Gallagher is not what you'd expect from your average 26-year-old Australian. Being a farm boy and growing up on a farm in Daylesford (a small town in Victoria, Australia) still didn't keep him from barely escaping death during an ice-climbing trip in New Zealand, and traveling deep in the desert on photography missions with the "Act for Peace" organization, Gallagher documented experiences of the Syrian refugees in Talbiah Camp in Jordan and Al-Amari Camp in Ramallah.
What drew him to the experience was mostly, "Talking to the men and seeing how despite everything they try to sustain their integrity, how their roles -as providers for their homes- were affected and it hurts them. As the conversation goes on you could see through the cracks how intense the tragedy they've been through. All their lives they've been caring and looking after their families and now they lost a lot; homes, jobs, prolific careers. The women have shown great bravery in the face of turmoil and tried to maintain a sense of family." The refugee experience had also tremendous importance for him because of his strong opinion on the way the Australian government handled the refugee crisis.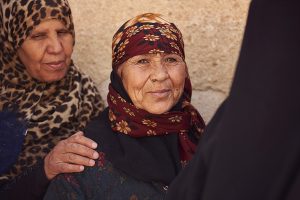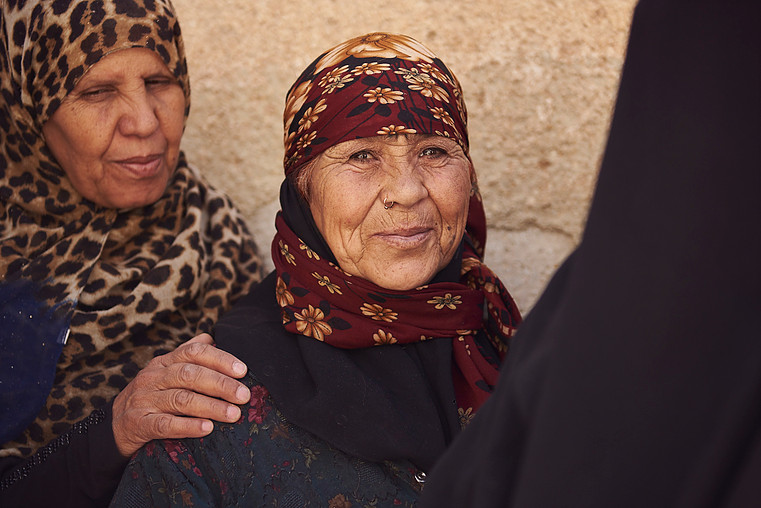 (Waiting in line for ration distributions in Talbiah Camp – credit: Jackson Gallagher)
To Gallagher, that could be the most heartbreaking aspect about the experience. It also allowed him to learn a lot about the somehow mysterious culture in the Arab world. He learned of "Ramadan", the Holy Muslim month and he thought it was a great experience to go and learn more about a world he knew so little about. His observant nature and photographic "eye" for detail –no pun intended- also allowed him to realize the popularity of Egyptian soaps in Jordan and Arab countries, which might have bridged a connection between two different cultures –the writer of this article (Egyptian) and his (Australian)- but it also satisfied my curiosity partly as to why his diverse nature conformed to such a non-diverse platform as "Home and Away".
"Home and Away" is among some of the longest running soaps on Australian TV. It has been home to modern Australian talent as we know it universally through the Hollywood bridge to fame. Through playing one-dimensional roles as either villains or lovers, world-renowned beaus and belles have graced Australian TV in their youth, only to come out mature and thriving as Hollywood veteran actors; examples include the late Heath Ledger, Chris Hemsworth, Isla Fisher, Julian McMahon (Nip/Tuck, oh my), Naomi Watts and Guy Pearce.
Does that mean in a few years time we could be seeing Jackson Gallagher on a billboard in Times Square? Gallagher thinks it's too early to judge. He is also barely interested in garnering celebrity status and he sees it as a "bad side effect of the job which I love."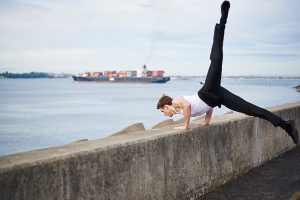 (Jake Spear – credit: Jackson Gallagher)
Through defying the norms of masculinity, Gallagher realized his passion was to go in front of the camera. Spending two years of studying filmmaking in New York, Gallagher passed times watching old movies at movie theatres. Watching the legends like James Dean and Marlon Brando, he was drawn to the contrast between stereotypical depiction of "Hollywood-ian" male masculinity on screen and how vulnerability showed through the more intense scenes, morphing characters into more interesting and layered versions of who they were supposed to be.
He later went into acting and secured a job on "Home and Away" for three years, with Josh's storyline coming to an end this year. In the soap, he plays a "bad boy with a heart of gold", even though there's nothing "bad" about the character despite him being a sidekick for his more rogue-ish brother; Andy. Gallagher's own aspirations about playing a new character would be "complex, dark, someone very far from you yet one whom you can draw things from yourself and relate to in a way. Definitely a modern, Australian queer character to connect with the difficulties members of the Australian LGBTQ youth community are facing." Probably that's a throwback to Gallagher's many issues with the show, particularly its lack of diversity. Alongside other actors, they tried to suggest the introduction of "queer characters" to an all-white, all-hetero show. However he realized it's easier said than done,
"Being a part of a big network that operates on many economics, politics, it goes beyond your power. It's sad however, that teenagers couldn't find themselves in a show that is –supposedly- becoming an effective part of making mainstream Australian culture."
However, he was very grateful to be part of a huge project like "Home and Away" where he got to learn more about his craft, both artistically and technically. "To understand the mindset behind operating such a magnanimous project was a privilege that definitely aided [me] in shaping the actor I am right now."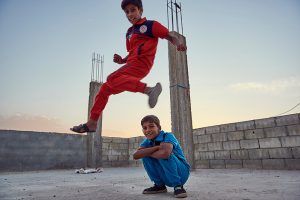 (Fathi & Madji, Talbiah Camp –credit: Jackson Gallagher)
An eye for detail is Gallagher's gift, aside from also being a curse. He uses it as an anchor while he directs and takes photos, yet it clouds his vision sometimes while acting because he keeps getting interrupted on the angle of the camera, the type of the shot and other technicalities that an actor shouldn't be bothered about.
Gallagher is a pro at handling tough questions. He smoothly glides from one topic to the other without losing the questioner for a moment. His interest in other cultures and people from parts of the world so foreign to him makes for an interesting subject, which later led to a discussion on photography and the reversal of power between being in front of the camera or the one behind.
"In photography, there's a fine line between exploiting the subject and just shooting it for what it was. As a photographer, you try to tread carefully on this thin line," Gallagher said. However, he added later on that a "cry-baby picture –as damaging as it might be- could be the one to change the world, and drive governments to take a firm stance on a critical global issue."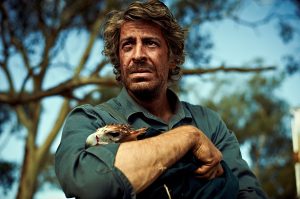 (Don Hany, 'Healing – 2014' –credit: Jackson Gallagher)
Recommending Egyptian films to Gallagher –Hello, Youssef Chahine- I discovered a mutual interest in Xavier Dolan and foreign cinema. There's also a keen observation on modern fandom culture and idolization of icons of popular culture where he noted being "lucky to be able to look at it from an academic point of view". Despite his popularity soaring in Australia, Gallagher still finds it easy to maintain a low-profile life.
I asked whether he considers himself a "physical actor" and he replied that he does. His background working at a circus summer camp helped him become more invested in the physical aspects of his roles such as a telekinetic, comatose patient in the 2013 horror movie "Patrick" or researching for the physical struggles his character was going through -going blind, being nearly quadriplegic, etc- he would use whatever stored in his muscles already and tackle the scene with versatility and sensitivity, even within a narrative never straying from the "soap opera" formulaic.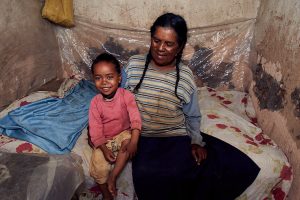 (Aid to Orphans of Madagascar, 2014 –credit: Jackson Gallagher)
Gallagher's debut directorial project "Ben's Filming the Movie" has reached Tropfest finalist status in 2016 and competed alongside 15 other short films for the 1st prize. The documentary tells the story of an autistic kid; Ben and how he channeled his inner love for art as a way to communicate with the world. Ben's teacher, Alex –who is also Gallagher's friend-, was the driving force behind Gallagher specifically picking that project to direct. He had visited Ben's school and seen one of the art projects that the kids all participated in and was fascinated particularly by the bond between Ben and Alex. The result was a sensational experience which predicted an emerging directorial talent.
https://www.youtube.com/watch?v=h1uqQGknx4s
Owing to the actor/director part of him, Gallagher's directorial idols include fellow Aussie David Michôd (Animal Kingdom, The Rover), Steve Mcqueen and Jane Campion, the latter whom he heard an acting coach "describing her audition processes and the way she handled actors. It would be great getting to act under her direction."
Jackson Gallagher might be a doe-eyed soap opera star by day and a daring adventurer by night, but he seems to know what he's doing. He is willing to understand other cultures and explore humans whether to channel those feelings he had for a role or get behind the camera to capture the horrors imprinted on the faces of the innocent. Maybe one day when it's an international premiere of a blockbuster starring Jackson Gallagher, I would look up at the screen and smile at the Hollywood figure whom I once interviewed on a regular, Egyptian, summer morning.
You can see more of Jackson's work here: http://www.jacksongallagherpictures.com/
http://www.adalaneprojects.com/