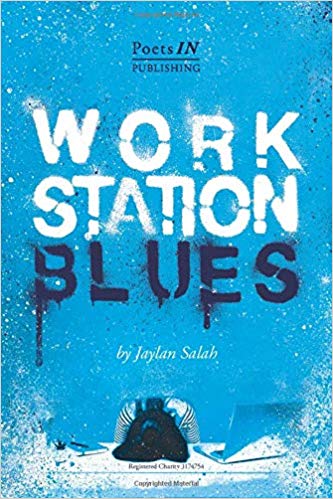 "Workstation Blues" is a collection of tales from the cubicle that would resonate with white-collar dreamers worldwide as they struggle to pass the time between meetings, in front of laptop screens, or trying not to lose their minds in the bathrooms. These poems from the dark mind of an Egyptian national, feminist, and workaholic blur the lines between career-driven and passionate, resembling an old folklore song where monsters are replaced by monitors, flame-throwers by LED lights and swords by client comments. 50% of all proceeds from the sale of this book go to PoetsIN, the creative mental health charity. Please visit PoetsIN.com/aboutus for more information.
Here I interview author Jaylan Salah:
What do you find 'literary' about office work? How did you find something worthy of literary inspiration in a cubicle?
This was a tough year. I had just started my content writing career and I was abandoning the writer's boho "journey" to embark on a fulltime job as a content writer. I didn't connect with any of my colleagues at first. It was a tough job, I worked 9 hours a day (sometimes more), 6 days a week. In between moments of scheduling meetings and submitting tasks, I interacted with an odd group of human beings. The feelings of isolation, depression, and exploration that I went through resulted in a daily writing routine and the culmination was the book at hand.
What might people elsewhere find interesting or surprising about office work in Egypt? (Or is it pretty much the same anywhere?)
Pretty much the same, although the casual flings and flirtation have to be under the radar. We're a conservative environment. But the back-stabbing, toxic, dehumanizing environment is the same everywhere. This is exactly the reason I had to write this book. I wanted to connect with people who work long hours in the office from countries I've never been to and cultures that have no resemblance to my own.
Do you feel that your day-job enhances your creativity?
I believe that work enhances creativity. Not the actual tasks at hand but the daily interaction with people who come from different social, financial and familial backgrounds. Tensions arise, people get emotionally and sexually attracted to each other. Work is the driver of this generation [in Egypt] and I have found my most creative self while working full-time jobs.
How do you balance writing with having to put in time at a day job?
It's always tough but I have a daily routine post office log out time. I try to reward myself when I stick to it because I'm tired almost forever and I cheat a lot. Some works of art are difficult to grasp whenever you feel like it. Others are immersive and you find yourself almost entirely invested in; even while doing something else.
Why did you choose to write Workstation Blues as short stories rather than as a novel?
A novel is in the works. Stay tuned!