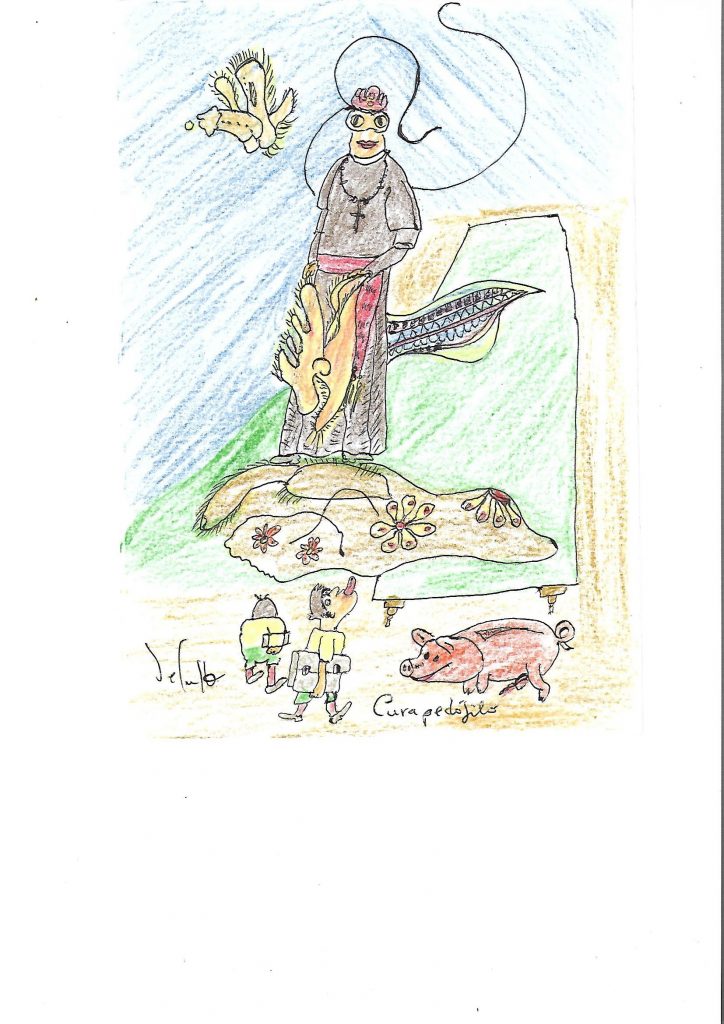 THE VIXEN WALKS TO CRICKETS
AND THE PRIESTS TO THE KIDS' EGGS
The horde of farmers, ranchers and hunters
Are called as tradition of the past kaffirs and cannibals
Marching in a demonstration in Madrid, Spain
In defense, as they sing, from the rural environment.
What a deception! What a lie! What a great fallacy!
Clothed by the geese of the parties
That go out to the path of that place and another place
for killing the boar or the wolf, and thus get votes
Bring to my memory what they taught us under a canopy:
"That the hunting and bullfighting are peace and money
For the whole year".
What a pity that fields are being rented to kill
And sand circles to kill bulls.
And they say, with the big mouth of Gullible Balls
That defend the rural environment, and things to kill
Because these are goods of profit
For certain damage of the cattle.
Poor Mother Earth! Poor living beings, and species!
How would I like to dip into a bag of green almonds
As it was done in Andalusia, the high and low
In both Castilles and in all its peripheries
Taking out the green almonds one by one
Throwing them at the head
So that all those idiots and drunkards
Who believe everything
As they say John Templado did
That gentleman went in his bag for blocks and pens
And for all the towns and villages of the Iberian Peninsula.
How I would like to go back to what really sticks
In defense and love of Mother Earth
Her species and animals.
I remember what an old woman told me
In the market of Barley
Where she sold fresh eggs; who was very hurt
By the poorly-managed farmers
Who took advantage of the hunt
And threw their money on the floor of the bullring:
– Son, before Life was a bunch of green bouquet
And a white folded linen cloth.
Women milked the Donkeys
The men gave their milk to suckers and piglets.
We ate from the fruit that helps eat.
There were no banderillas to kill
Or hunting rifles to kill.
The vixen walking to crickets, and no –one priest
walked from door to door, to the kids' eggs.
Justice hovered in Love and Freedom
And the thieves deranged at the wrong time.
Today, however, poor Mother Earth!
More wicked is the son than the father.
Do not do the same.
Love the Sun and the Moon
Better is before tan later.
-Daniel de Culla