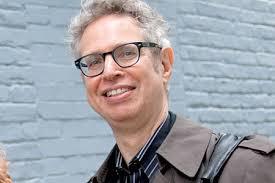 Philip Fried
With Angry Love
Interrogating Water and other poems
Philip Fried
Salmon Poetry
112 pages
€12.00
A review by Christopher Bernard
New York poet Philip Fried's new book of poems has a bitter humor, an angry sarcasm just this side of despair:
The multi-chemical Lethal is a classic
And one of America's best-loved cocktails, due
To its featured role on cable's Death Row show
With a hey, and a ho, and a hey nonino
—Mixology, a Madrigal
But the bitterness is well earned, as every day – and, with the multiversal bedlam of the internet, sometimes every minute – we are granted yet another example of our continuing descent into barbarism and moral chaos.
Fried's poems often use a device that has become increasingly common in modern culture, both American and European: they take on "the voice of the devil" in an attempt to shake the reader out of their usual passiveness:
Galloping with his drum, the singer
Rides in a split second over
Plains that outdistance their tympanum sky,
And all by the song's power.
Ideology gallops the story.
What values spur the teller?
—Ballad
Fried's poems work their angle and edge from the insanity of our gun-worship:
O portable and concealed god, barely visible
As a bulge, yet guardian of halcyon skies
And mountain majesties from your home in a pocket-,
Pancake-style-belt, or shoulder-holster.
—Prayer to the Small-Arms Deity
to our national narcissism:
First, assemble the Manifest Destiny engine,
…
Fasten the Shining City to the Hill,
… With the Leveraged Capital
Rubberband, stretch an elastic liberty
Until it nearly snaps, from sea to sea.
—Grammar as Glue
to our infatuation with technology, our paranoias over transgressed borders, our feverish materialism, our dehumescent humanism – but above all, to our scattering moral obeisance to the gods of war, our morphing into the labile dictatorship of terror:
We are soliciting bids from a divine
entity for a Full-Protection Covenant,
with renewal options in perpetuity,
to shield the homeland and its future seed.
—The Department of Defense (DoD) Request
for a Covenant (RfC)
The language of these poems blends the schizoid paranoia of military officialdom and the meretricious smarminess of corporate diction with the majestic cadences of the King James Version of the Bible (frequently quoted) and the sleek, solemn latin of the Vulgate, in a mashup of dictions meant to shock with awe at the "sinister giddiness" of our official culture.
Have you brought forth the Predator Drones? Have you armed them with
Hellfire missiles and fledged them with glycol-weeping wings?
….
Does the Killer Bee fly by your wisdom and initialize its missiles? Does
the DarkStar launch at your command, deployed from invisible havens?
…
Whatsoever is under the whole of heaven is mine.
—On the Record
Who is this that comes from the wilderness like pillars of smoke,
perfumed with lambskin and burnt gunpowder?
…
His legs are as pillars of marble, clad in flame-resistant trousers. His head,
crowned with bulletproof Kevlar, is as a watchtower looking toward
Kandahar.
—Canticles
Shimmering with anorexic allure,
these supermodels have learned to stroll with intent,
reinventing themselves up from the balls of their feet.
The Lil Saunder Voluminous Total Jacket
seamlessly encloses a lead core,
including the base, in brass or a suitable metal.
—Catwalk
Other poems combine street-vetted vernacular with quotes from Thoreau and Emerson, museum-ese with the disingenuous customer-friendliness of instruction cards, Victorian-esque translations from the Greek tragedians with the utterances of a Siri app named Sybil, the thuggish inquisitory of a black-site interrogator, chronicles from the dark ages of the future in the stumbling diction of an anonymous monk, and the prim hysteria of newspaper headlines.
The bitter brilliance of these poems should not hide from us the deep compassion and the furious optimism that burns at their heart. Fried's poems are a poetry of denunciation and warning, as old as Micah and as new as the whispering drone peering in at your window. The anger of these poems is the anger of love. And a determination to seize mind, heart and body and shove us away from the bloody abyss into which we seem so intent on plunging, as though we believed we shall grow wings if only we fall hard enough.
If I have any criticism of the book, it is that I came away with no clear understanding of Fried's notion of "the good" – aside from building and molding language into fortresses of intention and villages of words. His vision of our time's evils is eloquent almost to a fault: I hunger to hear his vision of good – even of our time's "goodness" (only the dark Pollyannas of cynicism refuse it any goodness at all); I'd like him to occasionally drop the sarcastic mask, the much-dented postmodern shield, and show a glimpse of the naïve spirit without the defensive clutch at cleverness.
Not the least of the ironies associated with this book is that it (like Fried's previous books) is published by a foreign press – to whom thereby we owe many thanks. The elegant design is grateful to both eye and hand – it's a handsome production all around. But it is one more nasty little self-imposed humiliation to our seemingly unending national list that this much-needed voice had to go beyond the country's borders, its ever-shrinking, ever-thinning skin, to find a publisher.
_____
Christopher Bernard is a writer, poet, editor and journalist living in San Francisco. His books include the widely acclaimed novel A Spy in the Ruins; a book of stories, In the American Night; and The Rose Shipwreck: Poems and Photographs. His work has appeared in many publications, including cultural and arts journalism in the New York Times, San Francisco Chronicle, Chicago Tribune, San Francisco Bay Guardian, Philadelphia Inquirer and elsewhere, and poetry and fiction in literary reviews in the U.S. and U.K. He has also written plays and an opera (libretto and score) that have been produced and radio broadcast in the San Francisco Bay Area. His poetry films have been screened in San Francisco and his poetry and fiction have been nominated for Puschcart Prizes. He is co-editor of Caveat Lector (www.caveat-lector.org) and a regular contributor to Synchronized Chaos Magazine.
Philip Fried