Archive for June, 2009
Augusta Lee Collins
Singer/Songwriter/Videographer
You may peruse Augusta's music here:
 Augusta may be reached here: augustaleecollins@yahoo.com He's performing this Friday July 3rd and the 17th at It's a Grind coffeehouse in Oakland near the City Center BART, 5 to 7 pm. The 3rd features more of his original compositions.
www.itsagrind.com
(corner of 11th & Clay Streets)
555 12th Street Suite 105, Oakland, CA 94607
(510) 268-9902
Augusta Lee Collins has been creating and performing his original music at Café Valparaiso (La Pena Cultural Center) in Berkeley, California as well as dozens of other venues, in the bay area for three years with his partner fellow musician, Toney Thibodeaux.  Augusta is forever pushing his ideas musically and visually and creating new music.  Augusta, hears, feels and visualizes his creative journey bringing a very unique blends of music all original music, written and performed by Augusta Lee Collins.  Augusta is an artist consistently widening and extending his horizons.
Augusta Lee Collins is best known as a very talented drummer that was most prolific throughout the late 1960's and into the middle 1980's.  Performing with legends like Lightnin' Hopkins, Herbie Hancock, Abby Lincoln, Sun Ra, Bobby Hutcherson, Frankie Bevelely and Maze,  and the Pointer Sisters to name a few, Augusta showed an interest in all forms of music very early.  Augusta has performed at the U.C. Berkeley Jazz Festival three times and the Monterey Jazz Festival as well as performing with the Oakland Symphony Orchestra, Harold Fiberman conductor and musical director.
Augusta Lee Collins is currently producing and directing a DVD for his group, "Augusta Lee Collins & Toney Thibodeaux withM-PULSE".  Here, Augusta returns to his blues, country and folk roots.
Augusta Lee Collins (A.L. Collins) on Film, Albums, Videos, and CD's
"A 1,000 Miles from Nowhere" (Albany, California: Agape Records 2004) Music/Producer A.L. Collins
"Life Force Jazz and Blues Compilation" (Oakland, California:  Life Force Jazz Records 2003)
            recorded at Stanford University, Palo Alto, California 1974 Woody Shaw on trumpet with Augusta Lee Collins on  drums.  Jimmy Witherspoon and various artists can also be heard on this CD.
"The Love Nest" (San Francisco Film Institute, Judy Van Plank 2001) Music & Acting by A.L. Collins
"Cold Ground" (Oakland, California:  Agape Videos 1995) Produced/Director by A.L. Collins "With his creative  approach and concept to documenting the plight of the homeless in his semi-documentary video, an original music view,  "Cold Ground", Augusta Lee Collins takes us inside their surreal world with his original camera work and music.  We  see the further evolution of these new instruments to his orchestra". William Garrett published Poet November 1995
"Polarization", (Stuttgart, Germany ECM/Polydor 1977) with Julian Priester, A.L. Collins on drums
"Pyramids", (San Francisco, California: Pyramid Records 1975) w/"The Pyramids"A.L. Collins/drums
"Seeking Other Beauty", (Berkeley, California:  Fantasy Records 1972) w/Todd Cochran, A.L.Collins/drums 
 "We put together songs and try out new songs and old songs (all originals) right there on stage just as we hear them (creating new music as we go). Many times creating sounds that are new to us.  Having a place to create these sounds and music and perform these works, works for us.  And, we enjoy it fully", Augusta told a reporter for the Oakland Post News Group in a featured article about him and his music.
"Augusta Lee Collins Local Recording Artist Blends Music with Life" 
                                                                                                                       Augusta Lee Collins April 2006 
Just in the past few years, teenagers at a variety of East Bay schools organized benefit concerts raising tens of thousands of dollars for charity. Others helped build playgrounds with recycled shoe leather, threw baby showers for struggling young mothers, wrote original novels for which they landed publishers and donated the proceeds, and organized successful bike-to-school campaigns.
The Future Leaders Institute (FLI), the Oakland-based nonprofit through which the students devise these projects, goes beyond encouraging teens to perform community service. The yearlong leadership class uniquely involves participants in launching and managing social entrepreneurship ventures.
High schoolers research and work with community organizations to identify local and international issues, brainstorm projects and rank them according to feasibility and social impact, and then carry them out. This involves marketing, recruiting, professional communication, and budgeting a $3,000 seed-capital grant from FLI. Students work in teams to share advice and ideas, but each creates and executes his or her own project.
Editor's note here, click below for the rest of the article:
Eve Cowen and the rest of the FLI crew encourage people to consider signing up as professional or leadership mentors for teens here: http://thefutureleadersinstitute.org/page/view/&id=44
Also, people can register to host house parties to benefit the Future Leaders Institute: http://thefutureleadersinstitute.org/page/view/&id=47
Students in high schools without FLI programs can sign up for an after-school version of Future Leaders through Project ENGAGE, where they meet regularly and design projects with the help of community leader mentors: http://thefutureleadersinstitute.org/page/view/&id=65
Kate Grenville's new novel reads like a visit to a cultural anthropology museum's long-awaited exhibit. Through a suspenseful tale, we learn much about the Cadigal tribe of New South Wales, as well as early astronomical techniques. Yet, the calm, finely crafted prose creates a sense of distance and timelessness. After building his wooden observatory and hut, Lieutenant Rooke reflects that he has been 'compressed, like a limb squeezed with a tourniquet…now, at last, he could expand to fill whatever space was proper to him.' This style befits the work of astronomer concerned with matters on a grand scale and prevents The Lieutenant from sounding like an encyclopedia entry or an Indiana Jones movie.
Grenville intersperses subtle critiques of the British Empire's methods from the book's first few pages. Sailors are publicly hanged merely for verbalizing disagreement with official orders. Military leaders blast rifles to force the attention of New South Wales' wary natives, botching their first impression. Even the main character's name, Rooke, suggests a chessboard, as he is still a player in someone else's game even when he believes he has earned some personal autonomy.
Socially awkward, possibly somewhere on the autistic spectrum, Lieutenant Rooke forges a connection to humanity through observing the island's natives and gradually learning their language. His platonic friendship with a native girl, Tagaran, eventually brings him to question his role as a representative of the Empire and to make independent moral decisions. Grenville shows how Rooke's scientifically minded character prepares him for this kind of independent thinking. He watches, learns, and takes notes on the people and places he sees, then acts based on his observations rather than on preconceived assumptions.
 Sixteenth century British astronomer and abolitionist William Dawes inspired much of this novel, with fictional narrative to fill gaps in the historical record. This book provides plenty of historical background, with information on construction techniques, military justice, meteorological forecasting methods, timekeeping, and navigation of the day. The language and appearance of the Aboriginal people also come directly from Dawes' actual notebooks, as do the astronomical data and some of the interactions between the British officers. The Lieutenant requires some thought and attention, especially in the first third of the novel as Grenville sets the stage for her drama.
Yet the developing story pulls readers along, watching the gentle personal connection of Rooke and Tagaran as they learn each other's languages. Set amidst the backdrop of empire building and violent cultural clashes, their friendship turns a corner when Tagaran teaches Rooke not just the Cadigal equivalent for another English word, but something signifying a unique concept. Putuwa, to warm one's fingers by the fire and then take the hand of another person, comes to the elderly Rooke's mind again during the final chapter, when he reviews his situation and the changed course of his life. The word comes to symbolize the mutuality of his connection with the indigenous people – they bring each other warmth and knowledge.
Scientific field observations as literary narrative hark back to centuries ago, to the days of the Origin of Species and to Captain Cook's descriptive logs. An educated person could be a writer, scientist, sailor, and humanist with opinions on a variety of topics, and everything would come through in his or her diary. Grenville's The Lieutenant draws upon and builds on that tradition, with historical and technical information enriching her distinctive, human characters' journey towards intercultural understanding.
The Lieutenant is available through Canongate Books, Edinburgh – and also at Pleasanton's Towne Centre Books. Kate Grenville is one of Australia's leading and best-loved authors. Her website has a section where she discusses the making of The Lieutenant in detail: http://www.users.bigpond.com/kgrenville/the_lieutenant/about_the_lieutenant.html
Taralou Knutson loves dogs and other animals, and enjoys both painting and creating her unique wire sculptures. She may be reached through her website at http://www.taralouart.com/
Dog Paintings:
My late-great dog Milo revealed he was my best subject. I had this great black and white photo of him and thought it would be a good exercise to paint him since I wasnt feeling like I knew what to paint, I was still in the mood to paint. That was my first dog painting in 1997 and then I continued to paint Milo and Annie (my parents' yellow lab) when I was away in New York for Grad school. I was pretty homesick and definintely was jonesing for my furry companeros . So, painting them was paying tribute and also a way to 'visit' with them. Then my friend asked me to paint her dog, Vegas, in 1999 and it dawned on me that is what I enjoy.
I paint in acrylic. Using a photo of the dog in mind I make my sketch in chalk pastel and go from there. The photo is either provided by the owner , or I can take pictures of your dog. It's always great to meet the dog, or find out about the personality of the dog so I can capture some part of that dog's essence.But, I seem to do okay on just a photo too.
Most of the images you see on this site already have good homes. If you are interested in getting your dog painted, or a loved one's dog, please contact me and we can discuss what you have in mind. I also enjoy helping out non-profits or fundraisers that help our animal friends by way of donating art to raise money at auctions , raffles, or what have you. My favorite animals to support are elephants, whales , dogs of course, and bears. But , they're all important.
Wire Sculptures:
I create sculpture from Black Steel annealed (mostly) and copper wire. In 2005 I had the privelage to have a show, 'Drawing on Wire' also at the Bolinas Museum. The majority of the wires I make are small, but I do make large fish in copper wire as well when commissioned or just in the mood sto make something big. What I enjoy most about making these is how simple line creates form and expression, much like a pencil drawing, but three-dimensional.
Because the wires look different at every angle, you will see several photos of the same sculpture on this site.
Education
BA in art from University of Oregon 1995
MPS in Creative Arts Therapy from Pratt Institute, Brooklyn, NY 2000
Descriptions, from the top left:
Like a strange blossom, or a butterfly emerging from its cocoon with crumpled and still-damp wings; she stretches out her tendrils. Uncoiling, unfolding, unfurling so slowly you might not notice it. She shakes her filaments, and reaches to the firmaments.
She tilts her head up. She closes her eyes. She feels the pulse within her: no ends, no beginnings.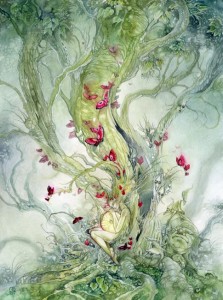 The first spark of life:
a murmur
a thought
a wish
a hope
maybes
might bes
the swelling of dreams
the thrill of potential tucked in a seed
Sunworship and Moonbathing (companion pieces)
Stephanie Pui-Mun Law has been painting fantastic otherworlds from early childhood, though her art career did not begin until 1998 when she graduated from a program of Computer Science. After three years of programming for a software company by day and rushing home to paint into the midnight hours, she left the world of typed logic and numbers, for painted worlds of dreams and the fae.
Her illustrations have been for various game and publishing clients, including Wizards of the Coast, HarperCollins, LUNA Books, Tachyon Books, Alderac Entertainment, and Green Ronin. She has authored and illustrated Dreamscapes (2008, North Light Books), a book on watercolor technique for fantasy. Her work also regularly appears in Realms of Fantasy Magazine.
In addition to the commissioned projects, she has spent a great deal of time working up a personal body of work whose inspiration stems from mythology, legend, and folklore. She has also been greatly influenced by the art of the Impressionists, Pre-Raphaelites, Surrealists, and the master hand of Nature. Swirling echoes of sinuous oak branches, watermarked leaf stains, the endless palette of the skies are her signature. Her background of over a decade as a flamenco dancer is also evident in the movement and composition of her paintings. Every aspect of her paintings moves in a choreographed flow, and the dancers are not only those with human limbs. What Stephanie tries to convey with her art is not simply fantasy, but the fantastic, the sense of wonder, that which is sacred.
While most of Stephanie's work is done with watercolors, she experiments with pen & ink, intaglio printing, acrylic, and digital painting as well.
 Artist Blog
http://shadowscapes-stephanielaw.blogspot.com
The Lesson
By
Didacus Ramos
(Best read with a Guatemala "Casi Cielo" ("Almost Heaven") and a maple oat nut scone.)
Uncle Frank was pissed.
He slammed the gearbox of the '41 Pontiac coup and it lunged forward across Winton Avenue.  Richard and Craig grabbed the back of the front seats and the hand loops next to the doors to hang on.  I fell back into the front seat, my feet flying off the floor boards.
Richard and Craig.  I always said the names together—Richard n' Craig—like it was one word.  My cousins' names were more an idea than just people's names.  We all had been raised together more like brothers and sisters than cousins.  But, our homes were named after who we played with.  I called it Richard n' Craig's.  My sister called the same place Kristine's.
Early that day I left home to walk around the block to their house.  My mother admonished, "Be home by dinner."  Now I wondered if I'd be late.  Didn't make much difference.  There'd be hell to pay today.
Craig saw them first.  His arm shot past my head like a spear, finger sharply pointing.  "There they are!"  The punks had upturned a wooden baseball backstop.  The one with the mouth was bouncing on it trying to break it.
You may read the rest of the story here: http://community.livejournal.com/chaos_zine/3661.html
Didacus Ramos' writing is loosely based on stories from his family, friends, and childhood, dramatized for the full effect. He lives, and grew up, in Hayward, California (then a blue-collar, mostly Portuguese area of San Francisco's East Bay Area.) Didacus may be reached at didacus90035@yahoo.com and is writing an entire book of these stories and would love to hear from interested agents and publishers!
Katie Quenneville, on how she creates her distinctive images:
My creative process, hmmm, that depends on what I'm doing.
For my 3D work, I generally go off of something I've seen, either a picture or a dream. From there I do research and rough sketches. Once that's done, I start the modeling. Everything is done in Maya, with the occasional exception of textures and bump maps, the aspects that make everything look pretty. Otherwise it's a gray model.  I personally choose to model everything in a separate file, then combine it all into one once each piece is finished. The last stage is adding lights and cameras and rendering it out to composite. As easy and simple as it all sounds, the whole process from start to completion can take up to three months.
My photography is generally spur of the moment. I always keep a camera with me, so if I see something interesting or the sunset/sunrise is particularly beautiful, I take a photo. When it comes to pictures of people, I've tried the "create a backdrop, fix the lights just so and pose the person" route; but I find that the best photos of people come when the person is comfortable, in their element and not aware of the exact moment I take the picture. 
Mummification in Buddhism
This paper is written about the obscure but very important practice of the mummification of lamas and other important monastic figures. The primary focus will be on the Tibetan and Mongolian traditions, but the similarity with other Buddhist traditions will also be examined. As there is very little information on the topic of Tibet itself the author has decided to extend his study to all Buddhist countries. It is interesting to note that this practice is common throughout Buddhism.
One of the most significant achievements is self-mummification. This practice is found not only in Tibet, but also throughout the Buddhist world. Mummification by others, typical of the Egyptians, will be also explored, along which natural mummification, where no mummy was intended.
You may find the rest of the article here: http://community.livejournal.com/chaos_zine/3169.html
The Batak of Sumatra
      During the time I was working on the Encyclopedia of Hinduism I spent time writing about Indonesia.  I had already researched Bali and had written about it. Accidentally I discovered the Wong Tenggar of Java. This was another leftover of the period when South-East Asia was Indian.  I decided to discover other remains in the Island of Indonesia. Eventually I focused of Sumatra where I discovered the Batak. They were a sophisticated culture with a system of writing. They also turned out to be cannibals. The Indian influence on this people created a fusion between native culture and Hinduism. In fact, they were actually Hindus.
      As to their eating habits, they were primarily agriculturalists. Rice and maize are the two primary crops grown. Taro, yams, and potatoes are also grown along with coffee and tobacco.  Cattle and pigs are also raised, and they eat beef and pork, unlike Indians. Meat and fish are not regular staples of their diet. Frogs, mice, insect larvae, and ants are also known to be eaten. In fact the Batak diet is so unrestricted that 'if it moves, they will eat it.'
     Of course one thing that moves which is eaten is their neighbor. It is one of their most striking and notorious customs. 
Find the rest of this article here: http://community.livejournal.com/chaos_zine/3337.html
Reuben Rutledge is a Ph.D. candidate at California's Institute of Integral Studies and specializes in the anthropology and history of various Eastern cultures.  He frequents the vibrant San Jose art scene and has spoken at the Kaleid Gallery downtown. He may be contacted at rutledreub@aol.com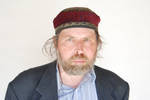 Edward's passion for painting and creative inspiration has always been driven by his Northern California surroundings. While working as a freelance painter, at the age of 11, he began to focus his energy on the vineyards of Livermore, Napa, and Sonoma. Most of his work from this early period was created in watercolor and has received high marks at juried competitions, and earned him various scholarships over the years.
More recently Edward is drawn to the diverse and international influences that converge within the city of San Francisco. They have encouraged him to travel the world and proliferate his artistic expression. From these experiences, along with his time studying Fine Art at the San Francisco Academy of Art, Edward has continued to expand his approach to the creative process. His most recent works have been impressionist paintings, crafted with oil and pallet-knife on canvas, capturing San Francisco's urban city-scapes with rich and layered tones. He displays his paintings throughout the world and continues to be available for commissions and charitable events. To view Edward's most recent work please visit his blog at EDWARDFREELAND.BLOGSPOT.COM or the Artist-Xchange Gallery at 3169 16th Street, San Francisco, Ca.
"I was born and spent my early years in Niagara Falls, New York. I moved
to Northern California as a teen and found that, even at that young age, I
was in awe of the vast and diverse scenery. Now, along with my husband,
two sons and Bella, my beautiful dog, we enjoy hiking, going to the beach,
and anything that involves the great outdoors.
Living in the Bay Area, I am witness to this area's ability to traverse
both the minute wonder of a ladybug resting on a sunflower petal to the
overwhelming expanse of a Pacific sunset. Everywhere I go, an opportunity
to capture a truly breathtaking moment presents itself; whether it be the
rugged peaks of the Sierras, the almost surreal Northern California shore,
or the opulent colors of the wine country.
It was the limitless beauty of the natural world that first inspired me to
pick up a camera, and thus began what came to be not just a casual hobby,
but a passion for capturing the world around me through a camera's lens.
I am a self-taught photographer who has learned through trial and error,
taking untold numbers of shots to find that one that is just right."
Lisa also creates cards designed to raise awareness and funds for breast cancer research.  It has pictures of all 5 cards included in the pack as well as a photo of the back.  All proceeds are donated to Susan G. Komen For The Cure. http://www.etsy.com/view_listing.php?listing_id=20548826
Lisa may be reached through her website http://photoamato.com Her work is also available on Etsy: http://photoamato.etsy.com.
First Exposures:

Youth Opportunities
Through Photography
Group of aspiring photographers working with mentors to produce real zines with an authentic do-it-yourself feel. Each piece reflects a personal interest or theme: the experiences of an autistic brother, dogs, cityscapes, school, traveling. Photographers work on their pieces over several months, mastering the use of the cameras as well as stylistic compositional elements such as balance, contrast, foreground and background.
Artworks in themselves, the zines incorporate commentary and captions in the style of the photographs and their subjects. Adobe Books in SF's Mission District, a musty old eclectic used-book store where people still make time to sit in armchairs and discuss Immanuel Kant and Goethe and modern politics and enjoy free pastries left as offerings to wooden figurines of Hindu and Buddhist deities, showcases the work of the First Exposures students.
From First Exposures:
First Exposures: Youth Opportunities Through Photography is a special interest mentoring program where academic skills and life skills are developed by combining the benefits of mentoring relationships with art education. The volunteer mentors are professional, commercial and fine art photographers with a commitment to youth and to education. Their students are creative young people, aged 11-18, with backgrounds that include homelessness, foster care or low-income living situations. The students and mentors work together in one-to-one partnerships in a group setting. First Exposures fosters supportive intergenerational relationships in a stimulating environment of active learning.
First Exposures is a demanding program. Both the students and their mentors agree to attend each Saturday class from 10:00 to 2:30 PM for at least one academic semester. Most students and mentors stay in the program for one year. Students develop photographic skills and get exposed to a larger world than they may otherwise know. We meet at either SF Camerawork (a nonprofit photography gallery) or RayKo Photo Center (an excellent community darkroom). We reinforce our class time spent in experiential learning environments: field trips to local newspapers, major museums, alternative art spaces, commercial photography studios, and local colleges or universities. Once each semester we go on a "Photo Safari" field trip to locations like San Francisco Zoo, Fort Point, the Hyde Street Pier, the Marin Headlands, or SF Botanical Gardens. The students use their cameras to explore and interpret these places along with sites and people closer to home.
First Exposures was initiated at Eye Gallery in 1993 and was redeveloped under SF Camerawork's sponsorship in 1996. SF Camerawork is the base of a support network for the partnership between the student and his or her mentor. This network includes the support of the youth service providers who work collaboratively with SF Camerawork and First Exposures, Bay Area mentoring organizations, professional child care workers, and the student's families or guardians.
For additional information, contact Erik Auerbach at

 
(415) 512.2020 x107
The Terrorists
Staci Ferrick and Edward J. Mock
Copyright, January, 2009, by Staci Ferrick
"Heads up Jack!  Here come our friends out of passport control.  Hold up your Dallas Tigers pennants".
"Thanks Tom, I'm all smiles for the FBI cameras."
Holding up his Lubbock Lions pennant, Tom smiled.
"Over here fellows!  Baggage claim is this way.  Our bus is outside waiting for you," yelled Jack.
The tired, weary young men followed the pennants and eventually claimed their luggage and soccer gear.  As prearranged there was almost complete silence among the soccer players.  They looked exhausted and bored.
Read more here: http://community.livejournal.com/chaos_zine/2858.html
Edward J. Mock resides at 2114 Spalding Dr., Maryville, TN 37803. His phone is 865-379-1708. Staci Ferrick is on the West Coast and may be reached by commenting to this entry.