Archive for December, 2010
Happy holidays and welcome to the December issue of Synchronized Chaos! This issue touches upon self-identification, exploration, and human nature, reminding us of how art can be a powerful channel into the internal state of mind.
Alex Luke re-examines the connection between self and character through the exaggeration of human nature.
Warmth, history, and inward strength are expressed in the works of Valerie Brown-Troutt, James Gayles, Cynthia Tom, and Mary Bartnikowski.
In Patsy Ledbetter's writing, she reaffirms a personal relationship with God and translates her faith to others.
Junko Van Norman's and Jennifer Wildermuth's work evoke dream-like states of wonder and contemplation.
The energetic artwork by Matthew Kowalski flows effortlessly together, causing us to explore deeper, beyond the layers.
Henry Avignon's visually exciting artwork centers in the mind, expressing a myriad of immersed emotions.
Alexander Voitsekhovsky finds the parallels of animal and human behavior, while Alisha Fisher intersects nature with human character.
Nick Friedland gets a cultural reality check in Riding the Bus in Argentina.
Ron Weil experiments with interlocking ideas and images and Jamie Treacy seeks to explore the deep-down wonders of life in his featured work for Life: Expressions of Living.
Gordon Pagnello's "Estate Sale" series plays with space in interesting ways and the objects in each piece tell us a story about the personality of the individuals they belong to.
We at Synchronized Chaos hope you enjoy this month's issue, and please don't hesitate to leave any comments!
"Something wonderful happen to me during the summer of 1999: I claimed and discovered my artist. Me! I went to several second hand shops and bought old canvas and found thrown away framed pictures and took them apart, covered them with gesso and started a studio on my patio."
"Turning old ugly things into something new is so much fun and inexpensive. Messing up, changing my mind and starting all over again satisfied by creative energy. I got lost for hours in the dialogue of mixing color, creation, making meaning through images and mediation."
"Art in a variety of forms has always been my passion. I love paintings, poems, theater, jazz, singers, poet, actors and actress, photography, great movie pictures, sculpture, rhetoric, comedy, nature, etc."
"My art intentionally creative what I have missed in my art loving experience, me! I was born into a world that never showed me a lovely black, fat angel. I long to see things that look like me, my people (I love) and my ancestors. This is where it started."
"I continue today to address the absence of images that I think are important to the stories of my life and culture. I am creating now to preserve and share with others especially my grandchildren what life was like for me growing up. Most of my images celebrate my spirituality which makes life meaningful for me."
Brief Bio
Valerie enjoys life as a mother, wife, professional and grandmother as she pursues goals experiencing God's peace, love and grace. Valerie shares the life story of struggle of ordinary black women described by Delores Williams as resisting and rising above forces in society…doing what they always do: holding the family and church together; working for the white folks or teaching school; enduring whatever they must so their children can reach for the stars; keeping hope alive in the family and community when money is scarce… a contribution of faith, love and hope to the black family to the church and to the black community in North American. Many of her life's dreams have been actualized including a successful professional career as an educator, social justice activist, entrepreneur and administrator of non-profit organizations. She is now using all these skills in ministry – as pastor of New Community Fellowship, a ministry she founded and working as an English Teacher for Oakland Unified School District.
To contact the artist, reach her be email at vbtroutt@aol.com.  See more of her artwork on her website at valeriebrowntroutt.com.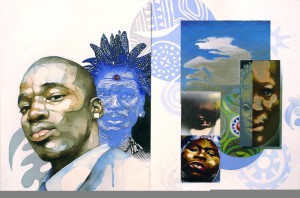 Artist's Statement
LIFE EXPRESSIONS OF LIVING
"After a deep examination of this current exhibition's title, I've concluded that there is a central theme that has ran and is still running throughout my life and my artwork. This theme is the search for cultural identity. Growing up as a child in the 50's which by the way was when I started painting in elementary school, my cultural identity was either taken from me or worst grossly distorted. This led to the development of an inferiority complex during that period of my life. Subsequently I am subconsciously drawn to the cultures to African and people of the African Diaspora. This drive is mainly manifested in my artwork. What is presently being exhibited is a good example of this."
ARTIST BIO
Emmy Award winning artist James Gayles attended Pratt Institute in New York, where he studied under renowned painters Jacob Lawrence and Audrey Flack. He simultaneously pursued careers in both fine and commercial art. As a commercial artist he established himself in New York as a Graphic Designer and Illustrator, becoming Assistant Director of Graphics at NewsCenter 4, NBC-TV. At NBC he won a television Emmy Award for design and illustration.
In New York he was a two-time winner of Art Direction Magazine's Creativity Award, one for the NewsCenter 4 logo redesign, and the other for an editorial illustration for the New York Times. Here in the Bay Area he won the first place award for illustration at the California Newspaper Publishers' Awards.
In addition to NBC and the New York Times, James has illustrated for McGraw-Hill, Random House, Essence Magazine, Black Enterprise Magazine, as well as several advertising agencies on both the East and West coast.
The Artist can be reached by email at jgayles66@hotmail.com.  You can visit his website at http://www.jamesgayles.com.
Read more about James' life and artistic career by clicking on the 'Read More' link below.
The buses in rural Argentina reminded me of old school buses on their last legs: those old buses either converted for use by hippies or prepared for 'twisted metal' style destruction derby.
My first days riding the bus, I noticed two very important things. The first was that the bus was never on time. Of course, this is a subjective opinion because there were no posted schedules anywhere. There were only the times the locals all converged on the designated bus stop, a timing that I can only attribute to years of practice relying on the faltering bus service. The second thing I noticed was that once on the bus it was almost impossible to stay on your feet; at least that was my opinion for the first 2 months or so. The bus driver always drove like he was constantly behind schedule, no matter how fast he flew through narrow residential streets or how dangerously he cornered around tight street corners, the bus was still always late.
So I found out the hard way that at least for a few months the only option was to keep at least one hand on a pole and your feet spread out in a surfer's stance. You had to be prepared to brace yourself for any unexpected jolts, stops, bumps or turns. A bus getting into a serious or even fatal accident was far from unheard of. Consequently, I found myself more than once staring up embarrassingly from the aisle floor, or much worse, from the lap of some seated Argentine. Even the elderly and the smallest children would ride the bus with effortless ease. The looks on their faces when I fell, bumped into them, or banged an extremity because of the uncertain flight of the bus embarrassed me so thoroughly that I would have gladly transferred buses at the next stop if only I had known how or when to transfer, or where the next bus might take me.
Nick Friedland is one of the editors of Synch Chaos Magazine.  He wrote this story about a day to day experience he had while visiting a foreign country.  If you have any questions or comments for the author, feel free to contact him by email at Nick.Friedland@gmail.com.
ARTIST STATEMENT
"I have always been drawn to the arts as both participant and critic. I love to play and improvise and it is in the artistic realm that permission to do so is most freely granted. For me, to create a picture is to solve a puzzle where the solution requires selecting and designing the interlocking pieces. If the process is pleasurable, I manage to maintain a mode of play and feel rich with anticipation and curiosity as to what the end product will be. In the process I work at manipulating perspectives and depth, discovering new ways of using lines and looking for colors that might add zing."
Ron Weil can be reached by phone or email at 510-528-2984 or ronweil@yahoo.com.  Also, you can see more of Mr. Weil's work at his website: www.ronweil.com
Our All-Seeing God
Every Christmas I pray for one special Christmas miracle. The Lord burdens my heart about a certain need. I pray about it and have others pray.  Then, I look expectantly to the Lord for His will and His way in answering.  Long ago I told the Lord I wanted His will in the answers. His plan is so creative and perfect It is usually so different than anything I could have ever imagined. His timing is just right.  He cares for each person so completely, even in the midst of our human struggles.
This year I am praying that a blind student of mine and her roommate will have somewhere to go on Christmas Eve. The leader at the group home where they live does not take them to a community Christmas Party because they have trouble walking up stairs. I thought of inviting them to my house, but I also have some stairs they would have to maneuver.  I am going to leave this in the Lord's hands and see what He has planned. He loves these ladies who claim Him as their all seeing, all knowing Savior.  O lord, please allow these precious ones to see You in all of your glory this Christmas Season and to experience a wonderful time of fellowship in You.
Patsy Ledbetter may be reached at patsyled@sbcglobal.net.
According to the Artist:
"Enclosed are samples of my work from the past 3 years. I work realistically, in fact I work from life. Paintings and drawings of different genres were done from one point of view. Illusionary space became predictable. From cubism I got the idea of multiple points of view and the use of the cubist grid for composition. The oval was a format used by the Cubists. I made drawings of different genres using multiple points of view. Now I'm making still life paintings in the same mode."
Gordon Pagnello can be reached by phone, (415) 487-9948, or e-mail at gordonpagnelloartist@hotmail.com.
View more of his artwork at his Website: morsegallery.com.

Says Wildermuth of her art:
"In this world there are many places to see and many ways of seeing. I paint combinations of landscapes from around the world, which are not usually seen together. The separate landscapes are brought into a close relationship that unites them into a single expression that can' t be seen in the natural world but rather refers to the world of imagination or memory. I choose to paint these invented landscapes to reflect and remind myself of the places I've been, as well take my memories of these lands one step farther into the land of wistful fantasy. These combinations cause me to reflect on the sacredness of our natural places and the curiosity to see even more of this great wide world."
Current news about the artist:
She recently got married and spent a few months traveling around South East Asia. After she returned, she began a new series of landscape paintings based on those travels. She explains her process for this series in her blog at http://wildermuthreyes.posterous.com.
Additional work can be found at www.wildermuthart.com.
Alexander Voitsekhovskiy is currently having an exhibition in Boston at 20 Estabrook Rd. Lexington, MA, 02420.  It opened Friday, December 10th, 6pm- 9pm, and continues Saturday from 1pm- 7pm; Sunday, from 10pm- 7pm.
The Artist was born in Moscow in 1964.  He worked as an emergency room doctor for ten years.  His hobby of drawing left him and many friends with a large collection of sketches.  Unannounced to him, his friends set up his first exhibition in 1994.  His work was an instant success and he continues to earn international recognition.  He has held exhibitions in St. Petersburg, Russia, the United States, and elsewhere.
He lives in St. Petersburg with his wife and two children.
You can see more of Alexander's artwork at www.petrovichbook.spb.ru (Russian)
Statement from the artist:
"My intention is to provoke the multifarious nature of personal identity in the struggle and balance between truth and charade. Used theatricality—more specifically the tensions between the self, persona and audience—as a framework for transformation, I want to reveal and rework the conventions of role playing. The exaggeration of action, costuming and expression pluck the body out of the norm and recapture it in a moment of transition from veracity to illusion and back again."
"In my current work I have appropriated and altered the icon of the self portrait to re-examine when the relationship between self and persona becomes convoluted. Repeatedly showing my own body, in moments transformed into iconic characters through costuming, suggests that personal identity can be distorted by variable persona. However, these moments are juxtaposed with the exaggeration of raw and basic human nature through the consumption of food. Cake is not only a symbol of decadence, but it also mimics and underscores the moment when the natural is disguised and transformed by culture."
More artwork can be found at Alex Luke's Website: http://www.alexluke.com/index.html.
Matthew Kowalski, an artist out of Oakland, California, has been painting in his Radical Relief style for the past 30 years. You can see more of his artwork at www.MatthewKowalskiArt.com.
Kowalski's next show is Saturday, January 15, 2011:
A Brand-New Day
Conscious Collective
4148 MacArthur Avenue, Oakland, CA
3:00 – 6:00 PM (Pacific Time)
Produced by The Space
Statement from the artist:
"I create my Radical Relief art using found objects as a printing medium. Finding the objects I use is random and up to fate. I am driven by curiosity in my search for and discovery of these tools, society's discards. I get a great sense of satisfaction knowing that I am turning someone's garbage into gold and making my small contribution to stopping the waste running amok in our world. It makes me feel good knowing that everything we need is here, all around us; we don't need to make more."
"I love to see shapes layered on top of each other, knowing that beneath each form is a foundational layer. My goal is to make the one-dimensional objects on the surface come alive to the viewers, stimulating their creativity in their search for meaning."

Contact: MK@MatthewKowalskiArt.com
Cynthia Tom is a visual multi-media artist, focusing on surrealism. Her interests in cultural and women's issues shows through her work. She is currently the Board President of Asian American Women Artists Association. You can see more of her artwork at www.cynthiatom.com.
Contact Information:
Cynthia Tom Fine Arts
1890 Bryant St.Studios, 302
San Francisco, CA 94110
415-722-4296
Email: cynthiatom6@gmail.com