Archive for July, 2011
Synchronized Chaos is serving you up a summer "cocktail" for July: equal parts science and nature with a splash of spontaneity.
Tapati McDaniels takes you inside the 4th annual conference on pharmacogenomics and consumer genetic testing, held on May 26, 2011, at the South San Francisco Conference Center.
Leena Prasad kicks off Whose Brain Is It, a brand new monthly neuroscience column.
Daniella Engen finds unique characteristics of wildlife through a lens and gives new boldness to otherwise unassuming moments. Sara Diamond explains the meaning of "dream logic" in her series of whimsical photographs.
Other artists featured in this issue are Ari Bernabei and Trius Fernsler. Bernabei's paintings are joyful in the small details and Fernsler's work is colorful and rhythmic.
Also rhythmic is the poetry by Christopher Bernard. Bernard shares a few of his free-spirited and energetic poems based on bikes.
Last but not least for poetry, Carolyn Havenhill's work reflects upon finding peace and faith during hardships and appreciating the present.
There are 3 book reviews this month:
You also have an exciting opportunity to read the first suspenseful chapter from A. Paul Cartier's novel, Tunnel Road. Also check out the electric and shocking (puns intended) flash fiction by Carter Maddox.
Thanks very much for reading this month's issue of Synchronized Chaos Magazine. Cheers!
His Spirit
In the depth of this sorrow
My heart hears you weep
A prayer in the Bible
I hope you will read
God sends His Love
To Help Carry Us Through
No Matter what has been done to us
Or the things that we do.
He mapped out our future
For as we have been told
The Highways to Heaven
Are streets lined in Gold.
The angel song is as sweet
As Solomon would sing
Our clothes are the finest
Of garments he brings.
A table of silver
Where You are His Guest
A footstool in Heaven
For our weary feet to rest
Breathe deep and feel
His abiding love
Sent from above
Carolyn Havenhill, currently incarcerated in California for drunken driving and taking part in an accident which caused a woman to have a miscarriage, writes as part of a process to rebuild her life and give something positive back to society. She and her victim now write to each other as part of a mutual healing process, and Havenhill dedicates her poem, "His Spirit" to the memory of the unborn child. She intends to continue writing upon release and seeks other outlets to continue publishing her work. You may comment here if you would like to write to Carolyn, and we will give you her address with her permission.
Whose Brain Is It?
by Leena Prasad
Lou has lost weight. He has dark circles under his eyes from insufficient sleep but does not look tired and appears to be happy. He is focused at work and getting a lot done. He is also spending more time on his guitar and writing a new song almost every week.
A friend that Lou had not seen for a while wonders if Lou has slipped back into his cocaine habit. The dopamine level in Lou's brain is consistently high these days. Dopamine is a neurotransmitter produced by the brain and plays a starring role within the pleasure circuits of the human mind.  Cocaine increases the level of dopamine in the brain resulting in feelings of happiness, improved focus, increased energy as well as lower needs for food and sleep.
Lou's mother, who sees him sporadically, worries that he has developed a disorder because he is displaying new behavior patterns.  He spends a lot of time in his childhood room ordering and re-ordering things.  He either taps his foot constantly when sitting down or paces back and forth in the living room when talking to her. She has not said anything because he also seems to be happier than usual and she wonders if the changes might be the effect of his recent job promotion.
His mother reads a lot of popular psychology articles and thinks that he might have a mild case of obsessive-compulsive disorder (OCD).
Can you guess what is going on in Lou's brain?
Lou is not taking cocaine.
Leena Prasad has a journalism degree from Stanford University. Her writing portfolio is available at http://www.FishRidingABike.com and she can be reached at leena@fishridingabike.com.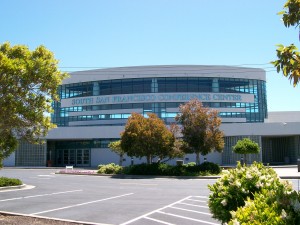 [Article by Tapati McDaniels]
On May 26, 2011, the department of Biology at San Francisco State University hosted the fourth annual conference on biotechnology as it applies to medicine. Each year journalists, health professionals, educators, alumni and students gather to learn about the latest applications of genetic research in various aspects of health care. This year we gathered at the South San Francisco Conference Center to accommodate more participants, an appropriate venue given the role of South San Francisco in the field of biotechnology. Many leading biotech companies are located there and have an active partnership with the city as well as sponsoring the conference.

Master of Ceremonies David Ewing Duncan,  Journalist, Director of the Center of Life Science Policy, UC Berkeley, started us off by sharing the story of his own experience with having a full genetic workup done as well as being tested for pesticides and chemicals for his book Experimental Man. Duncan took all of that information and improved his fitness level and diet to reduce his chances for heart disease, offering an example of how this knowledge can empower consumers. He also invited us to view his Personalized Health Manifesto, which makes the case for a more integrated approach using cutting-edge genetic research in patient care. Like others at the conference his manifesto points to gaps between what we know and what is being offered to patients.
Pharmacogenomics was the subject of the morning presentations and has been described as "the right drug, at the right dose, for the right patient, at the right time." As Kathy Giacomini, PH.D., Professor & Co-Chair, Department of Bioengineering & Therapeutic Sciences at UCSF explained, genetics is one of several factors that can cause a variation in how a patient responds to medication. Genetic factors play a role in the efficacy and safety of drug therapies. Dr. Giacomini illustrated these factors with two stories that clearly showed what's at stake if these issues are not understood and applied to patient care.
Tapati McDaniels is the former publisher and editor of Uppity Women Magazine and is currently writing a memoir. Excerpts can be found at http://tapati.livejournal.com/ where you can contact her with questions or comments.
Daniella Engen is particularly interested in photographing wildlife and producing larger-than-life imagery.  The work featured here is currently on display at Luv a Java coffee house on Dolores and 26th Street in San Francisco, CA. The photos are a small collection of some of the artist's favorite nature photos from places such as Australia, Czech Republic, and Brazil.
Email daniella.engen@gmail.com for more information.
Artist statement:
"My recent artwork is an exploration of a "dream logic," a constructed combination of the fantastic and the real. These photographs contain an intrigue of something found in the crossover between dream states and hyperreality, a whimsical dichotomy between surrealism in the everyday and the constructed. By juxtaposing figures into different landscapes and spaces, and by using hand-made sets and props, as well as finding extraordinary but overlooked scenes, I try to access the viewer's unconscious. Dream logic examines the dialogue between self and otherness, real and unreal, and the natural and the unnatural."
- Sara Diamond
Website: saradiamond.com
Contact: saramyrupdiamond@gmail.com
Street Light Interference Effect, or, You are a Slider
You've got this electricity thing.  Capability.  Talent.  Call it what you want.  It works.
Seventh grade was the first time it happened.  Pre-Algebra class.  Ms. It's-None-of-Your-Business-Whether-or-Not-I'm-Married taught you how to find x if twenty-times-x-equals three hundred.  She was the Cheshire cat.  Her grin was so wide you could see the sides of her molars.  Her eyelids were painted lavender.  She was the drag queen Divine reincarnated, minus the belly rolls.At the end of class she single-filed you all at her desk.  You were supposed to staple your papers together.  The stapler was aqua, bedazzled with rhinestones.  She sat at her desk munching on a snack cake, licking her fingers.  Her nickname—Missile Tits—was obvious: she was Madonna in the eighties.  Instead of a push-up bra she wore a push-out.
Your turn.  You put your worksheet under the stapler's mouth and pressed down on the stapler.  Then you heard it:  a sizzle, a thud, a crack, a hiss.
Ms. It's-None-of-Your-Business-Whether-or-Not-I'm-Married's smile dropped.  She swiveled a one-eighty in her chair.  You looked at the computer screen behind her.  It waved at you, multicolored.
You pressed the stapler again.  Pop!  The screen went black.  It revived itself, an artist's palate of color whorls.
[Reviewed by Bruce Roberts]
Several years ago, the brother of one of my wife's students took his own life. The family, of course, was devastated, but his younger sister, in my wife's class, seemed to forge right on. The mother would call, asking if the girl was distracted, emotional, falling behind, but no, she seemed to be operating normally, despite her brother's death. Her grief—internalized—never appeared in public.
That grief takes many forms is a major theme of Quiet Chaos, a novel by Sandro Veronesi. The plot grows from one particular day in the life of Pietro Paladini, the main character; a day in which he nearly loses his life saving a drowning woman, then goes home to discover that his soon-to-be bride, the mother of Claudia, his ten year old daughter, has unexpectedly died.
He, of course, expects the worst reaction from Claudia, and to assure that he—a good father—will be there when she needs him, he decides to wait in his car across the street from her school as long it takes to see her through this toughest of times. And wait he does. Every day!  He drops her off for school, parks the car, and waits until she reemerges at day's end. She even begins waving out the window at him as she changes classes. What she doesn't do though, is fall apart with grief.
Bruce Roberts is a poet and ongoing contributor to Synchronized Chaos Magazine. Roberts may be reached by at brobe60491@sbcglobal.net.
About the featured artwork:
"The drawings are studies in intimate detail of subjects that can symbolize sustenance, desire, fertility, nature (esp. human-engineered/consumed nature). The association of world maps with nature and consumption speaks to our age."
-Ari Bernabei
To contact the artist directly, please email aribernabei@att.net. Also, visit aribernabei.com.
[Reviewed by Nicole Arocho]
As I read "It Felt Like a Kiss", Leena Prasad's words were a contagious rhythm of artistic truths, or I should rather say, statements, for she encourages the reader to discover his or her own truths just like she did. As an artist myself, I am constantly looking at art in different ways as I keep growing up and my different experiences mold my artistic senses and perspectives. Leena Prasad accomplishes a delicate fusion between a personal essay and informative text that drives us to imagine every single place she describes, every mural or piece of art that moves her to analyze her place in the colorful Mission district of San Francisco. Her personal discovery catapults the reader to question his or her perspectives just like the author did, to internalize the different artistic venues in their town and think of their impact in their lives. Art is an intrinsic part of the Mission District, and each type evokes different emotions and thoughts in the author, which she shares with us with transparency. Each experience is shared with insights of her life, and this makes the book very real and tangible, almost as if you could be right there with her, experiencing the magnetic appeal of art by her side. My favorite "essay" was Shut Up Honky because it showed me a new way of looking at graffiti stencils as "dialogue", not as ill-intentioned messages. Thus, they become a way of having a conversation, of showing the varied opinions and nuances of this rich community.
You can contact the reviewer, Nicole Arocho, at narocho3@gmail.com.
Bike Angel
I fly down the hill on my black bike.
I know what I love, I know what I like.
I conquer the slopes on my bike's back
like a wild black angel, the way I like.
She's a Raleigh ten-speed, phat and sleek,
titanium light and chrome with slick,
quick to the touch and smooth on the road,
hot and fast and rad and black.
We cut close capers, free and all,
skid on concrete and never fall,
we weave a spell as I ride tall.
The girls smile deeply, all the girls, all.
With her, I'm my own man, we weave and spin
between the traffic, and always win.
Trucks and us, we're real close kin:
they win with big, we win with spin.
I know all the looks, I know all the moves
as I race my own shadow, the way it grooves
just ahead like a ghost, the way it proves
it's always beyond me, like storming horse hooves.
I dream as I ride of Larissa and me,
She rode me and rode me like a demon of love.
Then one day . . . the silence went dead like the wind.
Bike and me are now steel heart in a chrome glove.
I learned how to fly the other night.
I put on my shades against the light,
and rode my angel so out of sight
I didn't need love, I didn't need light.
I've been riding for days now, for months, for years
it feels like; nobody sees me, the tears
in my eyes are like spirits, I remember the day
I left for a long ride – to forget, let's say.
The sun in my eyes, the wind in my face,
the shadows beside me kept pace, kept pace,
till the turn at hill's bottom and I came face to face
with a dark car. That was the end of my race.
I conquer the hill on my bike's back
like a wild black angel, the way I like.
I know what I lost, I know what I like.
I fly down the hill on my black bike.
Christopher Bernard is a widely published writer, critic, playwright and poet, co-founder of the literary and arts magazine, Caveat Lector (www.caveat-lector.org), and author of the novel, A Spy in the Ruins. Contact Bernard at christopherwb@msn.com.