Archive for August, 2011
Synchronized Chaos Magazine is encouraging you to do what you can to contribute toward East Africa famine relief efforts. East Africa is experiencing the worst drought in over 50 years and right now, there are millions of people living in fear of starvation and in immediate need of food and water.
Here are several ways to donate directly:
Art and music events in Canada:
This month's issue of Synchronized Chaos Magazine, Building Bridges, expresses transition, movement, and connectivity.
Lex Munson and Michelle Tholen connect their own lives with the natural world. Munson's rustic artwork is unique in that it is often created from memory. Tholen's landscape paintings are luminous and subtly mysterious.
Erik White's paintings are intricate and alive. Each piece seems as though it is in a state of transition.
Andrea Allen links identity, consumption, and nature in interesting ways. Her work contains lines that intertwine into balanced and colorful designs.
This issue also features spirited mural work by Johanna Poethig. You'll have an opportunity to catch a glimpse of what the artist is currently working on in the Tenderloin District of San Francisco, California.
We have several poems to offer you this month, including those from new Synchronized Chaos contributors Cesar Love and Don P. Musey. Also featured are Sam Burks and J'Rie B. Elliott.
Be sure to read Michaela Elias' interesting interview with artist and publisher Rama Tiwari. Tiwari is the owner of Pilgrims Book House.
Whose Brain Is It? Presented as a mystery with fictional characters and some clues before the answer is provided, this is a monthly column with a journalist's (Leena Prasad's) perspective, on the neuroscience of the brain.
We appreciate you reading this diverse and exciting issue of Synchronized Chaos Magazine! If you would like to contribute to the magazine, we are always accepting new submissions. For more information, please click on the "Submission Guidelines" tab on the top of this page.
About the artist:
Andrea Allen doesn't believe in wastefulness. Allen often uses secondhand objects or seemingly disposable objects and places them into new context in her artwork. "Does our progress come from new ideas or recycled ideas in a new context?"
"Color, line, form, and texture are prominent design elements in my sculptures. My abstract artwork incorporates found objects, rope, resin, paint and metal."
- Andrea Allen
Website: http://www.andreaallen.biz
Contact: alaart@gmail.com
Whose Brain Is It?
by Leena Prasad
"Maybe you should start smoking pot," her daughter says and laughs.
"Does it help?" Patricia says, not laughing.
"Well, the THC in cannabis has been shown to be useful."
"THC?"
"I couldn't tell you what it stands for; it's a very long name. It's an active ingredient in marijuana and has been shown to help delay the onset."
"But smoking can cause so many other problems," Patricia says.
"Well, you can ingest medical marijuana in other, safer ways."
They are talking about prevention for a type of brain disease. The Scripps Research Institute found a possible link between THC and the prevention of plaque formation in the brain. But, more recent studies at the Brain Research Center in Canada and the Maudsley Hospital in Denmark, have refuted this claim. Cannabis has not been scientifically vetted as a preventive method for this disease.
Leena Prasad has a journalism degree from Stanford University. Her writing portfolio is available at www.FishRidingABike.com and she can be reached at leena@fishridingabike.com.
Oedipus
Study the green sting of fireflies
Those alert and fulgent flares
Prods in pulse against the witless night
Till quashed by the whiteout of day
Take note the glow of the Halloween frock
Wraithlike white – a hue of milk disbodied
Worn by the revelers who coquet death
Yet boxed, forsaken – once the moon is through
Then watch the welder and his snaky torch
His furtive peek becomes a lock noose stare
The pupil learns when he closes his eyes
Of the retina's dreadful stigmata
Cesar Love is an editor of the Haight Ashbury Literary Journal. He has recently been featured on the San Francisco Poetry Open Mic Poetry Podcast TV Show: click here!
Erik White calls this work "Gravitational Art." His style, similar to the effect of Jackson Pollock, showcases the the movement of paint as a result of the pull of gravity. He states, "The movement of the paint pulled by gravity is a frozen record of the force that holds our world together. The paint is a visual representation of those invisible vibrations."
White is also a political activist. He created The Obama Bill (see image above) in an effort to address his view on current political and economic issues. The following is an excerpt from his essay on The Obama Bill:
This painted ten-dollar bill is an artistic representation of the connections that I have been able to uncover in my research, painted to expose the international corporate bankers who control our money system for their own benefit. When Barrack Obama was elected to the Presidency, like many Americans I was excited. Then he appointed Timothy Geithner to be the Secretary of the Treasury, and it became clear to me that America was not going to see the change it had been promised. Since the election I have been doing research to uncover the hidden forces behind the American political system. The more I have learned, the more evidence I uncover, the more an ominous picture emerges, of shadowy forces, working behind the scenes, to shape and control our world.
About the featured artwork:
Michelle Tholen's inspiration is drawn from the landscapes in Northern California, the sustenance of stunning mist-laden rivers infused with atmosphere and a sense of tranquility.   Colors, light, shadows and perspective in the sky drive the artist to create a lure of light found in the spiritual that illumines, fills and enlivens.  Hopeful in feeling, Tholen's landscapes suggest real and imagined, familiar and foreign places that reveal depth, drive imagination and create mystery.
Email michelletholen@gmail.com for more information. Click here to view the artist's Website.

[Article by Michaela Elias]
The country of Nepal, situated between India and China, is the most popular travel destination in Asia. It is a land abundant with culture, spirituality, and adventure. Nepal, abounding in rich history, boasts over 69 ethnic groups, 71 cultures, some of the most beautiful scenery in the world, and maybe the greatest hiking and trekking on earth considering it is home to Mt. Everest. It is also home to three Pilgrim Book Houses one in Kathmandu, the capitol of Nepal, one in Varansi, and one in Delhi. And although each one of these book houses is unique, none of them are your ordinary bookstore. Most of the books in stock are rare and incomparable just like the book houses themselves. Nepal's propensity towards adventure and divinity is reflected in the themes of the books at the Pilgrim Book Houses, many of which have a focus on travel and religion. Rama Tiwari, the founder and owner of the Pilgrim Book Houses travels around the world himself, searching for unusual books with significant information and far reaching messages. America, France, and Germany are some of the countries he visits in his quest for unconventional and refreshing literature. Most of the books he collects are in English but the book house does contain a section for foreign novels, which have eastern themes.
Rama Tiwari's fascination with books began at a young age. He started his successful career cleaning books in a bookstore. From there he ventured on to sell books on the street and then to open his first Pilgrim Book House in Nepal. The Pilgrim aspect of Tiwari's Book Houses stems from his philosophy that we are all pilgrims in our journey through life. He believes we are all on a quest to discover answers to the fundamental questions of "Who am I" and "Why am I here?"
To inquire about this article, contact Michaela Elias at mitabe@optonline.net.
About the artist:
Lex Munson has been a professional artist and designer for over thirty years. His projects have ranged from designing banks to theater sets, from interior design and graphic arts to theme trade shows and major retail/industrial exhibits. He has taught and inspired hundreds of artists, from beginners to instructors with his unique, dynamic methods, and holds a reputation for creative and entertaining demonstrations. His works appear in many private and corporate collections throughout the U.S. and abroad.
Raised in Yosemite National Park, Lex Munson's deep appreciation of nature's beauty began early. He absorbed Yosemite Valley's sheer cliffs, magnificent trees and cascading waterfalls. Today his paintings recall that misty, magical world in a unique blend of fantasy and reality. Visions, reflected in bold, free watercolors that take the viewer into dreamlike vistas of Yosemite and the Western landscape. Many of Munson's paintings are created on site, but so deeply ingrained are the images of his youth, that the majority are created solely through his imagination.
For more information on Lex Munson and his current workshops and retreats, please visit http://GetawayWithArt.com.
A Transition
We hold on
Too tightly
To an idea
That most closely fits
Into the current
Context
Of images, feelings
That are the living
reflections
Of our dearest
Insecurities
Those beautiful things
dangling
From the ropes
Tied to a stick
Above our heads
Is only us
And we suffocate
The dream
until
It is but a random
Flash of lunacy
In that moment
Before the eyes open
To see that we have grown
Much too big
For the space
We've chosen
For our roots
You may reach Sam Burks at srburks@gmail.com.

About the artist:

Johanna Poethig is an internationally exhibited visual, public, and performance artist. Over the years, she has collaborated with many different artists, professionals, communities, and cultural groups. The work you see here is specifically from a mural project in the Tenderloin District of San Francisco, CA. You can contact Poethig at jpoethig@mindspring.com.
______________________________________________________________________
New Mural in SF

Poethig and Wofford, mugging and working on new mural in San Francisco's Tenderloin. Expect more progress posts as the project continues over weeks to come.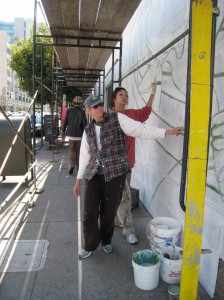 _________________________________________________________________
Week 4: Tenderloin Heights

Civic Center Post Office Mural: Street Art/ Mural Performance Painting/ Social Theater
It's either "Tenderloin Heights" or "Tondo (famous slum in Manila) in the Tenderloin".  Our scaffolding is periodically inhabited.  There are sleeping things stuffed in the tree next to the second level.  I call it the "Garden Level" .  We look over the top planks gingerly every work day hoping for no surprises. What's worse, a tag or some human dung. Hmmmmm.  Hard to say.
The police are not around this week.  People are corralled into this neighborhood.  Arrests seem very arbitrary. There is no space in California prisons and clearly not enough mental health services.  An anti Drug War demonstration came down the street last Friday.  The police were all around that.  There was also a bomb scare at the Federal building 2 blocks down so it crowded up on our block that day. A little too cozy. A blind man knocked over a blue jar of paint and it splatted on to the sidewalk.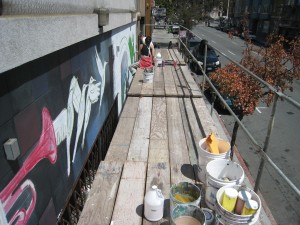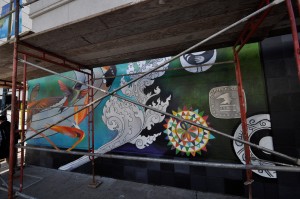 Natural Beauty
With a click the severed sunbeams
Flutter and descend like canary's feathers
As a cat holds down the body.
A body trapped beneath the paws and
Claws that pierce skin, releasing
Fluid that leaves no trace.
A small stubbled head placed
Upon trembling cupped hands
That trap falling water.
The eyes make up lakes,
The mascara raging tributaries.
You may contact Don P. Musey at donpmusey@gmail.com.