Archive for January, 2012
Egyptian International Short Story Competition
Resurrection of Ancient Egypt
Literature has always been a method of communication, whether between the author and the self, the author and the reader, or a book discussion between several readers. These means of communication are outstanding that they can be fulfilled by communicating with the past, and creating some sort of telepathy.
The aim of the Forgotten Writers Foundation is to empower the forgotten literature of some cultures, and thus it issued its first short-story competition, which is about Resurrection of Ancient Egypt.
The competition is about writing fictional short-stories at the era of Ancient Egypt, whereas the stories must not be very much related to historical events. It is open to anyone, giving enough space for the writer to become creative and write about any genre, with any style.
The winning stories will be gathered and published in one book. The aim of this competition, apart from shedding the light on the mysterious culture of Pharos, is to perform an analysis on how Egyptians and non-Egyptians define and view one of the oldest cultures on Earth, and with this analysis we should excavate guidance to our contemporary world.
The formal deadline is on the 25th of January, 2012. However, stories sent within a month time after the deadline will be accepted into serious consideration. The most satisfying output is more important than being strict in the rules.
For Guidelines:
http://mahmoudmansicriticreviews.blogspot.com/2011/12/short-story-competition-resurrection-of.html
Submissions and Questions:
Mahmoud Mansi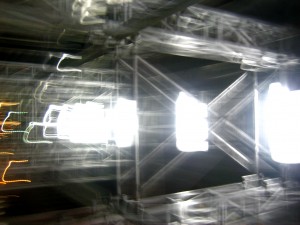 Limitless Sensitivity explores how sensitivity overload can often lead to fearlessness. Contributors this month uniquely show how severe observation is processed differently from one individual to the next: brightness, darkness, sweet, sour. Megalomania is also a consequence of this type of sensitivity.
There are several short stories this moth, including The Hidden World, by Mark Russell Gelade, and Lost Souls (Part 1), by J'Rie Elliott. In George Sparling's energetic piece Lush, the main character is impulsive and intentionally self-degrading. Additional writing includes Glitter on Glue, by Brian M. Barbeito.
You can catch Leena Prasad's monthly column by clicking here. Whose Brain Is It? Presented within the flow of the lives of fictional characters, this is a monthly column with a journalist's perspective on brain research.
If photography is more your style, check out the article by Suzanne Birrell. Birrell recently attended a lecture on aerial photography by Charles (Cris) Benton, Professor of Architecture at University of California, Berkeley.
Also this month, we have two poetry contributions, from Linda Allen and Danny P. Barbare.
In Reviews…
Books:
J'Rie Elliot on Portrait of a Girl and Her Art, by Elena Caravela
Nicole Arocho on Solidarity With The Flesh Eating Mosaic And Other Poems, by Raj Dronamraju
Music/Performance:
Bruce Roberts on Michael Londra's Celtic Yuletide at the Marines' Memorial Theatre in San Francisco, California
Katherine Merriweather on Devaa Haley Mitchell's album, Sacred Alchemy
SynchChaos Cares
We regularly make announcements on our Website and Facebook Fan Page about ways that you give back to local communities and disaster relief around the world. This month we encourage you to:
Visit the winter online art auction presented by the California Coalition for Women Prisoners (CCWP). Click here to learn more about CCWP's mission.
Donate to Philippine flood relief efforts. eBay highlights several charitable art prints for sale, or you can donate directly to the efforts by clicking on any of the organizations listed on the site.
We hope you enjoy this month's issue! Your comments are welcome and please feel free to contact any of the contributing writers directly at the email addresses provided at the end of each post.
The Hidden World
I believe there's a hidden world that—on this particular April morning, walking in the park, hearing the surf crash against the rocks, with the wind blowing through the Cyprus trees and the sky intentionally blue and flawless—reveals itself to be something highly selective and not at all obvious to the casual observer.
Sometimes this sensation, alive with desire, will be heightened by the introduction of a beautiful young girl with cherry-red toenails and a pair of white-rimmed sunglasses, that, together with the ability of shrubs to suddenly burst into clusters of purple petals, signaling spring, produces something like joy, which is also a key with which to enter this hidden world.
Then my sweet Antoinette will send a text message, asking when we can meet. And I will have to tell her that my car has broken down again and there is nothing I can do now to change that.
Then her lips will pout and she will not be happy to hear this. She'll stop sending messages and will later on accuse me of taking her for granted, which is exactly how the sky and trees are not being treated, or so she'll say.
And this will be the beginning of a dark exchange that will move in over us like a gray cloud; until once again, hours later, the hidden world will call out from a golden poppy in a language that only a lover could fathom.
And so a balance will finally be achieved. I will tell Antoinette that if she can wait until morning, I will arrive at her door with warm rolls, fresh coffee, and a smile she can store in her heart for as long as she needs.
And then she will say that this is her lucky day, her happy day; and she, too, will see an opening to the hidden world—one that was planted in her heart, a long time ago.
——————————————————————————————————————————–
Mark Russell Gelade may be reached at mark94121@yahoo.com.
Lost Souls
Pt. 1

by J'Rie Elliott
He was sitting in the dark; the silence that consumed him was almost deafening. There was no laughter, no cries, and no music nothing in this horrible decrepit house to cause a sound other than the sound of his retched breath. This had not always been the case for this lonely, twisted, heart sick man. In a past life he had been a son, a husband, a father—now he was just an empty shell taking up the space that he occupied in his sad small constantly diminishing world.
He stared at the empty bottles occupying the table in front of him when he heard a sound coming from the kitchen. A door slamming, the small voice of a young boy called out, "Daddy, guess what I did in school today? I got an A+ on my spelling test! Daddy, aren't you proud of me? Daddy, are you here? Daddy where are you?" The man entered the kitchen and saw his son, William, standing before him looking around; he knelt to the floor.
"Here I am son. Give me a hug." The little boy came running through kitchen into his daddy's waiting arms, only to vanish before reaching those waiting arms. He was alone in the house again; his son long ago grown into a man. Tears began to fill up in his eyes the same time the aroma of bacon and eggs filled the air, and Fleetwood Mac played in the background; he looked across the kitchen and there stood his young wife, Hannah, beautiful in the warm morning light, with the sun glistening off of her face. The prism she kept hanging in the kitchen windows catching the rays of the sun filling the room with dancing rainbows; she smiled and spun the crystal sending the rainbows swirling around her. She was in high sprits this morning as though there was no heart -ache in the world; the world was a place filled with as much light and warmth as her kitchen in the mornings.
He could see her speaking, see her lips moving but there was no sound coming from her, just the music in the back ground. The bacon cooking on the stove was fragrantly delicious but made no sound. She called over her shoulder as she gathered the bacon out of the pan and placed it on a plate covered with paper towels. She took the eggs off the stove with her right hand and with her left she lifted the coffee pot and poured coffee into a mug. William came barreling into the kitchen followed by a girl slightly younger, Janet. They pulled the chairs from the table and sat down; Hannah sat the eggs, bacon and her coffee cup on the table as William poured him and his sister a glass of orange juice from the carton which was sitting out. The three sat down and started eating, the food was too good to let get cold.
"Darling, I'm here. Baby can you see me?" He waved his hand in front of her face; she reached across the table and wiped juice from the Janet's chin. "Please Hannah, look at me. I'm right here; I'm right in front of you. Oh, God why are you doing this to me?" He leaned over his son's shoulder, "William I'm right beside you; Daddy is right here with you. I made it to breakfast this time." He walked around the table to the side of his daughter, "Little one, look at Daddy please. Baby, please give Daddy a look." He begged and beseeched to no avail. "Stop, whatever it is, stop it!" He screamed out into the universe. He held his head and sat on the floor—he began to sob.
The house turned gray and cold; there was no sunny kitchen, no Sunday breakfast, the happy smiling family dissipated into the air like a mist on the wind leaving just a miserable old man. These memories were not even his, theses were shots of the life that he left; the life that was not good enough for him. He could never be tied down, never loose he's freedom. He had basically left by the time Janet was four and William was seven, he had left Hannah emotionally even before that; he was too focused on what he wanted–himself.
He stood up from the dirty kitchen floor and walked back into the living room of the house. Sitting in the corner was a very old artificial 4 foot Christmas tree, one from a Christmas years ago when Janet and her family were going to spend Christmas with him; that was ten years ago now and the tree still sat in the corner covered in cob webs. Now it only looked of despair and sadness rather than festivities and light. He looked at the little tree and tried to remember why he had not shown up that year; then he remembered, he was working that Christmas day; not that he had to, there were no deadlines to meet, no lives on the line; he just wanted to work, so he chose to sit in his office alone rather than spending Christmas with his daughter, son-in-law and grandkids.
He heard the sound of an engine outside; he looked through the window and there they sat, Janet with Mike and their kids. The air was crisp and there was snow covering the ground; Janet got out of the car and walked gingerly to the door. He ran to the door to answer it, but could not turn the knob. She knocked and waited and knocked again.
"I'm home this time Baby!" he called to her. "The door is stuck!" Janet turned to her husband sitting in the car with the engine running and shrugged her shoulders; Mike motioned for her to come back. She walked carefully back down the path and got back in the warm car; he could see them talking through their windows, they decided to wait. He called to them again, but they could not hear him; the clock on the wall began ticking off minutes in seconds and hours in minutes until three hours had past. He saw Janet holding her face in her hands and her husband Mike red with anger as they backed out of the driveway and left. Three hours they had waited; Janet not wanting to give up on him; surely he would come for Christmas she said—she had been the last passenger but that was the day she boarded the 'just let him go' train.
William boarded that train when he was twenty years old; at that age he was no longer a boy, but still not quite a man either. He needed a guide in his life, a father in his life; which was not something he had growing up. Will had always held out hope that when he got older his father would want to know him; want to know the kind of man he turned into, the kind of girl he had fallen in-love with, to know the things every father should know. William's faith had been placed in the wrong man. For every door Will tried to open his father would slam shut; regardless of the sacrifices William made to try and be the son he thought his father wanted it was never enough. The year he turned twenty was the year William boarded the train and he took his young family with him.
Hannah had been the first to buy her ticket on the 'just let him go' train. Hannah's came the winter that the heat in their house went out; Janet was just four that year and a sickly little girl in and out of the emergency room as though she were on a Ferris wheel. Hannah had a fire burning in the stove, but the wood ran out and the fringed temperatures were too much for the run down little house without a heater. Janet turned blue while she was sleeping in Hannah's arms; little William shivering under the blanket next to her. She called and told him she needed him to come home; he had been gone for so long, there was no heat other than the stove and the wood was running out, the house was so cold and she was scared for the babies. He never came; he was too intoxicated to even know who was on the phone. Hannah wrapped up the children as best she could and walked the half a mile to a neighbor's house carrying Janet as William followed. Hannah never spoke to him again; divorce papers arrived in her mother's mail box six months later along with papers signing over custody of the children.
———————————————————————————————————————————–
J'Rie Elliott is a poetess and ongoing contributor of Synchronized Chaos. To contact her, send an email to dixiepoet@gmail.com.
Lush
by George Sparling 
 The frat rats rushed and accepted me, Rand Adams, as a pledge into the Krappa DumDum fraternity house at  "The Harvard of the Midwest," because they wanted their house filled with Wasps. At least that was what I thought. I unpacked my luggage, hung my up herringbone suit, sports jacket, ties, and shirts in the small closet, stashed my underwear away, put a framed photo of my high school girlfriend on the bureau, lit a Marlboro, sat on straight-back chair at a desk, inhaled just like John Wayne, and pulled out a half-pint of peppermint schnapps.
"Hi, I was enjoying the view," I said, turning away from watching longhaired hippies playing hacky sack, kicking the footbag, doing bag daggers and ham spalts. I never played that game, preferring darts, getting high on booze, purposely missing the target, zinging the darts into a bunch of jocks with their dates.
They would get aroused from their pre-coital word-dance, come after me, they kicking holy shit out of me, I staggering outside, blood from nose dripping, my nuts screaming in pain, my body falling apart like the scarecrow in 'The Wizard of Oz," getting fixed up at the university clinic. I must love getting touched, the hard way.
"Want a slug?" He looked at me as if I had violated some tribal ritual. The price of being dateless: masochism and brutality.
"Hello, Rand, I'm JQ, glad to meet you,' he said. His bright Ralph Lauren Polo shirt, Prada charcoal gray pants, and Armani sports coat glared at me. I glanced down, seeing flashy Barker Blacks Ostrich Cap Toe shoes. My dad subscribed to GQ and Esquire, the only reason I knew.
"Nope. I only like soft drinks. I'm studying Electrical Engineering. Hope you'll study hard too."
"I'm taking business courses, accounting this semester," I said crisply, as I chugged the remains of the schnapps, sticky fingers I wiped on my snotrag.
Drunk on high school commencement day, letting the entire senior class see me teetering around, cursing and talking to classmates, scaring them, not the usual mediocre, khaki pants and rolled up sleeves guy nor the one picked on. Before the ceremony, as part of the humiliation treatment, I stood before a couple hundred students as well as the principal. I had a hangover but I made a trembling, sotto voce apology into a microphone. Drinking booze, my first major taboo I had broken. Degradation: cost of freedom.
Three friends and I used to play poker in one of our homes most Saturday nights, and after I losing time after time five or six bucks, I stood to them and swept the last pot off  the table. Then my next door neighbor confronted me, punching me in the gut, another guy threw a shot to my eye. I quit seeing them, watching TV rather than being scapegoated by sadists. Friends: A social lie.
JQ: six feet one, 190 pounds, muscular arms and legs, expensive aftershave, its je ne sais quoi giving him an indescribable something, bounced as he walked, erect posture, tan skin, dark eyes, crew cut black hair, steel pens clipped to his shirt pocket, charcoal gray pants tailor made, Superman psychic eyes able to reconstruct damaged structures ( my emotional infrastructure, perhaps? ), proud chest accentuated by his heads-up, striding fast walk. I had none of those attributes, but what I did have was withdrawing my life from persons such as JQ, drinking my forte.
My first DumDUM party, a jamming rhythm and blues band hired by the fraternity, their music frantic, they, too, high. JQ set me up with a girl from a nearby college, and the four of us rode in his Buick, his "steady" as he called her, in front. JQ said to me, "Sober up a bit before you meet your date."
He drove to a drive-in and told me to get a pint of milk to go with burger and fries. I drank and ate, he saying, "The milk will coat your stomach, letting you drink more, and not get so googly-puss that your date, Millie, would get upset."
I did as instructed, feeling alright until we started dancing, the band playing fast and hard, then I weaved and bobbed to a table, Millie following me, and I puked on the table, vomit streaming onto her fancy gown.
"Listen you, wise up, they're nice girls here, from ritzy homes, rich families—they're not accustomed to queers like you, Rand." I heard the words "ritzy" and "queer,"and, with arms leveraging myself on two others seated next to us, I finally rose, and threw a punch at JQ, he blocking it with one Superman Hand, and pushed me hard, and I fell to the greasy floor. He grabbed my armpits, lugging me upright and that was the end of the party for us. He let Millie off, and as she stepped over me next to the door, again I barfed, only this time all over her pricey gown.
JQ said, "He's sorry for what happened, I'll call you tomorrow." She turned, looking clinically in shock, and said, "I thought you knew what's his face, but apparently you didn't." I pulled the door shut, and JQ, behind the wheel, gave me the back of his arm, not hitting me, but shoving his elbow at me. My father had done the same with me after driving me home from a high school dance, threatening me with his big arm, blaming me for his slamming into a culvert. "If you had a real date, not some gal who was pressured my other girls, embarrassed not to have a date for the Dame's Dance, this wouldn't have happened."
I finally reached the upper bunk, sleeping in vomit-drenched clothes, but JQ pulled me down, undressed me, I naked, and then hoisted me into my bunk. I woke up Sunday, slowly walking to the two man shower, opposite me was JQ, scrubbing off last night's incriminating evidence. After drying off, he never spoke about his affair with "Steady."
I slipped on pajamas, slept for a couple hours, clean and relatively sober. Later, I had coffee and a bagel with cream cheese, licking my lips. The dining room empty, members studying.
I stopped going to classes, throwing away any chance gaining admission to the business clique. I would rather have JQ beat me up, something I looked forward to anyway. What was a blood-soaked saint if not pleading to drain away his evil?
"I'll have to go home. There's a funeral I have to go to," JQ said. "My father's part Commanche. An elderly man committed suicide, rather suffer indignities of old age."
"I hadn't the opportunity to go to one," I proudly said. He had no response.
"It goes back to when they were warriors, fighting, warring their way of life. The old ceremony made the corpse as small and compact as possible, then threw the body into a pit."
"I read somewhere about counting coup," I said. "Did they do that rather than kill enemies?" Damn, I sounded so inquisitive, all the while grateful that JQ would absent himself from me for a weekend.
"If they touched an enemy with a stick, that meant a kill."
He packed his clothes, put on a Glen Brae sport coat over a turquoise-blue Armani shirt, and slipped into Crockett & Jones shoes.
"You dress as if you're going to a royal wedding," I said.
"Oil money, I can't help it. Our family was middle class until father made a fortune in oil wells."
He never said goodbye, walked downstairs, and drove the Buick away from Krappo DumDum's parking space.
Now I had the room to myself. I hid a bunch of Playboy, Penthouse, and Hustler magazines, the sequence getting more vulgar, dirty, and sleazy. My secret little habit was trimming with small sharp scissors the outline of all the semi- or -fully naked women. It took hours, this being Sunday, and I could work without anyone knowing about my hobby. It was fun shearing closely around bodacious butts, around large-nipple breasts, cutting exquisitely down the thighs and calves, the blowjob lips and jerk-off hands, the bare feet, an oh those Hustler clitorises, how finely I edged the scissors around cobra-hooded clits. Venomous, these women's images hissed at me, making them dangerous if touched only softly, as feathery as I imagined Native-Americans counting coup.
I then scotched taped them to the walls, ceiling and doors, the room overloaded with testosterone. I turned on my tape recorder, saying the vilest words possible, working up to major eruption, the 1908 Tunguska comet/asteroid impacting Siberia, so powerful that Western Europeans could read at night, was humble and meager in comparison. Seize the day: my forebrain acquiesced and faintly whispered,  "OK." The Grand Old Limbic System, its amygdala: I pressed my mouth close to the mic, and rasped, "OH GOD GOD GOD GOD…
Though I had at first thought Krappa was uniformly Wasp, JQ the obvious example, the frat had guys such as Huck. I had never seen him eat with others in the dining room. I was flunking out, taking only an English course, my favorite novel, "Heart of Darkness."
JQ always sat at the housemother's table, and I despised him for that. He always sat at her right, she at the head of the table. Why was the right hand of God so exalted, the Bible verses rife in both Old and New Testament? Latin for left was "sinister," pernicious and apocalyptic. While JQ attended a funeral, a guest sat at her table. I had never seen him eating with the rest of us, he at her left.
After dinner, walking together upstairs, I trailing them, I heard him say, "The locksmith job eats up my time away from the books."
She said, "We never had the do-ri- me, it's a means to an end."
He sat in the living room, reading "Heart of Darkness," I glancing at the cover.
"You're in my class but I never knew you were a Krappa."
"I am but live with my dad, helping him with the locksmith business."
"Do you break into many homes that you put locks in?" He smiled, his wiry body squirming a bit in the comfortable chair.
"You a pledge?" he asked cautiously. I replied I was but may not for long because I was not going to classes except for English.
"JQ told me about you, how much you drink peppermint schnapps. As long as you're flunking out, maybe you could learn a trade like locksmithing. How about it?"
"I can't do mechanical work. I should have gone to a vocational school, even being a mail carrier would have been fine."
We discussed Conrad's novella, were Kurtz and Marlow part of the Belgian Congo's colonial empire, or was the book a psychological study. I played the native that said,"Mistah Kurtz, he dead," JQ an unwritten Belgian character—a nothing—in the novella.
After a while, Huck got up to leave, pulling out of his pocket a key.
"Here's a souvenir," and Huck gave me a strange looking key. "The peaks are even, cut down to the lowest groove. If you had a hammer, you hit the key, and some locks would open. It's a dump key"
"Why give it to me?"
"I learned a trade from prisoners in the slammer. Come to the shop," he said, handing me a card from his wallet. People opened up, telling me things they would never mention if told to insiders: My stooped back, at twenty-five finding nothing much to talk about, drinking schnapps my only escape.
Easter break, all the bothers gone, I hanging around because I had not wanted visiting my parents. I liked their checks, though. Slightly sloshed, I went downstairs and finding myself alone, I walked to the housemother's quarters. I borrowed a small hammer from JQ's dresser drawers: I scrounged for money, valuables, maybe pawning them, and then fleeing to New York City, getting in the ad business, its deceit I relished as much as the schnapps.
I put the dump key into the lock, hit it, turned the knob, and walked into her rooms. I searched for valuables in closets, drawers, under her bed, under couch and chair cushions, into pockets of clothes on hangers, everywhere. I was pissed, swallowing more from the fifth of schnapps. The drunker I got, fury traveled through my body, especially my solar plexus, the "seat of the soul" to some religious believers. And this soul smashed lamps, ripped up cushions with a kitchen knife, broke chinaware, hammered out glass covering photos of friends and family, cut a Middle Eastern rug with shears, broke vases containing flowers, slashed her mattress with a high carbon stainless steel knife. I wanted to torch her apartment, the frat house going up in flames.
I found typewrite paper, writing, "Thanks, Huck, your gift has brightened my life."
I deserved an eagle feather for vandalism, counting coup also my version of war. I was fed up with JQ's abundance. Though indelicate, I realized my hands better suited for lush work in subways. I read about it in a newspaper, how an underground existed of men rolling drunks was outdated, but using a sharp knife set free wallets of lushes slouched and snoring on subway seats. I welcomed joining a fraternity of lush workers.
Even after thirty-seven arrests, I'm at last certain that lush work was better than college or vocational training. Like counting coup, I only intended to rob victims, not slay them.
———————————————————————————————————————————————–
You can reach George Sparling at gsparling@suddenlink.net.
Glitter on Glue
Plush carpets and the outsides of windows showed trees with thousands of branches, the snow on them like someone sprinkled glitter on glue. Brightness and it was alright that the purple plum trees had now closed down, their September bounty produced, picked, and eaten. A large balcony above, iron gates below and two cherry trees were planted by the fence, one sweet and one sour. Down in ravines always something was barking, fighting, or otherwise sounding in some way. In the summers when the rains came, the small stream overgrew itself and flooded the hills, bringing down the odd tree, say a newly planted Evergreen, or else carrying Garter snakes up from where they were trying to be quiet and wait in the wait that is their ordinary wait, that is their solitary wait, that is their instinctive and prayerful and prey- full wait. Music played and glasses chimed. Sometimes a man would put wine on his fingers and circle his fingers, one or two or even three of them around the top of a wine glass and it would make a strange whistling sound. At other times two men would make a drink and light something and then there would be fire on top of the glasses or cups. Laughter, lighting, and the way of things. The women talked about people, about local events, while the others, their counterparts with the fire and whistling sounds, argued about the greater world and were more externally oriented. Couches and floors were there, and stucco walls sturdy waited beyond bookshelves and strange collections of things. There was a wood chiselled carving of King Tut, a deceased dog's identification tags, an arrow and bow that a visitor had brought from somewhere in Europe, and a collection of books by Ernest Hemingway with hard blue covers that nobody ever read. In the night, there were no lights outside really but there was one motion detector. Everything grew quiet and even the traditional howls or fights from animals in the ravine sometimes calmed or else were muted as if quarantined by some invisible barrier that said, "This is the night, and it now to be vast and quiet, calm and easy for a while, so that the snow owl can peer out from somewhere or the squirrel can run without fear now." The wind picked up the snow-glitter, and carried it away to somewhere invisible in the slight beyond. But some snow still stayed on the branches. And the thousands of sticks waited there in the dark, patiently, for the bright hours to show themselves.
———–————————————————————————————————————————
Brian Michael Barbeito writes impressionistic vignettes, flash fiction, short stories, prose poetry, experimental novels, book and film reviews. His work has appeared at Glossolalia, Subtle Fiction, Mudjob, Six Sentences, Thinking Ten, American Chronicle, Our Echo, Ezine Authors, Author Nation, A Million Stores, Crimson Highway, Paragraph Planet, Useless-Knowledge Magazine, Exclusive Conclave of Delights Magazine, and Lunatics Folly. He resides in Ontario, Canada.
Whose Brain Is It?
by Leena Prasad
"Chai tea," Tina says to the woman behind the counter.
Hema tries to suppress a chuckle.
"What's so funny?" Tina asks.
"Nothing. It won't be funny to you."
"Try me, anyway."
"Well chai in hindi means tea."
"Oh," Tina says and giggles. "Yeah, we like to appropriate other cultures words without considering what it means."
"I don't really care. But it does sound funny. I'll have some tea tea please."
"What makes something funny?" Hema says, as they sit down at a table wither their drinks.
"Well, maybe it has to do with something absurd. Like tea tea."
They sip their drinks, considering the question.
"You know, I read somewhere that if a certain part of the brain is touched, it can cause laughter."
"You mean, like in the inside, by a brain surgeon?"
"Yes, yes, during surgery, or when they are examining the brain."
"So, the humor circuits are hardwired? I guess that makes sense. Everything is hardwired, I suppose."
Hema could be describing the case reported in Nature magazine by neurosurgeon Itzhak Fried of University of California at Los Angeles. Fried made an accidental discovery while studying the brain of an epileptic patient, a 16-year-old girl. He was trying to diagnose the reason for her seizures by using an electric probe on her brain. Every once in a while, the girl would start laughing for no apparent reason. He realized that when the probe touched a specific area in her left frontal lobe she would laugh. If he increased the electric current, the girl would laugh with more intensity.
Much of research on humor has been done on brain abnormalities that cause inappropriate laughter. It is difficult to study "normal" humor because the definition of humor varies. But, researchers can look at the result of humor, i.e., how the laughter resonates within the brain circuits. Excluding laughter caused by tickling, laughing gas, or simply as social contagion, some recent studies examine the result of laughter on a healthy human brain as it responds to everyday humor.
The area that Fried was touching inside the 16-year-old girl's brain is less than an inch-square and it's called the supplementary motor area. In a study cited in the Brain journal, a PET scan revealed an increase in the blood flow in the supplementary motor area while subjects responded to humorous film clips.
"Do you think women laugh more than men?" Hema says.
"Hmmm… I'm tempted to say, probably yes, but I wonder if anyone has actually studied something like that?"
The answer is not as simple as per a study cited in the Proceedings of the National Academy of Sciences.  It's not the quantity of laughter but the qualitative differences in the integration of the response in the male versus the female brain. A group of 10 men and 10 women were shown a series of cartoons and asked to rate the cartoons as being funny or not.  An fMRI scan showed that the left prefrontal cortex was activated more in the women than the men for the cartoons that both genders found to be funny.
"Whatever happens in the brain, I've read that laughing is good for you," Tina says.
"Sure, it certainly feels good."
Laughter produces generous release of the feel good hormone dopamine and activates the reward circuits of the brain, the mesolimbic region. This was also discovered by the fMRI scan in the experiment that evaluated the differences in gender-based reactions to funny cartoons.
"We now have laboratory evidence that mirthful laughter stimulates most of the major physiologic systems of the body," says William Fry, M.D., a Stanford University psychiatrist. He says that twenty seconds of laughter, real or fake, can increase the heart rate for a few minutes.  Fry also says that laughter can potentially reduce the risk of heart attacks by reducing tension, stress, and anger and that it may even help in making people less susceptible to some diseases by warding off depression.
Yes, laughing feels good. More studies are required to map the exact brain areas complicit in causing this response. But, we can rest assured that a little laugher is indeed a "good medicine."
---
References:
B. Wild (2003). Neural correlates of laughter and humour, Brain, 126 (10), 2121-2138 DOI: 10.1093/brain/awg226
E. Azim (2005). Sex differences in brain activation elicited by humor Proceedings of the National Academy of Sciences, 102 (45), 16496-16501 DOI: 10.1073/pnas.0408456102
---
Please send feedback and suggestions for future columns to leena@fishridingabike.com. Links to past columns are available at WhoseBrainIsIt.com and Leena's writing portfolio is available at FishRidingABike.com. Leena has a journalism degree from Stanford University.
Dr. Nicola Wolfe is a neuroscience consultant for this column. She earned her Ph.D. in Clinical Psychopharmacology from Harvard University and has taught neuroscience courses for over 20 years at various universities.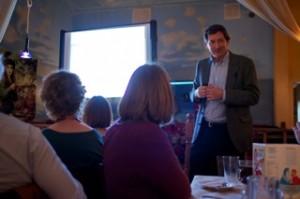 Wednesday, December 7, 2011: I was privileged to attend yet another Northern California Science Writers Association (NCSWA) dinner and hear yet another wonderful lecture. Conversation, as always, was titillating, witty, and provocative; especially with many guests representing the American Geophysical Union (AGU) in attendance while in town for their annual conference. It was all about science, folks, not about political agenda.
Charles (Cris) Benton, Professor of Architecture at UC Berkeley, was the guest speaker.  He spoke not of architecture, per se, but his passion: aerial photography using kite-lofted cameras. Entertaining and informative was his lecture; breathtaking and inspiring were his photos.
The history of Aerial photography goes back to 1850. Through the years, eccentric and creative scientists, such as Cris, found ways to attach their cameras to such objects as balloons and carrier pigeons as well as kites. The heaviest camera, flown by George Lawrence in 1906, weighed fifty pounds and took seven kites to lift it to a grand height of 1,200 feet!
Professor Benton himself has 7 or 8 kites ranging in size from 8 square feet to 60 square feet. His camera weighs in at 3.5 pounds and there is the added weight of the frame and radio controls. Cris reports it's rather like playing golf; it's about wind direction and speed to determine which kite to use. He also reports that aerial photography with kites trumps babies and puppies for attracting attention. During his 15 years of experience, Cris has killed 2 cameras and retired 12 more due to obsolescence. His photos are taken at altitudes that are too low for conventional aircraft and serve to pick up the focus below what is available for Google Earth.
Besides some purely entertaining photos of children, cities, architecture, and landscape, Cris gave a slide show on photos that he has been taking over the Southern San Francisco Bay Salt Flats. Since 2003, many of the salt flats have been in the process of being restored to wetlands. He has found that many of the marsh channels documented by an 1850 survey are still following their original channels. As salt pools evaporate from sea's 2½% salt solution to the 35% salt solution in the flats, the representative colors are fabulous. Reds, greens, and golds; the photos are artistic as well as scientific in nature.
Professor Benton has been working with special use permits from the Don Edwards National Wildlife Refuge and the California Department of Fish and Game. His photographs are documenting the result of adaptive management of the area. As pools are opened up to the tidal flow, his photographs are documenting the slow return of flora and fauna. Returning they are! Quite amazing and reassuring to see that saline land can be reclaimed.
Don't take my word for it.  Go peruse the photos on his site.  They are absolutely stunning: http://arch.ced.berkeley.edu/kap/index.html And while you're at it, go to NCSWA.  They schedule special explorations, tours and workshops all year long.  Fun and intelligent people of all ages.
——————————————————————————————————–
You can reach Suzanne Birrell at Suzanne@thisoldhippy.com.
Fences
Fences make good neighbors, but fences are better for your enemies.
You cannot forever make me cry.
I will put a fence between you and I
A fence so tall and tight that even you will never get through
Fences
I need a fence
To keep you out
Fences
 To block the pain
To keep you from making my heart hard and cold
Fences
To keep you from making me colder inside
To keep you away from my heart
Fences
Fences
So I can finally be rid of you
Fences
That keeps out hate and only allows love into my heart
Fences
To protect my heart and soul from those who seek to harm
Fences
Fences
To help save me
To help save my heart and soul
Fences make good neighbors, but fences are better for your enemies.
You cannot forever make me cry.
I will put a fence between you and I
A fence so tall and tight that even you will never get through
Fences
That protect everyone
Fences
—————————————————————————————————————-
Linda Allen may be reached at lindaallen4119@att.net.
The Janitor and the Mop
As
the
mop
says
you
have
to
be
humble
before
the
floor
shines.
—————————————————————————————————————————
Danny P. Barbare lives in Greenville, SC. He works at a local YMCA on the weekends. He attends Greenville Technical College.
[Reviewed by J'Rie Elliott]
As a society we set a concrete definition for every word we use; the word art is defined as the quality, production, expression, or realm, according to aesthetic principles, of what is beautiful, appealing, or of more than ordinary significance.  The book, Portrait Of A Girl And Her Art, by Elena Caravela took this definition the breaking point.
This breathtaking book is a combination of beautiful art and the beautiful girls who bring this art to life.  On first inspection of an art book, generally the reading of the words are surpassed by the overwhelming impulse to view the creative works held within the cover—this collection is no different.  The first eye catching piece I saw was not the actual art being displayed, but its creator; an astonishing young woman with eyes of a brilliant shade of aquamarine.  Her quote on her art was "When I finish a piece it feels like I have just given birth to a baby!"  Now this statement is probably more figurative than literal, however it does prove to make a point; to bring something from nothing, to fill space that was once empty with a thing of intrigue and beauty is art.
Every time I turned to a new page, my eyes were infiltrated with one amazing young female after another; while their art is impressive the portraits of the girls tell parts of their stories before you ever get the chance to see the expressions they created.  Seeing these faces start the story and then seeing their art fills in the blanks.
One of the endearing parts of this book is the ages of the girls within vary from very young child to young lady. One of the younger girls is a gorgeous African-American gem named Ayanna; her smile shows the imagination and creativity that is just bubbling beneath the surface.  While her art is juvenile in nature, the art she inspired is by no means juvenile.
Discovery is the title of one section of this art story– it is featuring a young woman by the name of Katherine; a striking face with emerald eyes, eye brow piecing and care-free hair.  Her art is in tune with nature and the world that surrounds her.  When discussing her art she said, "Think of things in a different way and show the importance of the seemingly insignificant." To this writer, this line spoke volumes; we walk through this world with our eyes only half open and our minds always half closed – if we would just slow down to enjoy the amazing world around us art would become than just a word—it will be a lifestyle.
I definitely suggest that time is taken to view, read and enjoy this amazing collection of artistic works—if not for the art itself, than for the amazing depictions of its creators and the story it tells.
——————————————————————————————————————————————————————-
J'Rie Elliott is a poetess and ongoing contributor of Synchronized Chaos. To contact her, send an email to dixiepoet@gmail.com.
[Reviewed by Nicole Arocho]
More than Solidarity with a Mosaic of Mind-Eating Poems
Raj Dronamraju's Solidarity with the Flesh Eating Mosaic & Other Poems is a book full of poetic surprises. His take on poetry is a fresh one, and his unconventional metaphors are proof of this. As I was reading his poetry, I was constantly pushed out of my comfort zone, not only as a reader but as a poet as well, in order to understand his original compositions. I am not implying that it was hard for me to understand his writing but, rather, that his poetry is an exercise of the mind in which the process of reading becomes a process of understanding as each verse comes along your eyes; the metaphors and poetic images come together in one compilation of words that make total sense as one written piece.
With this book you never get bored. Dronamraju writes within many subjects; the ones that struck a chord in me the most where his poems portrayed society's negative inputs in humans as a whole. His criticism of today's society in "No Need to Buy Apples" is light and humorous, but still delivers the message against conformism and the lack of new, creative ideas in society. I here provide the last strophe of such poem:
If I could see the blood in my veins x-ray style
I would notice it slowing down for a rush, a flood to a steady hum
The horizon is limited
The scope of vision is limited
Ambition's being baked into a pie and served in small, easy to eat slices
It is an apple pie of course
Another poem that I read more than twice is "The Elephant Symbol". The personal connotation of this poem is very clear, and the author uses the elephant to portray the embodiment of religiousness in his culture as a Malaysian, and how such religious ties weren't where he was headed in life. Here's an excerpt of the last strophe:
The pachyderm that means so much
Strength, fertility, creator, this world and cycle
Is prodded with sticks when it wants to do something on its own
How disappointed I was
To be prodded with sticks
When I tried to go in a different direction from the rest of the herd
Solidarity with the Flesh Eating Mosaic & Other Poems is divided in two parts. However, to me it has three divisions within itself, according to the context of Dronamraju's poems. First, there's the category of third-person poems, in which the poet writes from the eyes of some character in society whose point of view he wants us to see, to get into, to feel his/her own pain and emotions. Such is the case of Madwoman, in which the poetic voice talks about women's role in centuries past and how different it is now:
Her 19th century words
"It's like being in a jail"
Her 20th century curse
"I can't lower myself to feel happiness
Stroking his carcass, at the beck and call
When they identify the ritual sacrifice, it will be the family
Second, there is the group of poems construed as pieces of criticism towards society and humanity's negative behavior in general. Apart from "No Need to Buy Apples", I very much liked the poet's take on pop culture's escapist nature under the title "A Simultaneous Scheherazade". By finishing with the verse "There is no escape from escapism", the author presents us in a clear fashion the consequences of the media's "filters blocking the imagination". It entertains us but, in the end, we can't "remember a thing" for "it is too much" because "our minds have not developed at the same speed" as they used to before mass media offered us an unlimited escape from reality as technology progresses.
And third, but not least important is the category of personal poems, intrinsic pieces of the puzzle the author creates in this book. These poems are the most emotionally moving and their passion and power registers with the reader more strongly (without making the rest of the poems any less exciting to read). Although I state that these are personal poems, I say this in the sense that the poet is using the poetic voice to portray situations in life that may have happened to him, or that his writing has being influenced by events or observations surrounding his life. Such is the case of "Friends of Your Own Age", where the author writes about the journey of life delimited by the age of 35. Before such age, he was "still not accepted as part of the tribe", and after, he felt that he may not be "going out and meeting people". To the author, he was never fully accepted in society, and he doesn't think this fact will change anytime soon. But the "personal" poem that struck me the most for its blunt approach was "Planet Sexy". The use of the space and planets as a metaphor of his position in society is very clever and fresh, and his writing feels very accessible and very relatable, at least to this reader. The last verses "Circling the galaxy in my head/I can only stomach a world very different from this one/I won't survive re-entry" made me think of the "other" world writers go to, where we travel in order to get our words on the page, where we feel safe and in control instead of the whirlwind life in society can be.
I cannot finish this review before talking a bit about the author's choices of titles. Every title was interesting, and pulled me in right away into the poems. As a writer, it is very important to get the reader's attention from the start so that he or she may continue reading and become interested in the author's work in general. In poetry, the role of the title is of utmost importance, for the poem, as it is in Dronamraju's case, may be short, but the title draws the reader in with curiosity of what the poem is really about, and surprises us with either confirming our first suppositions, or, as it is more often, the author gives us a bigger surprise by presenting us a piece dealing with a completely different subject than the one we were expecting. Dronamraju starts the job very well, but also continues it and finishes it in such fashion, leaving the reader no choice but to finish the poem in order to get the whole sense of the piece.
As a reader, I enjoy being surprised. Dronamraju's poetry delighted my curiosity as a reader and stimulated my senses as a writer. His vocabulary was enriching, and his poetic language and images were of high standards; this way, he dares the reader to keep up the pace with him, to get on his level and contemplate on life's many mysteries and everyday life situations with short but very powerful pieces of poetry that give life to the "mosaic" the author has created for us.
———————————————————————————————————————-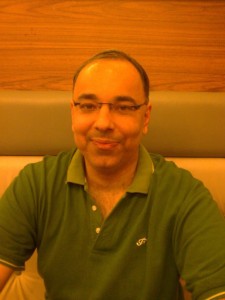 About the author: Raj Dronamraju currently lives in Ipoh, Malaysia where he teaches English at a local university. He was born and raised in the United States, but has lived in Malaysia for almost ten years after marrying his wife.
You can contact the reviewer, Nicole Arocho, at narocho3@gmail.com.