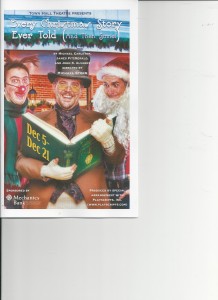 Every Christmas Story Ever Told
(And Then Some): Review by Bruce Roberts
A collection, a collage, a cornucopia, a bubbling cauldron of laughter—how does one describe a play that literally encompasses Every Christmas Story Ever Told (And Then Some)? Written by Michael Carleton, James Fitzgerald, and John K. Alvarez, this story is anchored around tradition—Dickens' A Christmas Carol—but because most of the three man cast does not want to do A Christmas Carol, they spin off into every other Christmas story and tradition imaginable.
Michael Storm is the director of this brilliance at the Lafayette, California, Town Hall Theater, and aided by three outstanding comic actors—Henry Perkins, Liam Callister, and Justin DuPuis—has crafted a masterpiece of non-stop wit, satire, and slapstick, all on a somewhat demented Christmas theme.
Henry Perkins—actually a brilliant understudy for the ailing Dennis Markham– has prepared to perform A Christmas Carol, drawing the audience deep into the somber plot with "Marrrrrley is DEAD," orated with all the ponderousness it deserves. And he keeps trying to carry this out, but each time he tries, lighthearted rebellion bursts forth from his co-actors, Liam and Justin—all three known by their actual names since they play so many parts, naming them by their roles would be ludicrous.
In fact, Henry plays the center of this comic whirlpool beautifully, for no matter what he tries, he's resisted, satirized, and put on the spot. In one skit, he very logically, with absolutely unrefutable statistics, proves that Santa does not exist, only to be forced to backtrack at the heartbroken wailing this brings out in Liam, playing one of his youngest myriad characters. In his final attempt at A Christmas Carol, Henry's again forced to reconsider because his fellows are bouncing back and forth between Dickens and It's a Wonderful Life. Inevitably, he too is bouncing: one second he's Scrooge, the next George Bailey, then Scrooge again, with all three distinguishing the stories through accents, from Dickens 19th century British, to George's 20th century New England
As the antagonists here, Justin and Liam are sensational, showing incredible talent. Every voice, every expression, every posture possible is handled deftly with comic intent. They are old, they are young; they are meek, they are aggressive; they are male, they are female. Whatever's needed for the plot to defy expectations, they do, and oh so well.
The Lafayette Town Hall Theater is a cozy scene with great seats everywhere, the home of many amazing performances. Everyone in the Bay Area should keep alert for the next play here. But for Christmas laughs, no matter where performed, watch for Every Christmas Story Ever Told (And Then Some).
Bruce Roberts is a recurring writer and reviewer for Synchronized Chaos Magazine, and may be reached at brobe60491@sbcglobal.net