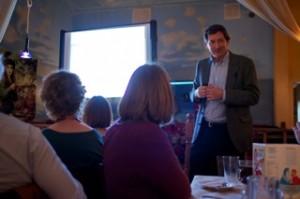 Wednesday, December 7, 2011: I was privileged to attend yet another Northern California Science Writers Association (NCSWA) dinner and hear yet another wonderful lecture. Conversation, as always, was titillating, witty, and provocative; especially with many guests representing the American Geophysical Union (AGU) in attendance while in town for their annual conference. It was all about science, folks, not about political agenda.
Charles (Cris) Benton, Professor of Architecture at UC Berkeley, was the guest speaker.  He spoke not of architecture, per se, but his passion: aerial photography using kite-lofted cameras. Entertaining and informative was his lecture; breathtaking and inspiring were his photos.
The history of Aerial photography goes back to 1850. Through the years, eccentric and creative scientists, such as Cris, found ways to attach their cameras to such objects as balloons and carrier pigeons as well as kites. The heaviest camera, flown by George Lawrence in 1906, weighed fifty pounds and took seven kites to lift it to a grand height of 1,200 feet!
Professor Benton himself has 7 or 8 kites ranging in size from 8 square feet to 60 square feet. His camera weighs in at 3.5 pounds and there is the added weight of the frame and radio controls. Cris reports it's rather like playing golf; it's about wind direction and speed to determine which kite to use. He also reports that aerial photography with kites trumps babies and puppies for attracting attention. During his 15 years of experience, Cris has killed 2 cameras and retired 12 more due to obsolescence. His photos are taken at altitudes that are too low for conventional aircraft and serve to pick up the focus below what is available for Google Earth.
Besides some purely entertaining photos of children, cities, architecture, and landscape, Cris gave a slide show on photos that he has been taking over the Southern San Francisco Bay Salt Flats. Since 2003, many of the salt flats have been in the process of being restored to wetlands. He has found that many of the marsh channels documented by an 1850 survey are still following their original channels. As salt pools evaporate from sea's 2½% salt solution to the 35% salt solution in the flats, the representative colors are fabulous. Reds, greens, and golds; the photos are artistic as well as scientific in nature.
Professor Benton has been working with special use permits from the Don Edwards National Wildlife Refuge and the California Department of Fish and Game. His photographs are documenting the result of adaptive management of the area. As pools are opened up to the tidal flow, his photographs are documenting the slow return of flora and fauna. Returning they are! Quite amazing and reassuring to see that saline land can be reclaimed.
Don't take my word for it.  Go peruse the photos on his site.  They are absolutely stunning: http://arch.ced.berkeley.edu/kap/index.html And while you're at it, go to NCSWA.  They schedule special explorations, tours and workshops all year long.  Fun and intelligent people of all ages.
——————————————————————————————————–
You can reach Suzanne Birrell at Suzanne@thisoldhippy.com.