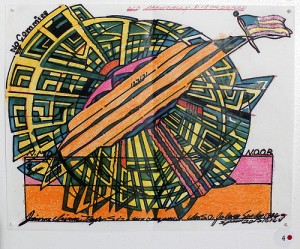 The Community Arts Program (CAP) gallery and workshop is situated on a grimy corner of the SOMA district in San Francisco, about a mile south of the city's towering monument to consumer excess, San Francisco Centre. Standing in the shadow of the glitz and polish shining proudly off of central SOMA's fine art galleries, high fashion boutiques, and expensive hotels and restaurants, CAP is sandwiched, stubborn and proud, amongst a hodge-podge of liquor stores, strip clubs, sex shops, and various other peddlers of cheap gadgetry and fast gimmicks in the heart of the Tenderloin. A mixed bag of sidetracked tourists, vagrants, shoppers, and local businesspeople line the streets, hurriedly going about the affairs of the day with scarce a thought to the small, cramped workshop tucked away amongst a morass of commerce and vice. But to the more than 250 destitute, desperate artists of the Tenderloin who frequent CAP annually, it's a sanctuary, a sacred place where they can bring their dreams to life and add some color and light to the dark, dreary world in which so many of them live.
Started by Central City Hospitality House in 1969 to give the poor and underprivileged residents of the Tenderloin access to creative resources that would otherwise be unobtainable to them, CAP believes that "these materials are the tools that provide an often-neglected outlet for creative freedom and, subsequently, they serve to enhance self-esteem and ambition." As such, they offer the use of all of their supplies and materials free of charge, giving people like James Irvine Taylor, whose current exhibit "Futurists Utopians" is on display at the gallery, a chance to express themselves and find safe haven in a community of shared creativity and strife.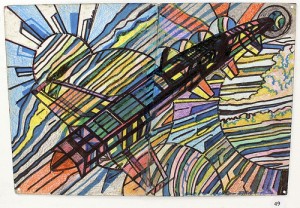 Brightly colored, well-defined, and full of hope, James' work is a stark contrast to the realities of his everyday life. An unemployed, somewhat agoraphobic resident of a single-occupant housing development in the Tenderloin, James is an elderly man who shuns modern conveniences like e-mail, television, and even the telephone, mostly preferring the solitude of his small studio apartment where he can create his colorful Utopian futures in peace, rather than face the rigors of the everyday world. James rarely makes appearances at the gallery itself, according to Ivan Vera, CAP's program manager, and as such I was not able to speak with him directly. But the man's work clearly speaks for itself, and his clarity of vision is both immediately accessible and undeniably powerful.
Reaching into both the past and the future to achieve his vision, James mixes graceful and stately art deco sensibility with the neon glare and wild imagination of sixties-era sci-fi to create a vast, angular landscape of order, glory, and freedom. Graceful, androgynous figures dot the landscape, beckoning with promises of a bright, utopian future, while rigid lines and hard edges bring a stained-glass quality to nearly every piece, merging form and function with a designer's eye and a philosopher's heart. UFOs and automobiles feature prominently in his work, getaway vehicles offering promises of adventure and liberty out among the stars and planets scattered across a great number of his pieces. Throughout all of James' work lies an undeniable sense of innocent wonder and defiant hope that, if you just keep dreaming and building, you can reach a better tomorrow.
To learn more about James Irvine Taylor and view his work, please visit the following link:
http://www.flickr.com/photos/cchh_cap/sets/72157631848187082/with/8121181317/