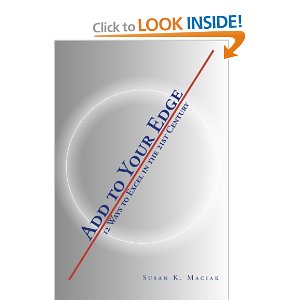 Book Review: Add to Your Edge: 12 Ways to Excel in the 21st Century If earning a living seems more daunting these days, you'll find a few coping clues in Add to Your Edge:12 Ways to Excel in the 21st Century.This recently released book guides readers through a dozen changes in direction that have turned the business world upside down and changed the job market forever.
Small business owners, CEOs of large corporations, seasoned employees and recent graduates all will find out how the game has changed. This book covers new rules for everything from career advancement to customer service. It helps readers climb today's unsteady career ladder, control inevitable crises, compete in the global marketplace and cope with intense 21st century competition.
Add to Your Edge, by Susan K. Maciak, career coach and corporate trainer, could be called a survival guide for navigating today's world. This book shows nervous employers, frustrated job-seekers and troubled work teams how to take advantage of current trends rather than be crippled by them. Hints can be found in every chapter, including:
Re-Train Your Brain You 'Gotta' Have a Gimmick Stand Out from the Crowd Crack into Your Creativity Be Your Own Teacher Articulate Your Strengths Update Customer Service Control Crises and Conundrums Take Personal Interest in People Think speed . . . and Convenience Understand Added Value Re-Imagine the Road to Success
Add to Your Edge is now available in paperback and eBook on amazon.com, bn.com, cameo100.com and other online booksellers, along with Maciak's four previous books: What Are People Skills, Anyway?, First Job Jitters, Job Shopping and The Monster Show.
Contact the author at suemaciak@comcast.net Author owns rights and consents to use of photo.