MASH UP: A Review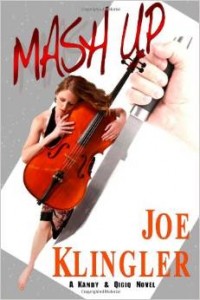 Joe Klingler's mystery novel, Mash Up, is a page turner. Anyone who has read Dan Brown's DaVinci Code knows that it just flows on and on, from one action to another, so that it's almost impossible to put down.
Mash Up is the same way. Beginning with a small piece of gruesome—a severed finger mailed to a friend of the victim—Mash Up explodes out of the starting blocks into a 600-page dash, where each contestant is a different strand of a convoluted, but exciting, mystery.
The severed finger is the springboard for demented killers, skimpy bikinis, an Eskimo detective, marvelous classical music, shipboard sexpots, wild car chases, Machiavellian computer viruses, exploding iPods, beautiful musicians dancing naked on remote beaches, and more, and more.
All of which commends Klingler's writing ability, because the story flows smoothly all the way through. The writing never allows the plot to slow down.
What does allow it to slow down though is the seemingly endless number of strands. Toward the end, when all of these well-developed mysteries-within-mysteries should be coming together, some of them seem to get lost, either depending on unlikely coincidence, or just sort of fading from sight, giving priority to others.
Klingler goes into such detail with everything, showing great knowledge of yachts, motorcycles, classical music, and computer programming, that to wind up the many strands so quickly at the end seems to make several less important. Some turn out to be not connected at all.
Overall, this is a fascinating book. Mystery and adventure fans will love it. Might it be better as two or three books, so the author could strengthen focus at the end? Yes. But as it stands, it is still 600 pages of very entertaining and readable writing.
Bruce Roberts, 2014
Mash Up is available on Amazon here: http://www.amazon.com/Mash-Up-Joe-Klingler/dp/1941156037/