Review of The Final Factor: Duty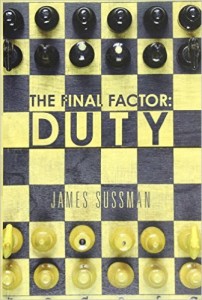 James Sussman's The Final Factor: Duty, is a new entrant into the popular literary genre of political thrillers. It's not exactly a James Bond revival—there are no British secret agents involved—but the bad guys want to take over the world, the good guys possess the righteousness and the skills to fight back, and violence and sexy women pop up throughout the story.
The main culprit here is, of all people, the President of the United States, bent on causing chaos, and using that confusion to take over first the country, and then perhaps the world. He is surrounded by Yes Men who believe in his vision and are organizing to follow his plans through. Unlikely? Give him a moustache and improve his public speaking and you have Adolph Hitler.
The opposition are loyal Americans–basically a retired general and some of the FBI, plus a few hit men on the correct side. At the beginning, they seem a minority, a patriotic few who must obstruct the President's plan secretly, for fear of reprisal. But as the evil plot tries to unfold, the good guys cause problems at every turn until at last evil is thwarted, good prevails.
Sussman's writing is competent, and he seems to know a great deal about military and FBI procedures. He's unlikely to win any literary awards, but the plot keeps moving at a fast pace, a requirement in such a story. There are moments when the plot seems strange, as when the sexy FBI agent seduces the old General before they get down to the business of defeating the President. That such a summer/winter couple would jump into bed anyway seems odd, but to do it when the country is on the brink of disaster seems even odder.
However, this story is a page turner! Character development is at a minimum, but the fast pace and the country-shaking conflicts hold a reader's attention right to the end. If a reader likes this type of book, save a spot on the bookshelf for this one.
Bruce Roberts