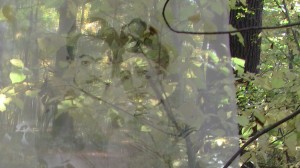 BEAUTY BY SURPRISE
By Mainly Unexpected Means—
Work from the Cubberley Studios
Curated by Theres Rohan
Meridian Gallery
535 Powell Street, San Francisco
Through December 21
While I was passing the Meridian Gallery down Nob Hill the other lazy day, I let my eyes wander over the sign outside and was promptly stopped in my tracks by the title of the gallery's current show. I am, I admit, a sucker for group shows: they usually include at least one artist I've never heard of worth the visit; so, in I went. And, after a discreet welcome by the eager-eyed staff (I didn't have the heart to tell them I'm as penniless as most artists: the best I could give them was only words), I let myself sink into an hour of completely unexpected charm.
"By Mainly Unexpected Means—," as it happens, displays work by 20 artists who have been active at the heart of Silicon Valley, where digital is king and the virtual world is bidding to take over whatever is still left of "analog" culture. That the totalizing grasp of such revolutions always fails (history, like nature, never letting any one thing succeed for very long) is some consolation; that at the very heart of Digitaland the material world and its spiritual extensions are so subtly celebrated makes at least this art lover breathe with relief. Not that the digital world is by any means ignored or scorned here: it is, however, used to deepen our humanity, not to try to replace it.
The exhibit comprises work by artists who have been in residence at the Cubberley Community Center, in Palo Alto. In the Cubberley Visual Artists Studio Program, selected artists are provided with studio space and engage in classes, exhibitions and related activities that bring together the arts and the local community. The current exhibit provides a selection of work by these artists.
And there is some very choice work here. Julia Nelson-Gal's "Greetings From Kalamazoo" are scrolls made up of found photos and thread, stitched together in rows of narrow bands and suggestive of collage friezes and ancient reading scrolls expressing private fantasies and half-forgotten memories. Inga Infante has a series of little, gray metal boxes, all called (with delicate irony) "Wired," lined up with dignity on a wall, with tops ajar like doors to tiny closets and lots of white space around each; with décor on the "doors," wires impishly turned from the boxes (making the viewer wonder what they are connected to); inside the boxes, half-hidden, are curious objects and pictures.
Lois Anderson has a single, small but memorable piece, called "The Knowledge Factory": a diminutive book made up of a couple dozen paper quires, bound with string so it can't be opened, with "Withdrawn" ominously stamped, in institutional lettering, on wraparound paste-ons and a title "The Knowledge Factory student power and academic politics in America" making a statement that is clear, provocative and profoundly witty.
Sharon Chinen has perhaps the most sheerly beautiful analog work in the exhibit, with a series of exquisitely delicate pieces in the exhibit's first gallery: wall hangings made of the thinnest wire and worked into, in some cases, spiderweb-like, in other cases nest-like, in still others crown-like, forms; expressing a combination of hardness and gentleness, strength and fragility, the kind of power that is only revealed through this kind of tenderness and control.
There are two video installations, either of which alone would make a visit to the exhibit worthwhile. Michal Gavish's "Untitled Frame" is a brief film in which a transparent cloth seems to be hanging in a woodland, swinging in a gentle breeze; printed on the cloth, or appearing and vanishing in multiple-exposure, in long-bygone styles of painting, drawing, and photography, are the faces of an apparently Latin American couple, an older balding man wearing glasses, a woman with sad eyes and unregarded hair, people perhaps from the artist's past, or from an imaginary past; the only sounds (projected from small speakers above and behind the viewer, who sits in one of two old-fashioned dark wooden chairs that themselves call up memories from early in the last century) of bird calls and distant traffic and the conversations of passersby on an unseen street.
Nora Raggio's "Geo Wideo" is easy to miss, as it's placed, alone, in a small room off the gallery's main lobby, horizontally on the top of a small table. But it would be a shame to pass it over: it's an example of digital tablet art; the viewer looks down at it from above and watches the piece slowly unfold in silence, screen passing across screen in random sequence and various divisions, revealing forms from nature: dense gray clouds, puddles spotted with tiny bits of natural detritus like floating splinters of stars, indecipherable blurs and flowing streams, and moving lattices of shapes: flowers, leaves, water.
Other standouts in the show include two large-scale archival pigment prints by Peter Foley, densely saturated photographs of interior architectural spaces: "Untitled Red" a pink-tinted empty space almost perfectly symmetrical, with a wrinkled, wall-to-wall carpet in shock red; and "Untitled Blue" a corner of an industrial room in the midst of demolition, viewed from a low angle, with a majestic rip across a panel of sheetrock revealing what looks like an old unused elevator shaft and a car with a door of cobalt blue.
Other work of interest includes photographs of a land installation by Linda Gass, curious "tools" by Ken Edwards, oil paintings by Ann McMillan and watercolors by Marguerite Fletcher, and metal serving platters wittily engraved with common, humiliating commands from childhood ("stand up straight," "look at me when I'm talking to you") by Marianne Lettieri.
A performance piece by Lessa Bouchard that is part of the exhibit will be performed on Saturday, December 7, at 4 pm. The exhibition also includes a small catalogue that includes an index of the artists' websites for the curious.
_____
Christopher Bernard is a poet, novelist, essayist, playwright, photographer and filmmaker living in San Francisco. He is author of the novel A Spy in the Ruins and the recent collection, The Rose Shipwreck: Poems and Photographs. He is also co-editor of the webzine Caveat Lector.