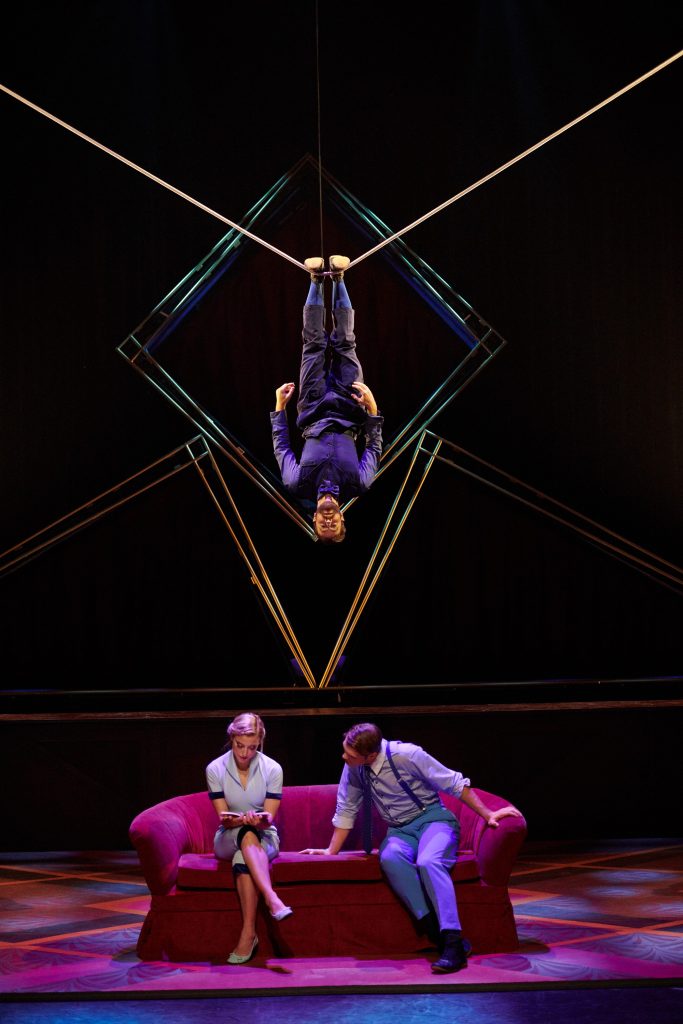 Hot l
Cirque Éloize
Zellerbach Hall
University of California, Berkeley
A review by Christopher Bernard
When is a hotel like a circus? And when is a circus like a hotel?
Both are dreamy places of encounter and chaos where strangers tangle in embrace and flight and our fates are in our hands briefly before they journey on to other lands, and everything is apparently controlled but anything can happen at any time; where lovers meet and lovers part, fortunes are made and fortunes are lost, but only Fortune rules; where the daring young man on the flying trapeze is suddenly an ancient porter bowing for a tip, or the master of ceremonies becomes a harassed maître d', or a junior maid suddenly saves the show.
They are little worlds both, where we can be whatever we pretend to be, put on glamour and tinsel when we make our entrance to the grand lobby or the big tent, and for a beguiling moment take on the substance of a dream.
In Berkeley over a recent weekend, Montreal's Cirque Éloize revealed just how much poetry, humor, fantasy, imagination and grace can be mined from these parallels, in Hotel, brought to the Bay Area by Cal Performances, and the company's 15th original creation, premiered in 2018 to celebrate their 25th anniversary.
Cirque Éloize has been called Cirque de Soleil's (also headquartered in Montreal) "slimmer, sexier sister," which is not far off. But what Cirque Éloize is in itself is what counts here: a compact, inventive, multi-talented troupe (they are all, at one point or other, equally skilled acrobats and dancers, actors and impressionists, contortionists and musicians) who can give the impression of a small army of véritables artistes with a distinctly French Canadian aesthetic: alternately sadly tender, old worldly nostalgic, sharply witty, bravely romantic, and robustly pratfally, sometimes within the same few gestures.
I'll admit that, at the afternoon show I attended, there was a moment near the beginning when I wasn't sure if there was a bit of scene that wasn't working out, or a technical glitch, and a couple of minutes passed (an eternity on stage) when the troupe seemed to flounder as bits of pumped-in music whispered and died several times before sounding with complete security. But this was the sole hitch in an otherwise tight performance.
The setting was a hotel lobby with a peripatetic entrance door (moved about on wheels and proving a prop of many uses) and a long bar cum counter at the back under a diamond-shaped alcove and triangles of neon tracing bright lines above the stage. The lobby morphed through a collection of glittering identities: from a 1920s Grand Hotel, to a 1940s lounge for a Gilda-like torch singer, to a disco-fever ballroom from the 70s, to an 80s Jane Fonda gymnasium, before flipping back to its Art Deco roots, with, trooping through it, a cavalcade of archetypes of the modern caravanserai: the swooning lovers, the attentive groom and his glamorous bride, the hotel's jack-of-all-trades handyman, the mischievous maid, the shady, "chameleon" figure who lurks in all such places where strangers mingle, a pair of twins who confuse everyone, and a maître d' who imagines himself in control of things no matter how often fate instructs him otherwise.
The meat of the show was series of acts, by turns acrobatically controlled and comically chaotic, building to a series of climaxes, each bettering the last, until the audience was heated to a compound of clapping, whistling, hooting, stamping celebration.
Several moments bear special mention: Cory Marsh's work on the Cyr wheel (a large hoop, like an over-sized hula hoop, worked from the inside; an act not strictly original, but I haven't seen it quite so imaginatively choreographed and performed); Vanessa Aviles' graceful work on "tissu tension," long rope-like scarves hung from the flies; Jérémy Vitupier's death-defying (and head-endangering) acrobatics and miming with a piece of luggage at least one person in the audience won't soon forget; Una Bennett's wittily risqué work on aerial rope, inspired (and well-timed) trumpet riffs, and a Metropolis-reminding spinning of multiple hula hoops from neck down to shins, commanding a scene where hula hoops reigned, indeed rained; and, helping bind the whole, sizzling vocals by Éléonore Lagacé, especially near the rapturous conclusion, when she commanded as much with guitar as with a voice that surprised the house with an unpredictable (unless one remembers the old phrase: "chaotic, like a Spanish inn"), highly theatrical, deep voiced, and deeply satisfying, swathe of flamenco vocals, sung con mucho duende.
The creative team was led by Cirque Éloize's president and creative director Jeannot Painchaud and director Emmanual Guillaume, and the atmospheric musical accompaniment, both live and piped in, was composed, arranged, and compiled (including a magical performance, by Antonin Wicky, of one of Chopin's most exquisite and moving nocturnes) by Éloi Painchaud.
____
Christopher Bernard is co-editor and poetry editor of the webzine Caveat Lector. His new novel, Meditations on Love and Catastrophe at The Liars' Café, appeared in January 2020.