The Raven's Daughter by Peggy A. Wheeler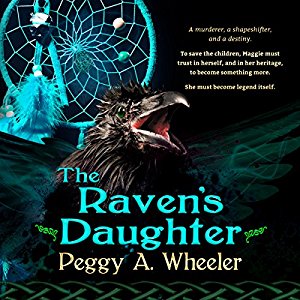 The Raven's Daughter by Peggy A. Wheeler is yet another exciting winner. This novel is suspense horror and has a bit of the supernatural. This will grab your full attention from the first page to the last and have your adrenaline going into overtime.
Tall Bear Sloan is half Native American and half Irish. She is retired from law enforcement but has worked with the Wicklow Sheriff's Department in the past as a consultant. When twins start disappearing and turn up murdered, Jake, the Sheriff and Maggie's very good friend, goes to Maggie and begs her to help in solving the case. At first Maggie will not do it, but eventually she relents. Maggie has dreams that become all too real, and she tries to find explanations for them. Maggie does not believe in anything supernatural or in ghosts. She believes there is always a logical explanation for events that happen.
The dreams Maggie is having now have to do with her destiny and Ravens. The dreams seem to be visions, and she finally accepts that there might be something to her dreams. This book will truly keep you on the edge of your seat and have your adrenaline pumping all the way through. When you think you have it figured out, there is a twist that will surprise you. As with all of Peggy A. Wheeler's books, this book will captivate you and have you wanting more. This would be perfect for older teens to adults. I absolutely loved it and highly recommend it.