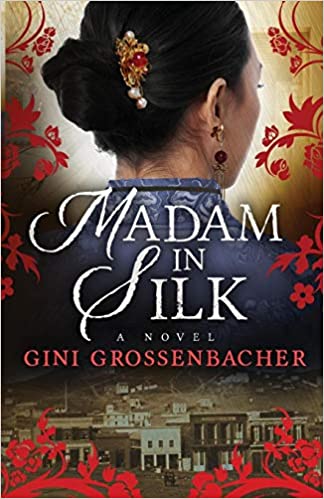 Madam in Silk is an historical romance with lots of adventure. It takes place in the 1850's, in the infancy of San Francisco and when Chinatown was known as Little Canton.
Ah Toy and her companion Chen are on a voyage from China to San Francisco when her greedy and abusive husband dies of consumption. He is buried out to sea. By Chinese custom she is supposed to go back to China to marry her greedy and even more abusive brother in law. However, Ah Toy along with Chen find themselves finally free of years of abuse and fear. When she looks for some kind of employment, she finds she cannot work any service positions due to her feet. Her feet had been disfigured when she was young so that they would remain small and she could wear lotus-shaped shoes on her feet.
She and her companion find a shanty in Little Canton to live in. In order to survive, she opens a "lookee shop' where men pay to glimpse her naked. She becomes quite wealthy. When her brother in law sends Lee Shao Kee to kidnap and bring her back, she goes to China. She goes to Officer Wong for help. There he suggest she open up a parlor house.
This novel is based on historical events and is loaded with adventure and excitement. You will be rooting for Ah Toy all the way through. This is the perfect book to read during this time of sheltering in place.