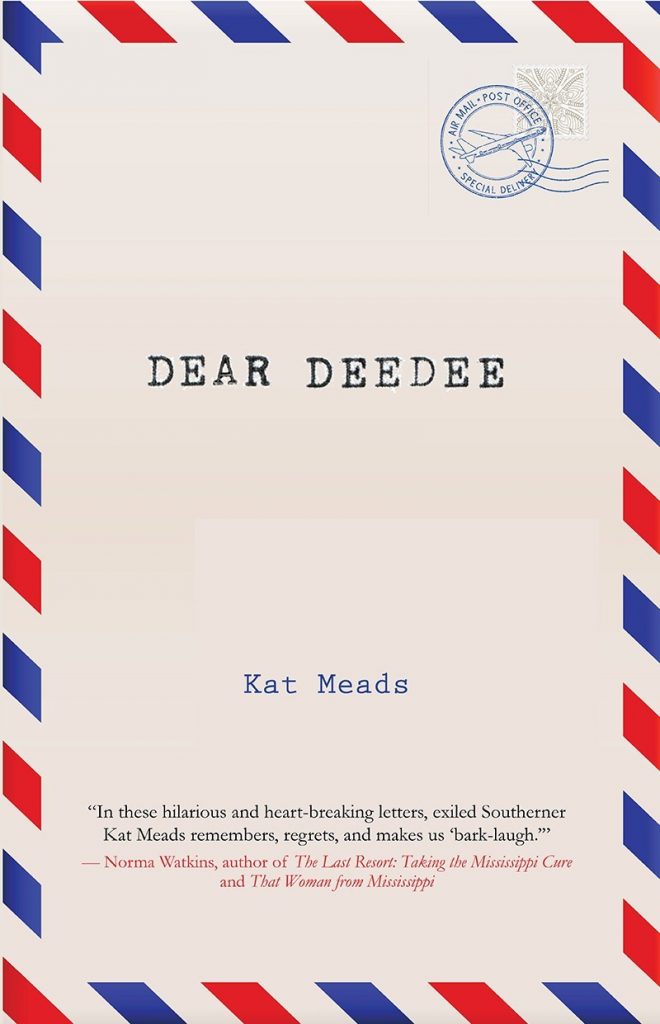 From Dear DeeDee
Kat Meads
(Regal House Publishing)
West Coast
Sunday, March 3
DeeDee,
As mirrors confirm, you have your dad's hooked nose and someone's curly hair but overall resemble your mother. Shared bloodline notwithstanding, you escaped becoming a remake of your paternal great-great grandmother. Since such is the case, I hope you have also escaped some degree of body botheration in these slim and exceedingly body-conscious times. The qualifier because what female escapes appearance anxiety altogether? None I know, have known or read about. Even the beauteous V. Woolf self-reported her "ugliness." If you're supposing the comment that Virginia looked as if she'd "been pulled backwards through a hedge" affirms Virginia's self-criticism, rethink. That Rebecca West remark refers to Virginia's clothes, wardrobe, presentation—not to the frame and flesh on which those disorderly clothes hung. (See what I did there? Tossed in a literary anecdote to postpone admitting what I'd rather not.) Female insecurity in the looks department gives every indication of being a regenerative, evergreen malaise. Even to type those words makes me peevish. However: the deal I struck with myself when I started these notes was not to pretend there'd been progress where there'd been none, or that, gazing back from the advantage of a riper age, I'd describe my own twenties as a period of pure nirvana. Those years were nothing of the sort. I spent most of the decade unhinged and terrified.
Time out,
Aunt K
West Coast
Tuesday, March 5
DeeDee,
I'd have written sooner, but I was waiting for my temper to cool. Since that adjustment took the better part of two days, I'd appreciate it if we kept those recovery stats to ourselves. Your extended family has never gone in for ranting of any sort, outbreaks of which are viewed as unseemly and conspicuously self-indulgent. Extended pique of the sort your aunt just indulged in? A disgrace to one and all. Onward. Before you joined us, our immediate family was a uniformly blue-eyed crew, shades of blue the differential among us. My eyes are darker than your father's, his darker than your grandfather's but quite close to your grandmother's hue. None of us smile with bee-stung lips. Your grandmother's skin "never burned" when she sunbathed—a sparing your dad and I coveted, since we shared your grandfather's quick-to-flare paleness accented with freckles. At the beach, regardless, your dad and I stayed all day in the blistering sun. In the late afternoon—and not until—your grandfather joined us. Prior to, he worked on jigsaw puzzles inside the cottage. I could try to describe my six-year-old's squeal, the whirly excitement of seeing him crest the dune, available at last to take me past the breakers. But I wouldn't succeed.
Love,
Aunt K
West Coast
Friday, May 17
DeeDee,
It would make sense if I'd felt trapped in a car, by a car, as the Ford Galaxie veered toward the ditch or thereafter, surrounded by broken glass and crumpled metal. But it didn't happen then or then. It happened the afternoon cousin Linda and I had stayed late at school for a 4-H Club meeting, driven home by another club member's mom. Amped up on cookies and soda, we were a screechy gaggle of nine- and ten-year-olds cavorting on the backseat all the way home—or almost. As soon as Mrs. Simpson turned off East Ridge onto our dirt lane, we saw what shouldn't have been lined next to ditch cattails: car after truck after car, parked, drivers missing. As Linda shoved her way across legs, I frantically worked the door handle, Mrs. Simpson telling us to wait, just wait, until she'd come to a full stop. But we didn't wait. We'd run that dirt so many times for fun, for games, run it just to run and now we ran in terror toward Linda's house, streaked with black, still smoldering. The Meadses were okay; only the house had been harmed. But we hadn't known that, trapped in Mrs. Simpson's car. We weren't afforded that comfort, separated from our own.
Love,
Aunt K
West Coast
Friday, May 24
DeeDee,
On the second floor of the Carolina building, above the Carolina Theatre, our family dentist drilled. In between cavity excavations, Dr. Johnson's patients could hear snatches of soundtrack, if not otherwise loopy on nitrous oxide. I hated going to the dentist. (Who doesn't?) I also had a mouthful of cavities, a situation that did nothing to improve my attitude. As a reward for getting through an exceptionally grueling session, your grandmother took me to see Old Yeller, downstairs. Since she hadn't read Fred Gipson's novel prior to (boy adopts dog; boy and dog bond; bad stuff befalls dog), she must have considered the Disney version a safe bet. (A very iffy post-Bambi assumption, it must be said.) When Old Yeller gets shot, I was by no means the only distraught child in the audience. However: judged by extremity of reaction, mine logged up there in the top five. Your grandmother quite literally had to drag me, bawling inconsolably, down the aisle toward daylight. During the car ride home, chest heaving with sobs, I assaulted the narrative. To spare Old Yeller's life, why couldn't this have happened, why couldn't that? An addiction, reworking the narrative. Once someone's developed a taste, does she ever go clear?
Love,
Aunt K
West Coast
Friday, Nov. 8
DeeDee,
The Loma Prieta temblor. A seismic event that absorbed your attention or no? Although I wasn't around for the quake itself, I arrived in time for the aftershocks. Unsettling: the swaying of electrical wires in a windless moment. Although I've yet to dream of earthquakes, I suspect that night terror is in the works. You'll have no interest in your aunt's dreams but bear with me. There's a reason I bring up last night's night script. Instead of the usual scenario (tidal wave approaches while I stand paralyzed in its path), last night I was ahead of the game. A tidal wave still played a major part in the dramatics, but from a different angle. Through frantic (and dream-lengthy) effort, I managed to kick my way to the very crest of the water wall. The reward of that strenuous survival? A backside view of a multi-storey drop. If I had/were a therapist, I'd give the interpretation this spin: aging. You think you're in control, on "top of things" but the other-side plunge will be swift, frightening and ultimately fatal. Yes, I realize: getting-old yammerings are as boring as recycled dreams. But, you see, the actual point of my sharing is this: your aunt's not old. She's simply anticipating.
Love,
Aunt K
Kat Meads' Dear DeeDee is available here from publisher Regal House.