[Article by Bruce Roberts]
The Quiltessential Event
The quilt my grandmother made was warm. I could cuddle under it with my dog on cold nights, reading aloud to him until we both fell asleep. It had squares, I think, and pale colors in different designs, but I loved it for function, not design.
Not so the quilts at "Fabric Art plus Art Quilts: The Quiltessential Event," an exhibit running until November 12 at the Cinema Place Gallery in Hayward, California. Sponsored by the Hayward Arts Council, the quilts here almost defy description for their beauty and imagination.
My grandmother, I am told, stitched by hand, of course, and also by foot, using her treadle powered—not electric–White Sewing Machine to stitch straight lines around each square, maintaining a consistent foot motion to ensure even stitches. The focus and exertion required, I'm told, were difficult.
However, technology today has changed the game. Electric sewing machines have dominated the craft for decades now, and I had to learn a new term—'DROP THE FEED DOG"—to understand the artistry displayed by today's quilters. Dropping said dog—a part on sewing machines– allows modern quilters the ability to do "free hand stitching." No longer bound by right angles and forward and backward,  "free hand stitching" with machine enables a quilter the same freedom of movement as a paint artist with a brush: THREAD-PAINTING! Some even have quilting machines, which allow work with pieces up to 30 inches wide.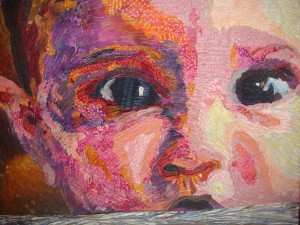 Bruce Roberts is a poet and ongoing contributor to Synchronized Chaos Magazine. Roberts may be reached by at brobe60491@sbcglobal.net.
Added to this creative stitching are mixed media, involving photos, fabric and acrylic paints, glue, yarn, different quality threads, plus the wonderful inventiveness of all artists to create a terrifically vivid display of colors and textures.
For example, Carol Tackett's "Chaos"  looks to be traditional quilt construction, except that the usual squares and borders have fused into a colorful collage of off-center, odd-angled, overlapping shapes and patterns that are somehow stirred together into a harmonious whole.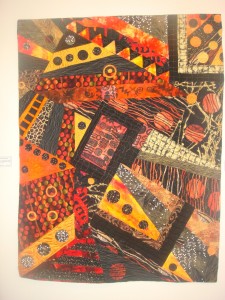 Denise Oyama Miller creates large wall-hangings on her quilting machine.   Based on a photograph, then enhanced through painting and her fine artistic ability (She's also an excellent watercolorist), her "Sentinels" is a hauntingly beautiful portrayal of bare trees in a northern forest.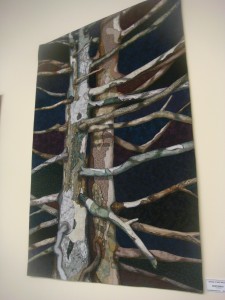 Other dimensions though are reached by Pete and Maureen Langenbach, who have taken the baseline idea of QUILT, and used it loosely to leap way beyond the traditional idea to their own level of creativity.
Maureen's "A.P. Test Quilt" is shaped like a traditional quilt, yet from her years in a copy room of a local high school, is made from recycled materials she has saved from her job.   The fabric is in fact plastic, leftover laminating plastic, and a quilt's traditional cotton batting has been replaced with strips from shredded actual S.A.T. tests. I overheard teenagers excitedly theorizing that if they slept under it, they'd absorb all the answers. Brilliant!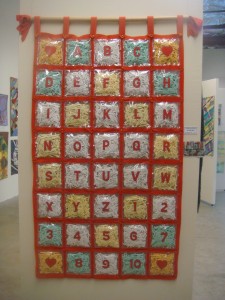 Pete's "Commodity Shawl" goes another direction, filled with small bodies that he has carved and stitched into a burlap drape around a stark, skeletal bust, a dark comment on human trafficking throughout the world, where people are commodities to be bought and sold.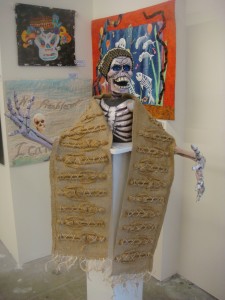 In short, the variety and quality of this show is amazing. Anyone with the chance to see a modern quilt show should put any traditional expectations behind them, and go ready to be delighted—and impressed!
Quiltessentials is at the Cinema Place Gallery, 1061 B Street, Hayward, California, through November 12.