Branded
Lowing, she is jolted. Free roaming once, now "Triple SSS" ranch.
After the branding, she returns to tall grass,
Her bell clanging a song she longs to escape.
The stench from the Ranch shocks drivers, passersby.
"Methane. Global warming," they mutter, alarmed,
And vow to eschew meat. Up in San Francisco
The young flourish, workforce warriors
Pray like hell to survive, to preserve back, wrists, eyes.
Tied to screens and cubes. They brandish
Salesforce backpack, Twitter snow cap, Uber baseball jacket.
Liberty Mutual briefcase. Google thermos, Facebook key chain,
DropBox t shirt, Organic socks, Apple everything, NetSuite ball caps.
Logos of belonging. They relish their bells, glued to notifications,
Texts, mail. Ninjas in their crowded fields, they
Take the searing poker bravely: tradeoffs. Paycheck, health insurance
Babies. A chance at the payoff, a wild ride, maybe, early retirement.
At dinnertime, they taste the hint of something
Burnt under the sniff of grassy air, hear the faint
Jangle of the chain, the distant sound of bells.
"Peonies"
She won't sell the country house. Not yet!
And not because of Locust Lake, sailboats in summer.
Alders in snow. Not because of the long view of the Poconos,
Those graduating waves of forest, deep green fading
To watery sage, tiered like a chiffon dress.
Lost in those folds, the dizzy roller coaster
Of marriage, sickness, the push pull of desire.
Paul planted peonies. She, a lover
Of woodblock prints, bamboo, toro nagashi,
Candle lit lanterns on a lake.
Her tears water the earth where peonies proliferate.
In life, he betrayed, but in death transmogrified,
Missed. At night, she denied him the touch
The skin he craved. You can't have it both ways,
She chided. Just now, she wants it exactly
Both ways. Perfect in life. Perfect in death.
Now that he's gone, her loneliness, tissue thin, blooms.
She is married to the million petal profusion of pink.
The peonies are her private grief, their souls, reunited.
She needs, him, and his perfect peonies.
"Besides," she cries, "It's such a short season."
Tongass
In Ketchikan, flaming fireweed
Isn't red but lavender. Pale buds
Luminescent against all that green.
They grow (but only in July) proud natives
Like the artful Tlingit. Erect. Stewards for ten thousand years,
First Nation. Black and red. Carving, carpets, paintings, poles.
Overhead, raven soars, screams!
Ever a trickster, he twists himself into seal, bear, shaman.
I don't dare whisper pristine.
Tlingit voices reach. Nitchi tai tai/Ora nika ora nika/hey hey hey hey.
Oh changing mother/Mother of creation/We call upon you/Waters of our birth
Land of our sustenance fire that cleanses at death/Breath of life"
Eagle screech. "For all we stand to lose."
Raven talks story from totem pole, story guards history.
Did we fly too high? Did we ignore the fireweed's whisper?
Raven marries eagle and eagle marries raven.
It's the law of balance, of love. Tribal codes for long life.
Respect the seal, the whale, the forest, the bear.
Heed the screech, the call.
Praying at the Altar of Nam June Paik
Gunboat/day-glow/birdflock/drones.
Lotus blossom's sharp/snub-nosed catfish.
Flashes. We are clones/Forty years after Aquarius dawned,
We become frozen psychedelic hearts/petrified/concrete block.
Summer of love/revival/nostalgia's sour. We starve but for
An altar. Fluxus sculptor constructed a tower
TV/consoles/fragmented images/sounds. Harmonic and
Found/art, these east/west wats become our galleries
Have busted out. Do it yourself. Reuse. Museums/immolation
Immigration dying on streets where/we refuse/petition. A prescient vision
Paik named "the electronic superhighway." I quit. Global to drill bit
Amphora to inkwell. The long view just got myopic. School of fish with no insight
We protest/resist/ our rage palpable/the turtle indecipherable.
The river, muddy as ever, sinking.
I am losing ground. Can art save us from this circus act?
I'm lost. Listening to John Cage, I'm atonal, afraid to glance
Sideways, back. Here's that bird flock, limp cock/tails as black as drones.
Everyone's gone/viral/we are in the hands of a reality TV bully.
A hoax. All protocol tossed overboard/words useless/loose
Lips/sinking ships. Twitter/ feeds/ nourishes hate speech.
I'm praying at the altar of Nam June Paik.
---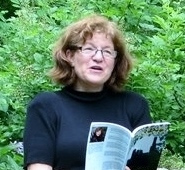 My reviews, poetry and stories have appeared in over 150 literary journals and magazines including Rattle, PANK!, The Los Angeles Review of Books, Prairie Schooner, Chicken Soup for the Soul: Dreams and Premonitions, The Meridien Anthology of Contemporary Poetry and Fire and Rain: California Eco-Poetry.

The author of three poetry collections and an award winning chapbook of short fiction, my recent book, "You Can Be a Winning Writer: the 4 C's of Successful Authors," published by Mango Press was an Amazon #1 best seller.

I coach writers and teach in the San Francisco Bay Area.