March On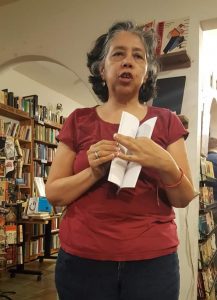 Millions march on Washington
taking buses buses and airplanes
Those who didn't have the means
organized marches in their own backyard
From San Francisco to Oakland to Boston
In every state of the union
What are you marching for?
First time marchers
Veteran marchers
Women Men
boys girls
Pregnant mothers
Lesbian Gay
Bi Transgender
toddlers infants
Dogs and I wouldn't be surprised, if a parrot or
two made an appearance perched on the shoulder
of a weathered activist
What are you marching for?
Some felt the scourge
of an ill-fitted president
Twitter
fly away hair & orange face
build a wall
take away our rights to healthcare
What are you marching for?
Indigenous people
long scarred
lost land
lost gravesites
lost identity
Segregated to be removed from site
But enough is enough
Now they want our water too?!
Follow the trail of tears
What are you marching for?
Planned Parenthood
My body is mine
You have no right
I determine my future
Another woman believes it is wrong
Sacrificing one life for the other
I may not believe in abortion
But I believe in your right to choose
What are you marching for?
You say I can't marry
the love of my life
Committed to stand the test of time
Ministers of love
Commemorate our union
We want a legal bond
We want to be a family
What are you marching for?
No justice on the streets
leaves much to be desired
decades old strife
Guns face men women boys
taking their life
Who pays the price?
Black Lives Matter
All lives matter for you and me
What are we marching for?
Inclusion participation
reconciliation justification
decision resolution
gestation sanctification
Striving for a unity of heart across a country
March On
~ March 3, 2017
Leticia Garcia Bradford
© March 2017
Love Letter For Leonard Peltier
In the Spirit of Crazy Horse
Feel the trembling of my heart
A continued voice heard in the wilderness
You have not been abandoned
You instill in the minds and hearts of the
People a hope of a better day
The earth shall rise again
Upon the footsteps of our heirs of birth
The mountains sing in our minds and ears
A joy of never ending new beginnings
Within a hand's grasp
Muttering the words of worship
Sputtering the flame of the anointed
Calling to flesh and bone
Delivering in an unknown force
Only found in the sailing breeze
Moving towards the center that cannot hold
All the blessings rained down from heaven
Falling within reach
Bones rattling again
Clean of woes
Clean of death
~Doksha
Leticia Garcia Bradford
© January, 2018
ODE To Standing Rock, December 4, 2016
Rights to Water
The emphasis of life
What's ours is yours
But not if you poison us
A nation of natives
Joined by a tribe of
Socially Conscientious Citizens
Guarding an indigenous people
Veterans gather from as
faraway as Hawaii
Water Rights Matter
Not just for the Sioux
A time of enough is enough
We want peace
We want a resolution
To protect our children's children's children
We sleep in peace tonight
Our collective voices have been Heard
Leticia Garcia Bradford
© December 2016
Leticia Garcia Bradford is a poet, playwright and publisher. In 2014 she founded B Street Writers Collective (BSWC), Hayward, CA- a community of writers both amateur and professional. Her poems and stories have been published in local and national journals. She edited BSWC's anthology FLY WITH ME which she is, also, the publisher for MoonShine Star Co. BSWC's new anthology WHAT IS LOVE debuted this spring. In 2017, Leticia toured around the entire SF Bay Area with her poetry and stories at open mics and readings featuring in San Francisco numerous times. Check out her blogs: MY NEW ADVENTURE, living without a place to call home at leticiagarciabradford.blogspot.com, and LETICIA'S BLOG at lgbradford.blogspot.com has her poems and other stories. Leticia's website: bradford-productions.com