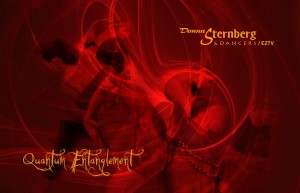 QUANTUM ENTANGLEMENTOctober 16 and 17, 8:30 P.M.
DONNA STERNBERG & DANCERS in collaboration with EZTV premiere a dance/multimedia event where dance, video and science collide, intertwine and coalesce. Quantum Entanglement  explores how we are connected in both human and scientific ways, from the emotional interaction between people to the movement of subatomic particles. The performers including dancers, a musician and actor weave in and out of plexiglass cubes, passageways and a small lounge, interacting with projections on two video screens.  In the unorthodox space of Royal T, a charming cafe/shop/art gallery, audience members move from place to place as the performing area shifts.   Live music as well as selections ranging from the classical composer Albonini to Tinariwen, a band of exiled Touareg freedom fighters from Mali to the Gotan Project aurally entwine with the movement to create a sensory feast. 
Royal T
8910 Washington Blvd.
Culver City , CA 90232
Admission:  $20 general, $15 students/seniors/DRC
Tickets and information: www.dsdancers.com or 310-260-1198
Editor's Note – apologies to those out of the area for posting something local to Southern California…but this seemed a very unique, interesting, interdisciplinary approach to dance. We encourage people to use this forum to comment and dialogue with the producers and dancers. And, of course, if you are near Culver City, please feel free to attend and send in a review of the performance to Synchronized Chaos' upcoming issue!