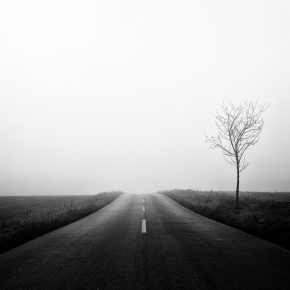 Welcome to March 2018's issue of Synchronized Chaos! In the tradition of Tolkien's hobbits, we are reflecting upon journeys, heading 'out there,' observing and contemplating, then coming back again.
Patxi Perier contributes a photo essay cataloging various Basque deities and statuary that represents them, and Michael Onofrey shares an excerpt from his upcoming novel Bewilderment where travelers on bicycles first hear, then see, women in colorful saris working hard to beat rocks down to the correct size for construction. Michael Brownstein's poetry provides glimpses of colorful landscapes, lush with food and color – but also a treacherous volcanic eruption. Joan Beebe evokes the majesty of a thunderstorm while John Chisoba Vincent creates a landscape of grief, poverty and violence set within Nigeria's inner cities. Michael Robinson also shows the violence of African-American inner city life, yet illustrates his survival through the grace he found from the love of those, especially women, who gave him comfort.
Some pieces reflect states of being, slices of life, more so than actual physical places. Ryan Quinn Flanagan sent us vignettes with a bit of dry humor, into which he inserts the names of famous historical artists. Elizabeth Hughes, in her monthly Book Periscope column, reviews poet Linda Mangram's title Poems for All Occasions, a collection of gentle, uplifting pieces, along with a dramatic horror piece, A Night's Tale, by the author known as Coulter. And Michael Lee Johnson contributes quirky observations on life – character sketches of people and a horsefly who's made his way into his room – through a variety of media.
Cattail Jester's poetry deals with getting lost and finding one's destination, while Mahbub probes the unseen frontier: near death experiences, as-yet-uncolonized Mars, the home of a nearby hen. Sravani reflects upon familial love, grief, and recovery, while Mary Burford laments the loss of trees cut for lumber. Jeff Bagato also describes reconnecting with nature in a tough-minded way, with the help of a few pirates who also uncover the wildness within our own natures.
Some writers work to intellectually make sense of life's journeys. Chimezie Ihekuna, known as Mr. Ben in his homeland of Nigeria, compares the spread of ideas throughout societies to the motion predicted by Newton's physical laws. Christopher Bernard provides a fresh installment of his serialized novella Amor I Kaos, which explores our human tendencies both towards connection, represented by romantic love, and towards isolating philosophical uncertainty.
Some authors probe the inherent tensions in our life's travels and travails. Chimezie Ihekuna contributes poetry about our inertia as individuals and as a group, and the difficulty of changing ourselves, much less others. J.J. Campbell's poems reveal his speakers' cynicism, full of dark humor and religious doubt. J.D. DeHart offers up only one, tenuous piece on struggling with writers' block and rejection, yet the poem gives us an unexpected creative twist at the end. Others find hope despite the confusion of our existence as well. Vijay Nair reviews Chimezie Ihekuna's works in many genres, taking away that Chimezie believes that while we will experience hardship and failure, our lives are worth living anyway. J.D. DeHart also reviews Chimezie Ihekuna's novella Santa in Two Worlds, and celebrates the poetic language and turns of phrase in this tale of crime, gang violence, and redemption.