Welcome to October 2018's issue of Synchronized Chaos! This month's theme is Aerial Perspective.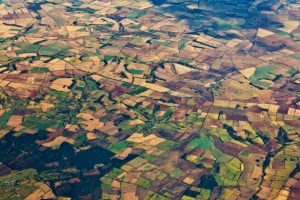 It's a time for reflecting on your life's journey. This month's contributors look at life from a distance: processing trauma after the fact, considering entire scenes and landscapes, heading off into flights of fancy, and expressing ideas poetically through metaphorical language.
Mahbub's poetic speakers, whether thinking while awake at night or while hiking in the woods, have enough mental distance to consider their lives and situations.
Logan Lane celebrates a fun Halloween tradition that began with Linus in the Peanuts comic strip: going to a pumpkin patch and waiting for the Great Pumpkin. Her piece is a genuine, sincere tribute to tradition. In Joan Beebe's poem, her tears mingle with the dew. She's part of nature, part of a natural scene that actually brings her great joy.
In her monthly Book Periscope column, Elizabeth Hughes reviews novels and memoirs that dramatize suffering and survival via self knowledge, self respect, heroism, crime-solving or whatever else it takes to triumph. She reviews Crissa Constantine's Love and Accept Yourself Now, Marshall Ginevan's The Wrong Side of Honor, Ellen Payne's Finding Joy, Rob Watson's Friends List, and Astra Ferro's Stepping Stones on the Spiritual Path.
Eddie Awusi's piece shows his social critique of our deceit and caprice by praising naïve people who don't get caught up in that behavior.
Chimezie Ihekuna's poetry highlights how living a life of love and truth is a choice, something we must do, but are also empowered to do. Leticia Bradford's poems also demonstrate the choice to stand in one's truth, by speaking up for social justice in a nationwide march.
Luis Cuauhtémoc Berriozabal contributes flights of fancy inspired by nature, and JD DeHart's work reflects similar themes of imagination, as modern life is rendered through broader, often ecological, metaphors.
Ahmad Al-Khatat's poems convey his love and grief through images from the natural, physical world. We see a mix of personal sorrow and more abstract grief about the human condition. In a similar vein, Michael Robinson describes a thunderstorm that mirrors his grief and guilt and then the subsequent calm, his journey to peace.
Ann Christine Tabaka offers up poems of transformation. Feelings of anxiety and powerlessness turn bedside clocks into mockers, heatwaves create mirages, artists turn chalk and ink into visual scenes.
Some writers reflect on their inner feelings and wishes from enough distance to be able to understand themselves and others in the big picture.
In James Diaz' love poems, his speakers want to understand and heal their partner's pain and past grief, blame, and loss. They extend this compassion regardless of whether they're currently together with that person or whether the relationship has ended.
Abigail George memorializes her complex relationship with her emotionally abusive mother, whom she admired on some levels, and her eating disorder.
Chimezie Ihekuna's latest installment of his drama The Success Story gets to the point in his protagonist's life when perseverance pays off. J.J. Campbell's poems this time around concern aspiration, rather than despair. His speakers are looking for greatness and love, seriously and humorously.
Eliza Segiet contributes poems of war, referencing the Holocaust and concentration camps. Segiet alludes to things rather than describing them directly, addressing the daily indignities of oppression in fresh ways: 'numbers are born' rather than human beings, inmates lose the 'ability to lie by choice' as they must conceal some matters to survive.
Ian Copestick gives us poems of struggle, writing of addiction and pawnshops and his amusement with books that describe an easier, more refined life. He, like Mahbub, reflects on his existence after consideration, although he's in the midst of the struggle. His work illustrates how poverty is not always composed of moments of desperate action, but also long periods of waiting and contemplation when one is unable to afford to move forward in one's life.
Thank you for joining in the Synchronized Chaos journey by reading our publication and leaving comments for our contributors. Hopefully this issue will cause you to contemplate and ponder, then pontificate in our direction, about the major themes in your life and our world.