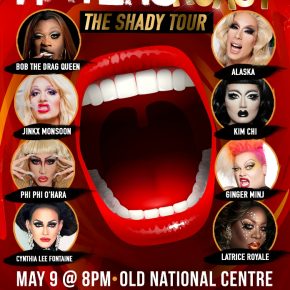 "If you don't have anything nice to say, just keep quiet."
Many of us grew up with that kind of advice from our parents.
But, if as an adult, you fantasize about breaking that rule, you might enjoy Haters Roast: The Shady Tour.
Put on by the stars of RuPaul's Drag Race, the show, which will take place Tuesday May 9th at 8pm at the Old National Centre in Indianapolis, allows you to watch the power and humor of insults and social criticism in action.
Queens Latrice Royale. Kim Chi, Cynthia Lee Fontaine, Jinkx Monsoon, Ginger Minj, Phi Phi O'Hara, Alaska, and Bob the Drag Queen dish it out on stage, throwing shade on politics, modern romance and social media.
It's also frequently said that if you're going to toss out zingers, you should at least be able to take what you give out. So, not to worry – the queens here will poke fun at themselves and each other just as much as they do at the rest of our crazy world.
Come enjoy the show! Tickets start at $20 and are available here: http://www.ticketmaster.com/Haters-Roast-The-Shady-Tour-tickets/artist/2331866
Next week we'll publish Michelle Rhiannon Cox's review of the show.