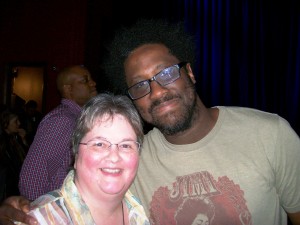 Totally Biased Stand Up Tour at The Chapel
W. Kamau Bell brought his "Totally Biased Stand Up Tour" to San Francisco at The Chapel on Valencia Street Sunday, July 21 and 22. My husband David and I were there for Sunday's performance. We've watched every episode of the FX show Totally Biased, wondering why it was just a half hour long. So we were, excuse the borrowed phrase, totally biased in favor of the show when we arrived. Fans will be happy to hear that the show will be an hour long on the new FXX channel which W. Kamau Bell assured me will be available on basic cable beginning September 4.
Appearing with Bell are writers and performers from the show, Kevin Avery, Dwayne Kennedy and Hari Kondabolu, along with Karinda Dobbins, a Bay Area comedian. The tour is showcasing talented local comedians in each city. Karinda Dobbins started the show, introduced by Bell's disembodied voice via loudspeaker.
Dobbins soon had us cracking up, making the first Zimmerman trial joke of the night. One might imagine the show would be laden with them so soon after the verdict but it was nicely balanced, a leavening of reactions to the verdict without overtaking the other material. Dobbins told a story about a work review from her white boss which came the Monday following the verdict. "I got the best review ever. Thanks, George Zimmerman!" The audience went wild. She followed up with stories about her daughter 's music and some misleading Nicki Minaj lyrics involving oral sex and the flavor mango. I don't want to spoil it but readers might want to review the lyrics to Minaj's "Can't Stop, Won't Stop." David and I resolved to catch more of her shows in the future.
Kevin Avery followed Dobbins. He's the head writer for Totally Biased and grew up in the Bay Area. He is a very physical comedian, throwing his entire body into his performance as he described how he didn't realize a college friend, also black, was gay before he came out because it was the '90s, era of Hammer pants, wild hair, sequins and glitter. Emulating a back up dancer for MC Hammer had us clutching our sides as we laughed so hard it hurt. According to Avery, if you were black and gay in the '90s you had to burst out of the closet with attitude before anyone would notice you were gay. Much of Avery's set was self-deprecating, making fun of himself for being out of step with black culture, to the detriment of his dating relationships. He made fun of his speech and how close it is to "white guy speech" as performed by black comedians, explaining that his parents enrolled him and his brother in a Catholic school, all white except for them. After having spent his childhood in the Bay Area, he then went to college in Alabama where he was awaited by culture shock.
Next up was Dwayne Kennedy. He addressed Trayvon's shooting directly, saying, "If you were a black man, you can't walk on the sidewalk, run, even go to the store. You got to levitate. I'm just going to levitate to the store." Why was Dwayne arrested? "He broke the law of gravity."
Kennedy talked about why there aren't more black serial killers. "There would be", he explains, "if black people had higher incomes. At the very least you need a car. Dude, my bus pass ran out, can you come pick me up? I got this body…"
Kennedy says he's praying for the hole in the ozone to open up more(mimics spraying aerosol can) and notices that more white guys are marrying black women. "They want a UV umbrella; take shelter of that increased melanin, African number 10." But he saw an interracial couple one day and mimics the sister telling her husband off and Kennedy says "You didn't think that was free?"
Hari Kondabolu was last up before W. Kamau Bell and made it clear that colonialism would be a theme. The comic, born and raised in Queens, had visited Australia, which has rules about not bringing harmful life-forms into the country which could destroy the ecosphere. "The indigenous people of Australia would agree." Kondabolu makes fun of whiny liberals who say they're moving to Canada and points out that Canada also has a history of colonialism, killed natives, and their prime minister is trying to gut the social welfare programs.
His best story of the night involved his dad picking him up from the airport. A white lady jumped into his dad's back seat, mistaking his dad's car for a taxi. Kondabolu tried to tell her that it's not a cab, to which she said "Too bad, guess you should have run faster." He could only assume that she didn't really look at the car, just the color of his dad's skin. "Oh, he's in the servant class." I won't spoil the story's ending, in case you get a chance to hear him tell it.
W. Kamau Bell was last to perform, followed by a Q and A session with the Totally Biased comedians. Continuing his comedic education on the subject of racism, he tells a story about a Facebook interaction with an ex-friend (emphasis on the word "ex") who is a white atheist. This ex-friend posted a story concerning racism and tagged Bell so that he was getting alerts on his phone for each comment. The guy declared that whatever the story was about, that it wasn't racist and Bell disagreed. At some point the ex-friend then said, "As an atheist, I am a member of an oppressed group too." Bell says maybe atheists rank somewhere near the bottom of a long and ever-changing list of oppressed people, next to people who are allergic to nuts. Bell explains that white people don't get to decide what's racist or not. It's not our area of expertise. People of color are taking the graduate course in racism, writing 500-page papers, attending class every day. White people audit the class, attend when they feel like it and then breeze in like they can break it all down. He said, "Just like I can't offer an opinion on what's sexist because I don't know, I just audit the class." With regard to his friend, he adds, "I'd rather you just burned a cross on my lawn, it's cleaner. The cross will stop burning but you won't shut the f— up."
Bell states that his daughter is the reason he incorporates identity or sociopolitical politics into his comedy, to make the world a better place for her generation. So it's no surprise that his daughter is prominently mentioned during his act. Beaming with pride, Bell talks about being a parent on the playground with a mixed race kid among other mixed race kids—who look like each other more than their own parents. Once they're all together, things get confusing—he mimes losing her amid the many lookalike children and pulling out the wrong one—for instance, discovering it's a boy, when he goes to change the diaper. Oops! Gotta go back and exchange the boy for a girl until he gets his daughter back. Bell muses that she looks white when he holds her and black when his mom holds her, "like a broken chameleon."
The Q and A with the Totally Biased cast came next and as they set out chairs for the guys we all wondered where Karinda Dobbins was. The first question regarded the worst place they've ever performed and they had some hilarious stories that brought home the courage it takes to get up and try to make people laugh night after night in all kinds of venues across the country. Then, someone asked what we all wondered, "Why isn't Karinda up there with you?" I think it was intended in every venue to be a Q and A with just the cast, but as we all wanted to see her, they brought Karinda Dobbins out. I wish she'd been there for the worst gig question because I can imagine she'd have a good story to tell. We all really enjoyed her performance and I hope appearing with the cast of Totally Biased results in more bookings. All in all it was a night of witty comedy at a lovely venue.
You can follow the performers on Twitter, in order of appearance: @KarindaDobbins, @KevinAvery, @DwayneTKennedy, @harikondabolu and @wkamaubell. Sample tweet from W. Kamau Bell: "Thank you to the people of Florida who came out to the @Totallybiased tour. & special thanks to George Zimmerman for not killing me."
Tapati McDaniels is a writer from Sunnyvale, California, who is working on a memoir. She may be reached by leaving comments here, or at @tapati on Twitter.