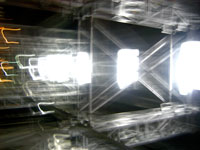 In this November issue, Opposing Concepts, we present to you a mixture of poetry, photography, fiction, book reviews, and more! Many of these works present interesting antagonistic ideas or influences.
Dave Douglas's poem is a flowing analysis of engrams:  waking life, sleeping life, memory, and reality.
Blanca Jones' piece represents light and dark in terms of faith. Jones seeks to answer, How Can There Possibly Be a God?
We are excited to publish the work of new contributors Lukas Clark-Memler and Joseph Johnson. Clark-Memler writes about the infamous Odd Future Wolf Gang Kill Them All (a.k.a. OFWGKTA) and their new controversial album Goblin. Is this inception of a radical new era of music?  You'll have to read to find out! Johnson's fictional work is appealing, and is as diabolical as it is suspenseful.
Liz Caruana's photo series, She's Leaving Home, is delicate yet bold in a quietly eager sort of way.
Whose Brain Is It? Presented as a mystery with fictional characters and clues, this is a monthly column with a journalist's (Leena Prasad's) perspective on brain research.
Book reviews this month include:
Bruce Roberts also reviewed the fabric and quilt art show at the Cinema Place Gallery in Hayward, California. Suzanne Birrell reviewed the gaming science lecture by Colin Milburn, which was held on Tuesday, October 4, 2011, in conjunction with the Northern California Science Writers Association.
Last month, we featured an article about Sarah Katherine Lewis' new book, My Boring-Ass Rehab Diary. This month, Tapati McDaniels' conversation with Lewis continues in Part II: self-publishing.
We also have a timely piece on the Occupy Wall Street movement, by Christopher Bernard.

Lastly, we recently announced ways that you can help support the flood relief effort in Southeast Asia. We would also like to mention the recent 7.2-magnitude earthquake in Turkey.  It is estimated that the death toll is now over 600 people. Click any of the following links to see how you can help: jdc.org, shelterbox.org, ifrc.org.