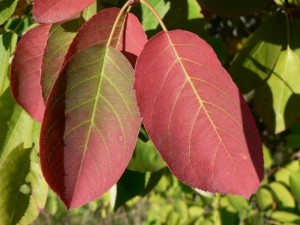 At first glance, it might seem that modern American society—with its technology, its towering cities, and its cultural achievements—is far removed from the natural world. But is this really the case? What, precisely, are the differences between human culture and the world of the wilderness? And are there closer connections between the two than there might seem at first sight? The October 2012 issue of Synchronized Chaos takes a look at these questions. Some of the pieces in this issue deal with various characteristics of human society—art, religion, traditions, cultural differences, and more; others serve as examinations of nature, its processes, and its animal inhabitants; and still others explore the intersections between the two spheres. We think you'll be very interested in the pieces which follow…
One particularly interesting elucidation of the links between humanity and the natural world is Sophia Kumin's short story "Taking Ohio." It takes place in the proverbial middle of nowhere, in the bleak beauty of Mideastern America, but into this setting comes a pair of very modern travelers, whose meeting with an unusual hitchhiker leads to unexpected difficulties for all three. The wilderness serves as a fitting backdrop for the tale's raw exploration of human emotions.
A similar outdoor setting can be found in Josie Weidner's poem "Landscapes," which memorably compares the "tiles" of an open field, with their differently-shaped and shaded patches of grass, to the manufactured patterns which can be found on the kitchen floors of America's homes. Once again, the wild and the domestic are not quite so far apart as they may seem at first sight.
Perhaps this issue's funniest depiction of the human-nature connection comes from Loretta Breuning, whose comedy monologue "I, Mammal: How I Evolved from Lizards, Apes, and Thugs" is printed here. Taking the form of a tour guide's spiel to the patrons of a zoo, the piece describes the behavior of elephants, monkeys, lions, and other wild beasts as being uncomfortably similar to the actions of human beings. The animal kingdom also comes up for discussion in two of this issue's featured poems: Mykel Mogg's "Mercy," which features the disturbing fate of a fish at the bottom of a well and the voice of a narrator who'll be very difficult to forget, and Bailey Van's "The Minnow Dance," which juxtaposes the activity of a school of glittering fish with the erotically-charged interactions of two people.
Bailey also contributes three other poems to this issue. Each of them features exquisitely-composed imagery from nature, with excellent evocations of the golden beauty of summer and the cold harshness of winter. And the world of nature is also the setting for three poems by Abigail Schott-Rosenfield, which take us through forests, fields, and mudflats. Life and death, sun and rain, fire and snow—all are depicted here with equal skill.
Each issue of Synchronized Chaos features Leena Prasad's column Whose Brain Is It? In this month's installment, "Rachael's Defenses," Leena makes a thoughtful exploration of the topic of racism, discussing the ways in which natural brain chemistry can combine with societally-created biases to lead towards (sometimes unconscious) expressions of racial prejudice.
Wherever there is life, there must also be death. It's not always the most pleasant subject to contemplate, but death is an inexorable and inescapable part of nature, and it's intimately explored in a few of our poems this issue. Regular author Sam Burks contributes three dark but fascinating works, and two of them explore the theme of mortality: "Death," narrated by a living personification of its title, and "Last Meal," which draws an unforgettable symbolic connection between the acts of murder and deception. Meanwhile, Christopher Bernard's poem "Olympian," at once touching and insightful, lays its scene in a graveyard and takes as its subject the memories which live on after death.
Regular poetic contributor Linda Allen takes on both halves of this issue's theme. One of her two poems this month, "Hello Autumn," features beautiful depictions of the arrival of fall and the constant natural cycle of the changing seasons; the other, "All Hallows Eve," depicts a longstanding cultural tradition celebrated at the end of this month in countries around the world (often with ingenious costumes and plenty of candy!). J'Rie Elliott, another of Synchronized Chaos' most frequently-seen poets, also takes on the subject of Halloween this month in "Meeting the Dead…", a set of verses which combines the innocent fun of childhood with the unexpected terror of a much darker subject.
Synchronized Chaos has a number of contributors who make their home in the Bay Area, and some of this month's pieces deal with aspects of the regional culture. Christopher Bernard, making his second appearance in this issue, was in attendance at the 21st annual San Francisco Fringe Festival in early September—one of the city's best and most unique theatrical events. Christopher's article features his thoughts on four representative selections from the festival's dramatic feast. For another take on one of the most notable pieces from the festival, Angela Chang's musical "Legacy of the Tiger Mother," take a look at Joy Ding's review here. We also have a feature piece on local hip hop artist Bink$ Win$ton, whose new EP "MANish" is scheduled for release soon. In this issue, we're presenting the music video for one of his recent songs, "STOP," which was filmed directly across the bay in Oakland.
Elsewhere in the issue, the societies of many other nations are under discussion. Georges Bizet's masterful 1863 opera The Pearl Fishers takes place in the distant past on the island of Sri Lanka (then known as Ceylon), and Bramani Spiteri reviews a recent staging of the piece by the talented performers of Opera San Jose. Also featured is Nigerian poet and screenwriter Emmanuel Ikem Bertrand, whose essay "There's a Land Beyond These Waters" urges its readers not to forget the multitude of cultures outside of their own horizons and reminds them of the importance of helping those in need.
Almost all lovers of literature and stagecraft know the name of Oscar Wilde, who scandalized Victorian society with the brilliance of his art and the controversy of his actions—but how many are familiar with his niece Dolly (1895-1941), an equally flamboyant figure who made her mark in the Parisian culture of the early twentieth century? Lily Sauvage's play The Importance of Being Dolly deals with the life of this intriguing character, and in this issue we report on a cold reading of an upcoming production, attended by one of our reviewers.
Art, as Dolly Wilde's distinguished uncle might say, is an essential feature of any society, and Noa Mendoza's poem "Artist" deals with a theme Oscar Wilde might approve of. It takes the creative process of painting as a starting point for a compelling examination of interpersonal relationships, featuring many imaginative images—especially those dealing with color—along the way.
Another of our poems for this month is an examination of religious culture and tradition: Shanna Williams' "Do Not Destroy," an introspective and thoughtful piece which touches on the nature of community as well as the ethics of believing in God.
We hope you enjoy this month's issue of Synchronized Chaos! As always, feel free to leave comments for the contributors; if you're interested in submitting some of your work to the magazine, please send it over to synchchaos@gmail.com.