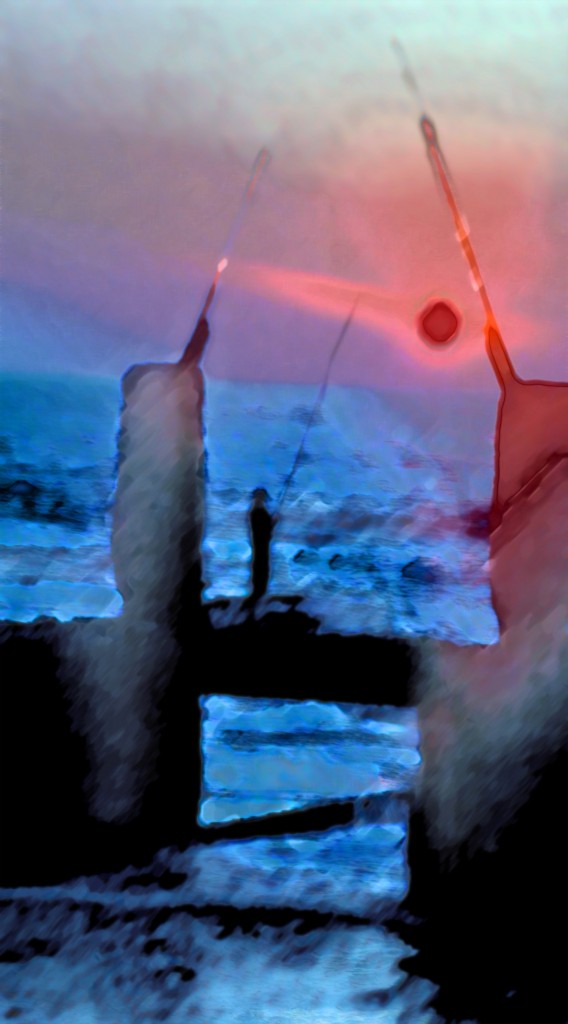 Welcome, readers, to the November 2012 issue of Synchronized Chaos! Our pieces for this month vary widely in format—ranging from poetry to prose pieces to visual art to literary criticism to performance reviews—but they share a focus on human senses and emotions. With the five senses, we perceive the world around us, while the emotional response represents our reaction to these observations; let's see what our contributors have to say about these vital elements of the human soul…
An absolutely unforgettable sensory experience comes from Justus Honda, whose prose piece "Sound Man" involves one person's lifelong search for an elusive noise. Be sure to investigate this tale, with its truly original premise and its superb portrayal of the protagonist's sense of longing. Moving from the audible to the tactile, Avi Hoen's poem "Lazy" features a similarly detailed and evocative set of descriptions: it recounts the sensations (and lack of sensations) felt by the narrator, who walks barefoot through a stark and litter-filled cityscape.
A wide variety of the senses play a role in another of our prose pieces for this issue, Luca Foggini's "Pavement Ends." In this work, a haunting description of a deserted town, the atmosphere is conveyed through the sights of empty buildings and discarded garbage, the sounds of bells and tires, and the feelings of hot asphalt and cold snow.
Of course, any great concert is bound to feature an interesting variety of sounds; this issue features a review of just such a show. As Synchronized Chaos editor Cristina Deptula describes, the Tom Sway Orchestra's performance at the Mission District's StageWerx Theatre contained an excellent array of styles, ranging from jazz to bluegrass to the realm of fantasy (including one song about a car-stealing mermaid!). A different but equally brilliant and meaningful sort of sound can be found at the many poetry slams around the Bay Area, and Christopher Romaguera covers two of them–the Berkeley and Oakland Slams–for this issue.
You might start to exercise your sense of sight in a new way after looking at the work of artist Frédéric Choisel. "Vertical Horizons," a set of six pieces, takes the ordinary skylines of New York City and reinterprets them into new, more vibrant images; he accurately points out that his work conveys "an impression of something beyond human scale."
Kwesi TerboLizard, who contributes the poem "Stop" to this issue, also uses the sights of the modern city as a springboard for some fascinating work. In Kwesi's piece, the colorful radiance of red and green stoplights serves as a metaphor for the struggles of the protagonist to stay on pace with the surrounding world.
Another source of visual fascination is the work of artist Michael Dickel, whose bright colors, unusual settings, and impressionistic designs are a veritable feast for the senses. In addition to his three artistic pieces in this issue, Michael also contributes a set of four exquisitely-crafted poems which explore the emotions of love, despair, and desire.
Let's take a look at some of our other emotion-related pieces. This month's installment of Leena Prasad's column Whose Brain Is It? investigates political beliefs—which often seem to be among the most passionate and emotion-based elements of a person's psyche—and lays bare the little-known physical factors which lie under our ideological choices.
The emotion of anger is represented by poet Raj Dronamraju, whose works express harsh but justifiable criticisms of the hatred, prejudice, and shallowness of modern society. His new book of poems, Travels with the Anti-Johnny Appleseed, is reviewed by Bruce Roberts in this issue. Bruce also has one of his own poetic compositions for us this month, and it brings us into a very different emotional world: "Pelican Ballet" describes a unique natural sight—the beautiful, almost-synchronized movement of the particular birds—with a sense of awe and exhilaration.
Yet another side of the great range of human emotions can be found in J'Rie Elliott's poem "The Cowboy and His Lady Love," a memorable and powerful love story whose conclusion will definitely bring a lump to many readers' throats. And J'Rie also contributes a short story in a very different vein–"Dream Girl," a memorable tale of fear and sudden shock.
Like love, hope is one of the most important human emotions–it allows us to get through each day and maintain a vision for a better tomorrow. Natalie (Neco) Haviland, who has been imprisoned for some time under California's Three Strikes law, conveys an inspiring sense of hope in her essay "Coffee in My Cup"; in spite of the suffering which she's endured, she continues to think positively and is working to improve the lamentable conditions of the state's justice system. A similar sense of hopeful inspiration comes from Kim Brown, whose prose piece "Imagine a Woman" urges its readers to live life to the fullest while maintaining a sense of self-respect, courage, and love.
Several of our other poetic pieces for this issue deal with emotional subjects. Regular contributor Sam Burks weighs in with "A Simple Matter" and "What Bridge?" which have a well-evoked tone of wistfulness and underlying determination, and Ria Burman contributes "Snap! We're All the Same" and "The Woman in the Wind"—the latter of which features a memorable exploration of emotional sympathy and human interrelationships.
The artwork of Doug Beube—which includes honey-covered Bibles, reshaped world maps, and books turned into facsimiles of bombs—seems designed to provoke an emotional response, and reviewer Kelly Munoz admits to some initial shock from her initial encounter with his work. Yet, as she points out, his art (collected in his book Breaking the Codex) has quite a few layers of deeper meaning, and he conveys some vital truths about the current societal attitudes towards books, art, and the power of the written word.
Swedish playwright August Sternberg (1849-1912) is renowned for his five pioneering chamber plays written in the early twentieth century, and the entire quintet is currently being performed at San Francisco's Cutting Ball Theater. As reviewer Christopher Bernard points out, the plays delve deeply into the love and hate which characterize human emotions, but it's also important to examine the actors and the emotions which they instill in the audience members.
Closing the issue on a note of pensiveness and quiet humor, we have Hazel Mankin's microfiction piece "Matches," which features beautiful descriptive writing as well as a particularly unusual idea from the mind of the narrator.
We hope you enjoy this month's issue of Synchronized Chaos! As always, feel free to leave comments for the contributors; if you're interested in submitting some of your work to the magazine, please send it over to synchchaos@gmail.com.