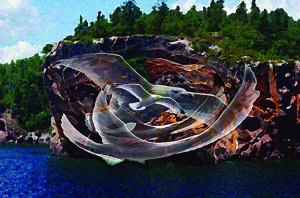 As we ring in the month of December with this issue of Synchronized Chaos, the holidays are just around the corner. Hope and faith, besides being among the guiding forces of many great works of art, are the cornerstones of the celebrations which will be occurring later this month, so we thought we might make this month's issue an examination of them. Let's see what our contributors have to say about hope and faith in all their varied forms…
Hope can sometimes be found in unexpected places, as two of our commentators for this month point out. Dee Allen's poetry collection Unwritten Law (reviewed here by Sarah Melton) does not shy away from harsh truths: the poet expresses bitter anger at the hate and oppression which is so prevalent in modern society. Yet, as Sarah explains, an element of optimism and life-affirming joy can still be detected in his works. Similar sentiments exist in the works of San Francisco artist James Irvine Taylor, whose exhibition at the local CAP gallery is covered by Randle Aubrey. Taylor's pieces—brightly colored, imaginative, and sometimes science-fictional—convey the feeling that we're heading toward a utopian future.
A number of pieces this month express hope for political or cultural change. Randle Aubrey's essay "The Propaganda Machine: Don't Get Fooled Again" aims to educate its readers on the number of falsehoods and inaccuracies being bandied about by the American media and looks forward to the building of a more knowledgeable and aware society. Ayk Afowolokoyasire contributes "On Recent Events: Ours Is a Nation," an examination of the current political situation in Nigeria which criticizes the destructive actions of the Boko Haram, expressing hope for the strengthening of communal bonds and the establishment of peace. Political themes are also at the forefront in Richard Gigax's novel The Great Escape, whose first two chapters are excerpted here: taking place in the near future, it deals with governmental corruption, revolution, and murder as seen through the eyes of a child.
In this month's installment of her column Whose Brain Is It?, Leena Prasad examines the topic of obsessive-compulsive disorder. With a positive and optimistic tone, she focuses on therapeutic options, discussing the human brain's neuroplasticity (the potential for change in its neural circuits) and the ways in which it expedites the condition's treatment.
We're also featuring a number of visual pieces in this issue, and many of them are infused with a sense of hope. Michael Dickel gives us several pieces of digital art representing scenes from nature: birds and butterflies in flight, flowers blooming, green trees over blue water. Each one is beautifully crafted, featuring vivid colors and a sense of movement. Michael also contributes five poems, as varied as they are well-written; they range from character studies to political statements to abstract pieces.
More visual art comes from Philip Ma, whose imaginative and innovative works include an awe-inspiring depiction of an Italian cathedral and the exhilarating sight of a winged car swooping over a crowded street, and Brenden Sanborn, who gives us a superb series of portraits emphasizing the beauty of the human body. Be sure to take a look at the work of both artists!
One of the motivating forces behind scientific inquiry is our hope that we can learn more about the mysteries of the universe. In this issue, Cristina Deptula reports on a recent lecture by UC-Berkeley's Dr. Jason Dexter, who explained the nature of black holes and described some of the recent advancements in our abilities to observe them. And, speaking of things mysterious, don't forget to check out Loretta Siegel's poem "Mystery," which weaves elements of the natural world together with a sense of unforgettable wonder and curiosity.
A happy ending in a work of art can always inspire hope in its readers. Randle Aubrey, making his third appearance in this issue, reviews San Jose Opera's recent production of Johann Strauss' Die Fledermaus, and he emphasizes the contrast between its lighthearted, pleasant resolution and the grandiose tragedies of other operas. In another of this issue's reviews, Joy Ding examines Thao P. Nguyen's one-woman show Fortunate Daughter and highlights the satisfying and emotionally affecting resolution of the play's storyline. DanaLynne Johnson's poem "Tumbling" also features a positive conclusion: it's a well-written portrayal of initial trepidation followed by eventual success. Read it, as well as two other excellent poems by DanaLynne, here.
However, the lack of hope can sometimes be a powerful subject as well. Regular contributor Sam Burks weighs in this month with a set of three poems, examining such subjects as the crushing effects of stagnancy on human emotions, the bleak atmosphere of autumn, and the psychological makeup of a cynical and amoral character. Some of the poetry of Kamilla Bøgedal also expresses a somewhat bleak outlook: the disintegration of positive values, the inability to pursue one's dreams, and resignation to a negative future are among the themes of "Answers Are Imminent" and "Depression with a Rhyme-Scheme."
With the holidays quickly approaching, it's particularly appropriate that several of the works featured in this issue deal with religious faith. Kim Brown gives us two pieces on the subject: the poem "My Life Today," which discusses the ways in which God's gifts have molded her personality, and the prose piece "Kimberly Luves Is a Brand," in which she discusses several of the facets of her personality and lifestyle, touching on the role of religion in several of them. Meanwhile, J'Rie Elliott contributes the poem "A Babe," which hearkens back to the birth of Christ and reminds its readers to contemplate his life and lessons as they celebrate Christmas this year.
Another work which touches on religion is Janine Canan's poetry collection Ardor: Poems of Life, which mixes postmodern verse and social commentary with a look at Goddess-based Eastern religion. In her review here, Kat Merriweather praises Canan's writing, particularly her original and witty observations about the essence of poetry as a medium.
Christopher Bernard's short story "Prisoner of Darkness" comes at religion from a different angle—it's a probing and disturbing examination of Christian/Muslim relations in American society. Touching on religious, cultural, and gender-based prejudice, it's a truly fascinating and complex piece.
Faithfulness is not confined to religious beliefs; it can take many forms, and Noa Mendoza's poem "The Road to Forever" explores one of them. Using imaginative metaphors and a carefully-crafted sense of place and description, it depicts all the joys and emotional highs of the beginning of a committed relationship.
Our final feature of the month is Bramani Quinn's essay "Drawing Up Blueprints," in which she urges her readers to plan out a path which might allow them to follow their dreams. If people have faith in themselves and work out a way to achieve their most important goals, they can take the first step in constructing more satisfying and fulfilling lives.
We hope you enjoy this month's issue of Synchronized Chaos! As always, feel free to leave comments for the contributors; if you're interested in submitting some of your work to the magazine, please send it over to synchchaos@gmail.com.