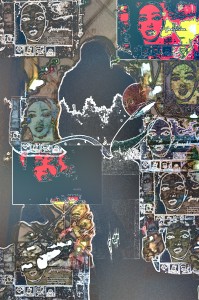 Welcome, readers, to the first Synchronized Chaos issue of 2013! A new year is a time for new ideas, and innovation is our theme for this month. Our contributors' pieces involve some of the newest developments in a wide variety of fields—ranging from art to medicine to politics to economics—and all of them are well worth reading. Let's take a look at this issue's offerings and the concepts they cover…
This month, Michael Dickel provides us with three visual pieces—striking, colorful, and powerful—and also a set of four finely-wrought poems. Two of the paintings are inspired by a pair of very innovative musicians: one from the past (Parisian legend Josephine Baker) and another from the present (Israeli singer David Broza). The poetry, meanwhile, portrays issues of the modern world, from violence to inequality to the emptiness of urban life, with unflinching honesty.
Like Michael's, Julie Shavin's contribution is made up of art as well as poetry. Each visual piece displays a new and different subject and tone: they range from household scenes to depictions of caves and bridges to abstract marvels, but they share a uniformly high quality. The poems are equally well-crafted, containing a number of philosophical meditations on life, creativity, and human relationships.
Olivia Weaver contributes a set of three excellent poems to this issue. They're heavily influenced by the bleakness of the natural world, with fog, ice, wind, and harsh coldness setting the tone for "Winter Sundays" and "Oblivion." The third piece, "Movement," has an interesting connection with innovation, linking the simple act of motion to a form of creation and performance.
Each month, Leena Prasad's column "Whose Brain Is It?" educates its readers on the latest developments in neuroscience. Given that this issue is being published at the same time as the New Year's festivities, this month's topic is especially timely: "Your Brain on Alcohol" deals with the effect of liquor on the human mind, detailing some of the damage which can be caused by persistent overindulgence.
Moving from neuroscience to climate science, we're also featuring Randle Aubrey's review of Dr. John J. Berger's new book Climate Myths this month. As a writer on global warming, Berger finds himself faced with the need for immediate action in a situation so controversial that forward movement is almost impossible. As Randle points out, climate scientists must look towards the past (learning from the mistakes of history and the actions of those persecuted for their ideals) as well as the future (developing new strategies which can keep the world safe).
Scientific tactics are hardly confined to the world of the laboratory: today, they're being applied in new and unusual arenas. In this issue, Cristina Deptula reports on a recent lecture by Dr. David Leinweber, who is bringing scientific knowledge to Wall Street: he uses innovative, advanced forms of data analysis to detect stock market fraud and help hold down the financial fluctuations which (as we've repeatedly learned) can cause so much damage.
Innovative ideas don't always produce positive results. In his second essay for this month, "The Anti-Sex League and You," Randle Aubrey covers some of the increasingly-disturbing new tactics being used by the GOP to legislate against abortion and birth control access. He points out that these laws seem more Oceanian than American: the ideals behind them are frighteningly similar to those of the repressive government of 1984. Perhaps Orwell's predictions were merely off by a few decades?
We close out the issue with another article from the pen of Leena Prasad, who reviews a show filled with new ideas and methods for interpreting the written word. "You Need to Read Poetry," put on by Performers Under Stress, contains a variety of poetry-related performances, from simple recitals to poetry slams to collaborative readings.
We hope you enjoy this month's issue of Synchronized Chaos! As always, feel free to leave comments for the contributors; if you're interested in submitting some of your work to the magazine, please send it over to synchchaos@gmail.com.