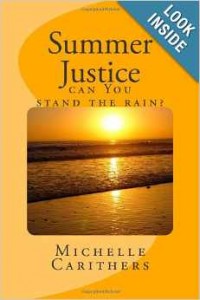 Summer Justice is a short story by Michelle Carithers. It is the story of Audrey Taylor who comes from a dysfunctional family in a run-down neighborhood. She wants to escape the shootings and drug-infested neighborhood, where she grew up in a home with an alcoholic father and a mother that has supported her family for years. Her siblings all became successful except one brother who got caught up in crime. She found a room to rent with an elderly woman 500 miles away. She arrives one week early because she is about to start classes and start a job in the college bookstore. When she arrives at Ms. June Baker's house, the elderly lady says she will think it over and let her know in a week. Audrey's car barely made it there and won't make it back. Audrey tells Ms. June that they had agreed the room was hers. Then Ms. June tells her she didn't realize Audrey was black. Ms. June lives in a 'white' neighborhood.
Henry, Ms. June's neighbor, accepts Audrey as a neighbor and friend after she moves into the room. Ms. June tells Audrey that her husband was murdered in a home invasion robbery. Audrey's brother has been arrested and has been linked to home invasion robberies and murder. Summer Justice touches on the subject of prejudice in many cultures. I am rating Summer Justice five stars. I recommend Summer Justice for older teens to adult. I know that you will enjoy Summer Justice as much as I have.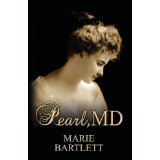 Wow!! This novel is absolutely FANTASTIC!! Definitely 5 stars and 2 thumbs up! I absolutely loved it and hope there will be a book 2. It is about Dr. Pearl Stern, one of the few women doctors in the 1800's.
Pearl started out working with Dr. Stone in his medical practice. After Dr. Stone dies, she tries to buy the practice from his widow. However, his widow is a mean, jealous and vengeful woman. She is also very rich and has an extreme amount of influence in the Missouri town they live in and in the state of Missouri. When a woman who is pregnant and has lost a vast amount of blood is brought in by her family without the knowledge of the woman's husband, Pearl delivers the baby and stabilizes the woman. Since the woman has lost such a vast amount of blood, she advises she be kept there. The woman's family takes her home where she and the baby soon die. The husband blames Pearl and tells the widow Stone, who hates Pearl and has delusions that Pearl
was after her husband when he was alive. The Widow Stone then bribes Mr. Singleton with a great deal of cash to slander Pearl and have her thrown in prison.
Pearl leaves Missouri having no knowledge what the Widow Stone is going to do. She arrives in Asheville, NC and sets up practice. While there, she becomes friends with the Sheriff.
Pearl is a very progressive doctor. Not only is she a woman physician, but she will medically treat anyone who needs to be treated regardless of race or social standing. She also hires an African-American woman at first, just to help with the cleaning of the office. Loomey, her helper soon proves her worth and Dr. Stern soon promotes her to be her assistant. After Pearl heals one of the officers who were shot, she gains some of the respect she deserves. Then the widow Stone obtains a governor's warrant for Pearl's arrest and she is extradited back to Missouri.
Chief Harkins takes her to Missouri and helps clear up the lies that
led to the warrant. I highly recommend Pearl, MD. If you want a book with suspense, drama, humor and romance and that will keep your interest, Pearl, MD is the book. Happy Reading!!