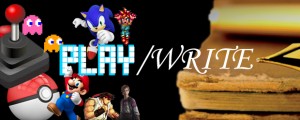 -Ryan J. Hodge
For someone who enjoys a great story, is there anything better than a narrative that engages you from the very start? Imagine a world so rich you can almost smell the scents in the air, a delivery so clever it forces you to think in a way you never thought you would. I'm Ryan J. Hodge, author, and I'd like to talk to you about…Video Games.
Yes, Video Games. Those series of 'bloops' and blinking lights that –at least a while ago- society had seemed to convince itself had no redeeming qualities whatsoever. In this article series, I'm going to discuss how Donkey Kong, Grand Theft Auto, Call of Duty and even Candy Crush can change the way we tell stories forever.
What Videogames Teach Us About Writing Child Characters
When we imagine the 'great' characters of fiction, they don't tend to be limited by class, race, or occupation. We can empathize just as much with the Corleones of the Godfather as we can with Kunta Kinte of Roots. And yet, there seems to be a strict '18 and over' age limit for these timeless characters.
While we might look upon films like The Goonies or Sandlot with fondness, it cannot seriously be said that these titles delivered stirring, powerful performances from their child stars on the order of Godfather or Roots. Indeed, for a distressing number of works, any story featuring children that aren't explicitly 'about' children have a tendency to turn in monotone and forgettable roles for their tykes.
This, of course, presents a vexing quandary for writers. Given that we were all children at some point; why does it appear to be so difficult to render at least a convincing portrayal of society's most vulnerable population? And, for that matter, what could videogames possibly offer to remedy this?