Peter & Lisa
A Mental Illness Children's story
By Charles Katz & Linda Baron Katz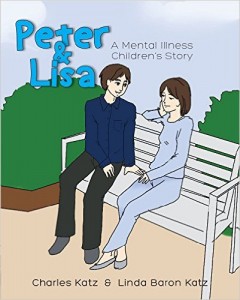 To every problem in life there is always a great resolution.
In this small read about two people battling two different mental illnesses, we can see that it's not a death sentence and nothing to be ashamed of but it is a most common thing that occurs in many humans: men, women, boys and girls. I think that anyone who is suffering from a sick mind, unwanted feelings or thoughts but who is able to recognize these abnormal feelings and thoughts is already on the road to recovery.
Mental illness is something that many people are ashamed of. For many people mental illness can be apart of their genetic makeup, or developed during traumatic life events and occurrences, or through one's environment and life experiences. This book shows us how two brave individuals had the courage to seek help after struggling with mood swings and sadness for long periods of time. After proper medical treatment these two characters in the book, Peter and Lisa, were able to live healthy and normal lives.
Through self-awareness and education, the battles that many humans face with mental illness can be won. People can go on to live healthy lifestyles with the support of medicine, family and supportive friends. People with mental illness or who have suffered from them in the past can go on to live productive and healthy lives.