Marjorie Thelen's A Far Out Galaxy
A Far Out Galaxy is a sci fi romance. It is a must have for fans of sci fi and fans of romance. Queen Vita and Commander Will both need heirs. The cloning process has been sabotaged by Commander Will's step brother, who also wants Queen Vita for his own. Read A Far Out Galaxy today for fun and laughter and the many adventures of the crew of the spaceship Maximum. I absolutely know you will love this book as much as I have. It will keep you on the edge of your seat page after page. This is a must have for sci fi and romance fans alike. I highly recommend this book. Happy Reading!
A Far Out Galaxy may be purchased here: http://www.amazon.com/Galaxy-Deovolante-Space-Opera-Book-ebook/dp/B00H1C9CQ8/
Michael de la Pena's The Coyote Wars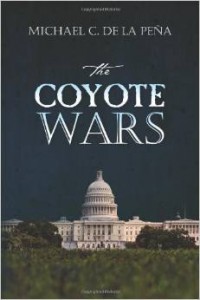 The Coyote Wars is a suspense thriller that will keep the reader intrigued until the very end. The Coyotes are the grown children of a couple that is plotting a home terrorist scheme. I love the way the book tells about each character and their role in the story. I love the build-up of the plot. As the story unfolds you will absolutely not want to put the book down until you have finished reading every page. This is a must have for everyone's home libraries. I absolutely loved this book and highly recommend it. Happy Reading!
The Coyote Wars can be purchased here: http://www.amazon.com/Coyote-Wars-Michael-C-peC3B1a/dp/1492992682/
Bobby Sutton's Reunion: The Making of a Legend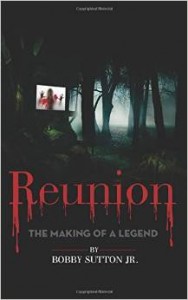 For those who love horror stories, you will love Reunion. This is definitely a must have for your home libraries. You will want to read it in one setting. It is exciting page after page and will make you want to sleep with a light on. Reunion: The Making of a Legend is the story about a group of friends who get together in Breaux Bridge, Louisiana for their 10 year high school reunion. They have all been having nightmares over the years of the friend that disappeared the night of the prom. The friends went out to the haunted house to try to see the ghost of the Old Man. They heard insane laughter coming from the darkness and thought it was one of them that was making the laughter. They decided to leave one behind as a prank, when they came back, he was gone. When they gather for their 10 year reunion, a couple of them disappear and they go out to find them. What they walk into is a nightmare in and of itself. Buy Reunion today and find out what happens to the friends as they embark on a nightmare of an adventure. Absolutely loved this book. Happy Reading.
Reunion may be purchased here: http://www.amazon.com/Reunion-Making-Bobby-Sutton-Jr/dp/1502303930/
Deborah Hawkins' Ride Your Heart 'Til it Breaks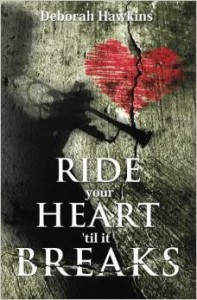 Ride Your Heart Til It Breaks is a very deep and thought provoking love story about the complicated love between a musician and a lawyer. It is written so that the does not get lost when Karen thinks back to the past and her relationship with Stan the musician. Karen began as a lawyer for a firm that had her sit in at a nightclub for a development company that wanted to force the owners out so they could build on the land. When she went there night after night, she developed and relationship and fell in love with Stan the musician and also the couple that owned the night club. Stan had a scarred past that kept him from loving anyone until he met Carrie. Years later Carrie marries a lawyer at the lawfirm she works at and goes by her name of Karen. She eventually becomes a judge and her marraige to Howard has been in name only for years. Then she comes across Stan again, who is, deep down still in love with Karen. Read it today and find out what happens in this love story of the complicated relationship and deep love between Stan and Karen. You will not be able to put it down until you are through. It willl keep you wanting more page after page. I absolutely loved the book!! I give it 5 stars! Happy Reading.
Ride Your Heart may be purchased here: http://www.amazon.com/Ride-Your-Heart-Til-Breaks/dp/0988934736/