Review of Rebel Song
Rebel Song is a modern day love story set in Arelanda in Europe. It is exciting and will keep you reading from the first page to the last. It is the story about the prohibited love between Princess Elyra and the winemaker Rogan. Her father, the king, and Pantone keep the rich very rich and do not care about the poor or the ones who fought wars for Arelanda and their king. Rogan is part of a rebellion to overcome the royals when he meets and falls in love with Princess Elyra. They know that being in love can be very dangerous, yet their love does not waver. Then when things get worse……Buy Rebel Song today to find out what happens in this exciting love story between the Princess and the Winemaker. I absolutely loved the book and know that you will too!!
Rebel Song may be ordered here: http://www.amazon.com/Rebel-Song-Amanda-J-Clay-ebook/dp/B00PTC7KWA/ 
Dale Wiley's The Intern 
The Intern is a murder mystery with humor. I love those. It is the story of Trent Norris who is an intern with the National Endowment for the Arts and is in the wrong place at the wrong time and who does something quite stupid that gets him framed for murder among other things. You will laugh your way through this thrilling page turner. A must have for the mystery lover. I highly recommend it.
Dale Wiley's novel may be ordered here: http://www.amazon.com/Intern-Dale-Wiley-ebook/dp/B00USSDLPA/
Louis Piechota's A Rose in the Desert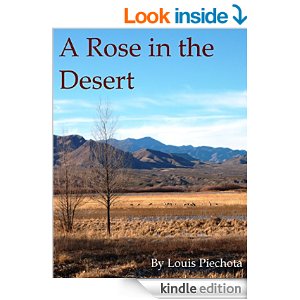 A Rose in the Desert is a fantasy with plenty of suspense and adventure. It is the story of 14 year old Ethyrin who is the nephew of the King of Arandia. The King wants Ethyrin killed. Ethyrin runs and goes to Calimshaan with his cousin Prince Irudan who is leading an envoy there. Calimshaan is known as the City of Delights, the king and others also want him dead. Ethyrin meets Nuara, a girl that was kidnapped and sold into slavery. She is made to sing at the King's whim because she has the most beautiful voice around. Ethyrin and Nuara both escape to find a way to get Nuara home with her people. On the way they encounter dangers and every adventure imaginable. This would make a great gift for the tween or teen in your life. I highly recommend it.
Louis Piechota's novel may be ordered here: http://www.amazon.com/A-Rose-Desert-Louis-Piechota-ebook/dp/B00IJMZQL4
Tracy Ploch's The Shoebox
(cover not yet available)
The Shoebox will make you laugh and make you want to cry. It is the story of Jessica who gets the chance of a lifetime to go to Ireland for her company. While there she makes many friends and meets a guy….Read The Shoebox and see how Jessica compares relationships to shoes. It is a fun, quick read, and I know you will enjoy it as much as I did.
Tracy Ploch's novel may be ordered here: http://www.tracyploch.com/