Paul Trittin's historical novel Jacobus: A Eunuch's Faith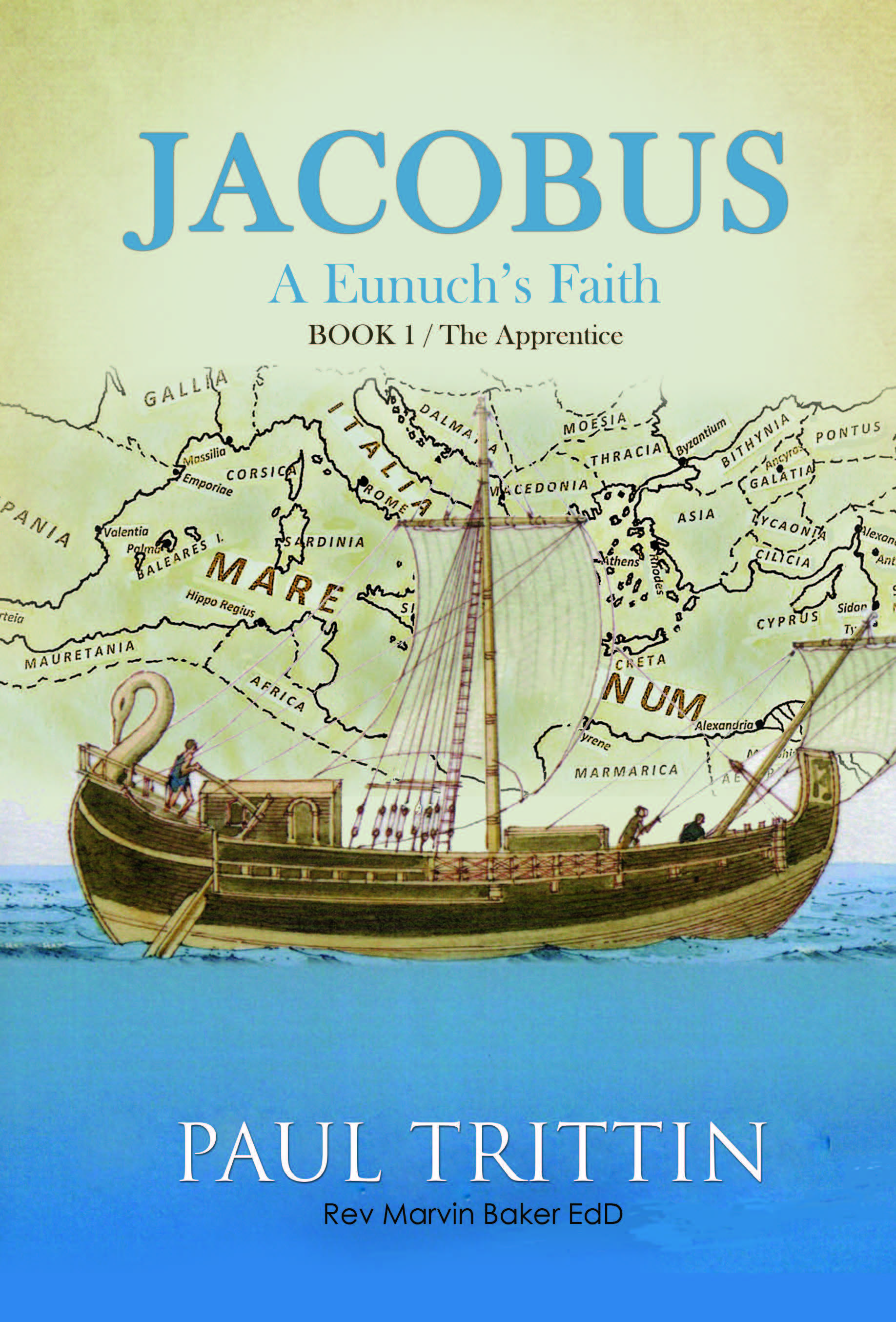 This is the tale of a pair of twins, Jacobus and Josephus, born to Abraham Bar Jacob and his wife. Their mother passed away shortly after their birth. As the twins became older it became apparent they were both natural eunuchs. When they reached the age of manhood, 14, their father took Jacobus to work on his cargo ship, the Dolphin. The Captain took him under his wing and trained him well. The captain then introduced him to his extended family, who took him in and adopted him as one of their own. From this he learned of the prophet Jesus, who was said to love everyone including eunuchs, and wanted people to hear how to give their lives to His Father, God. This book is very intriguing and will hold your interest all the way through. This is Part One. I know Part Two will be just as exciting as the first.
About the book, from the publisher: 
In the first century Roman Empire at fourteen, the legal age of manhood, Jacobus' father contracted him to relatives in Sicily as an apprentice learning his Jewish family's shipping business. Being what the Greeks called a "natural eunuch," he found himself living with two "cut eunuch" Carthaginian slaves who eventually became his lovers. As his apprenticeship progressed, the family recognized his natural leadership abilities surpassed his age. By sixteen he developed a strategy to enter the India trade which succeeded beyond expectations. He also become the second "spouse" of his cousin, the director of Aetna Shipping. Everything in his life changed when his brother-in-law, Simon from Cyrene, was awoken one night by a frightening vision causing some of the family, with their Judeo-Indian partners to take Simon to Jerusalem for Passover.
About the author: 
Southern California native now in Carson Valley, Nevada * Attended Vanguard University in Costa Mesa, California * Served US Army in Congressional Liason during Vietnam era * Vice President of three family held corporations, approx. 100 employees * Recruited to join three colleagues in Brussels to found what is now Global University Director textbook publications * First non-Flemish artist to participate in National Flemish Art Exhibition in Belgium * Director of Operations, Life Publishers International in Miami, Member Editorial Board * Primary Partner, YangTri Trading International, Kansas City * Partner, MIR House Publishing, Kansas City * Partner, BT Concepts, Grand Haven, Michigan * President, Baker Trittin Press, Publisher of Adventure Books for boys * Chairman Tweener Ministries, Sponsor of International Competitions for high school students to write children's books, university scholarships were awarded * Commissioned Artist * Co-founder, Gay Christian Fellowship * International Foreign Missionary for a US-based Protestant Denomination, 16 years * A CLOSETED gay Christian from pre-puberty to 2009 Book 1 / The Apprentice
The Girl With A Pink Crayon In The Back Yard by Vasvi Pande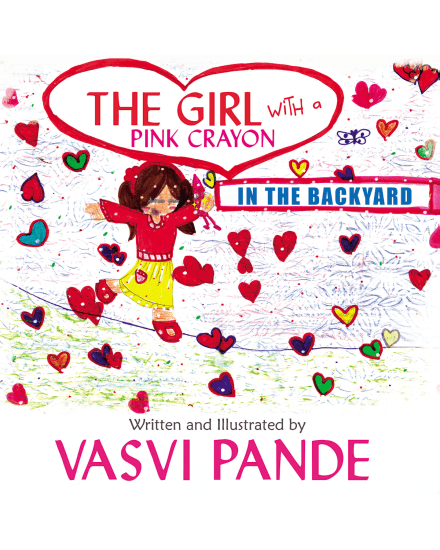 The Girl With a Pink Crayon In the Backyard is the first delightfully cute book. The author is a very talented now, 8 year old girl. She wrote the book when she was a mere 7 years old. Miss Vasvi Pande also did the illustrations for her books. It is about a little girl who is sad and lonely. When she spots a very sparkly pink crayon in her backyard. She picks it up and takes it to her room where she talks to it and takes care of it. She is very excited to take it to school with her the next day. This children's book will be an absolute delight from toddlers to the second or third grade. Miss Pande is a very talented young author and artist. I think she will have a promising career in children's books. I very highly recommend this book.
The Girl With a Pink Crayon at School by Vasvi Pande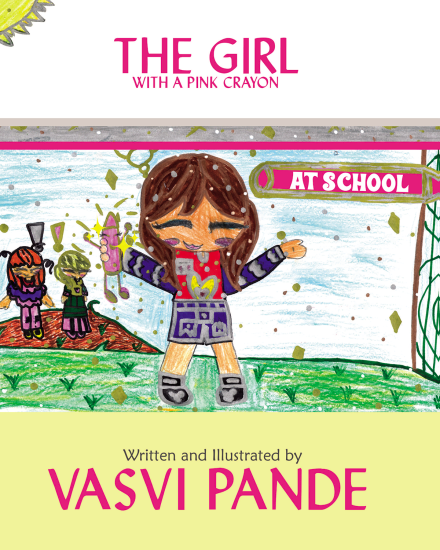 The Girl with a Pink Crayon at School is an absolutely adorable book. Vasvi Pande wrote and illustrated it when she was 7 years old, she is now 8 years old. It is about a little girl who is very lonely and wants to play with two other little girls. She tells her magical pink crayon, then the other two girls notice her and want to play. This is a delightful children's book that toddlers to second or third graders will enjoy. The illustrations are bright and colorful and will hold the attention of toddlers. I completely enjoyed this very cute book. What an inspiration to other children Vasvi is to write and illustrate such a delightful book at the age of seven. I believe Miss Pande has quite the career of a children's author ahead of her.
Krista the Superhero by Vasvi Pande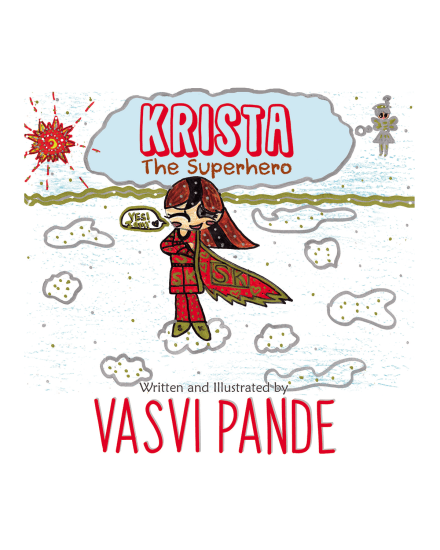 Krista the Superhero is another very cute book by Vasvi Pande. In this book, Krista wants to be a superhero. On her first day of kindergarten she sees a classmate who is about to get hurt and she helps him. This delightful book teaches children how helping others and always being nice to others makes not only other people but themselves feel good. This book has a story that toddlers to second or third graders will enjoy. The illustrations are bright and will capture the attention of a very young audience. I highly recommend this book. Miss Vasvi Pande has a bright future ahead of her as a children's author and illustrator.
The Cloudburst by Rajesh Naiksatam
The Cloudburst by Rajesh Naiksatam is a novel perfect for the tween and teen age group. It is the story of Ganpu Aapla a !5 yr old boy who works with his parents in their dilapidated old house build on stilts. Above a window that says Takloo Chai Shop. The house is next to a bus stop. They used to live in Dabhol India until the government sold them out to foreigners, then they lost everything. While a teacher is waiting for her friend at the bus stop a tour bus with several privileged spoiled rich children breaks down. They all wait at the bus stop until the rain gets much worse. The teacher leads them up the stairs to Ganpu's place and they all go in there. Then the rain gets so bad a flash flood starts and is about to wash the house away. Ganpu gets all of them to work together to build a sturdy raft. They all get on the raft and go to safety. Cloudburst has plenty of adventure on every page. Even teens will enjoy this book. It is definitely a real page turner. I enjoyed it very much and know it will make the perfect gift for a tween or teen.