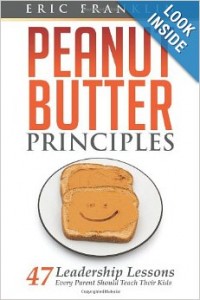 Eric Franklin's Peanut Butter Principles
by Elizabeth Hughes
Peanut Butter Principles  by Eric Franklin is a very insightful and encouraging book. Mr. Franklin touches on some very good points on how to encourage children and others to reach their full potential. In Chapter 16, Mr. Franklin brings up his faith and points out something, I, myself, have learned, that, like the title of the chapter,"Faith Makes all Things Possible, Not Easy", is very true. As the author points out, our journey to reach our full potential and to make our lives a success is not easy, but, with hard work and perseverance, it is possible. Mr. Franklin speaks of how to build the child's self-esteem when helping them. Mr. Franklin tells us of the importance of persevering in our endeavors and not giving up so easily.
I agree with the ideas presented in Peanut Butter Principles by Eric Franklin. Thank you, sir, for a very enlightening book, which I can take into account for my own life as well. I highly recommend Peanut Butter Principles by Eric Franklin for anyone, not just parents, teachers or mentors. It has some very excellent guidelines anyone can put to use in their lives. Peanut Butter Principles is most definitely my cup of tea!!
Peanut Butter Principles is available here: http://www.amazon.com/Peanut-Butter-Principles-Leadership-Lessons/dp/0615912826/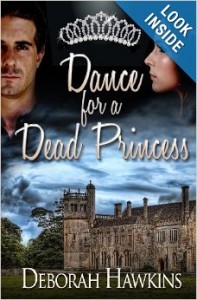 Dance For A Dead Princess
by Deborah Hawkins
"Dance for a Dead Princess" by Deborah Hawkins is a really, really good novel. It had romance, suspense, murder, intrigue and will keep you on the edge of your seat page after page. When you think you have guessed the mystery, it will take you on a surprising turn.
Dance for a Dead Princess is the story of Nicholas, the Duke of Burnham who is widowed and has a charge who is a 16 year old girl, and who is quite a handful. He is trying to sell the Abbey, although the estate has been in the family for centuries. He meets Taylor, an attorney, who is handling the sale and also managing the estate of a very good friend of hers who was murdered. The deceased has a tape made by Princess Diana that reveals secrets people are after, including about her demise.
While everyone processes the legal papers concerning the sale of the Abbey and uncovers Diana's tape, murder and romance take place. This book is absolutely fantastic and the ending is very surprising, I did not see that coming!! Of course, I will not reveal the ending, you will have to read that for yourself!!
I very highly recommend Dance For A Dead Princess by Deborah Hawkins. I would even like to see it made into a movie! Dance for a Dead Princess is most definitely 'my cup of tea'!
Dance for a Dead Princess is available here: http://www.amazon.com/Dance-Dead-Princess-Deborah-Hawkins/dp/0988934728/