Flight To Ohio by Mary Anderson Parks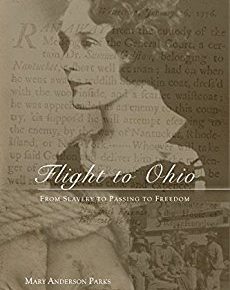 Flight to Ohio is an emotionally powerful and gripping story of a woman and her remaining child fleeing to Ohio to be free from slavery. They have been abused in the most horrible ways and her daughter and grandchildren had even been sold to another slave holder. Nellie and her son Tom flee Virginia to what they believe will be a better life in the North.  Her son was fathered by the plantation owner after he raped Nellie. Her son was born with light enough skin color to pass for a white man.
They split up once they cross the state line. Tom finds work with Daniel Fullerton, who sells real estate. After working for Mr. Fullerton and proving how trustworthy and smart he is, Tom suggests they buy a farm and start selling livestock also. Tom becomes a well liked and respected man in the town. He soon begins to court the young Sarah Long. Another man, a drinking and foul tempered man, also vies for the attention of Miss Long. Miss Long and Tom soon marry and have children. All of the children turn out to also pass as white. Things begin to look up for Tom and his young family until Hank Dexter's jealousy begins to fester.
This book is emotionally powerful and gripping. You will not be able to put it down until the very last page. I highly recommend Flight to Ohio.
The Human Inside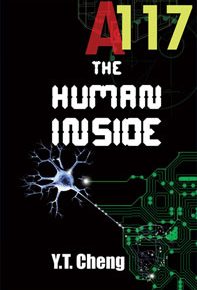 The Human Inside is a sci-fi  fantasy with a little romance and
humor. It is a fun story that can be enjoyed by middle
school aged kids to adults. It takes place in the 22nd century. Dr.
Kendrick of Amborg Industries has taken technology to the
next level and has enhanced young adults and teens to be
half human and half amborg. They are enhanced with advanced
computer technologies. They are half human and half robot.
They are trained to help law enforcement and military
personnel to fight the gangs that are trying to take over
L.A.
Each amborg has a technician who works with them and
trains them and helps them to better fit in with the humans.
Most cannot speak with their vocal cords. They speak with
their minds linked to special bracelets. The Amborgs cannot
be harmed or killed like normal humans, which makes them
more valuable in battle. This is a fun and entertaining book
with adventures galore. It will keep the reader on the edge
of their seat until the very end. I highly recommend The
Human Inside by Y. T. Cheng.
The Secrets of All Secrets by Douglas Wells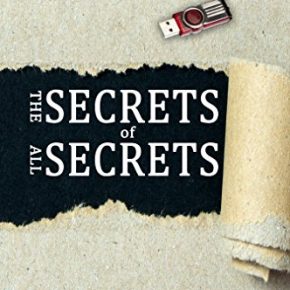 The Secrets of All Secrets is a fun adventure that you can read quickly. It is fast paced and will keep your interest until the last page. It is about a USB that is placed in two people's mailboxes by a mysterious person. Zane and Dali have been specifically chosen to carry out the search for The Secrets of All Secrets. They are instructed to place the USB in their computers at different locations. The USB can even communicate with them as if they were talking to someone face to face. The adventure begins when different people start chasing after them to obtain The Secret of All Secrets. I absolutely loved the book and highly recommend it.
Silver Lake by Gerry Poulin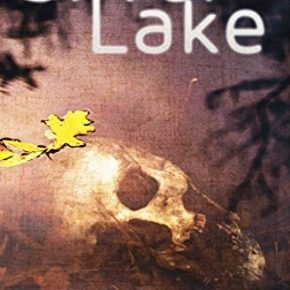 Absolutely Fantastic! Silver Lake is a gripping thriller that will grab your attention from the very first page. It is one of those rare novels that will ramp up your adrenaline, so when you reach the end you will have to wait to read another because nothing will compare.
Tom Farrell's father has died and left Tom deep in debt. Tom is a teacher at an elementary school. Before Tom can even bury his father someone cuts the brake line to his truck. He gets into an accident and finds out someone has tried to kill him. Other bodies start turning up. In an ill fated attempt to mess with Tom, someone places a gun in a gym bag in his school locker and gets him fired. This is definitely a must read. Excellent book, excellent writing. I would love to see this book made into a movie. I very highly recommend it!