A Fool and His Honey by Charlaine Harris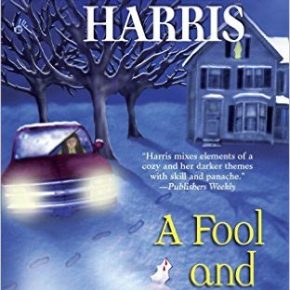 This is a book I checked out from my local library. Charlaine Harris is the author of the Sookie Stackhouse series which became a series on cable TV. This series is the Aurora Teagarten series. Aurora Teagarten comes across many dead bodies throughout each of the series and then goes about solving the crimes. It is well written and really keeps the reader engrossed throughout the whole book. It is very hard to put down the book once you start reading. She has your attention from the very first page. I recommend this to anyone who loves Charlaine Harris books and others. This is a series in which you don't need to read the first in order to know what is going on. You can pick up any book in the series and get interested right away. Definitely worth the read!
Shot Through Velvet : A Crime of Fashion Mystery by Ellen Byerrum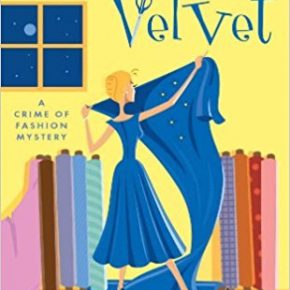 In this "Crime of Fashion Mystery", Lacey Smithsonian is touring the Dominion Velvet factory in Black Martin, Virginia with her boyfriend Vic Donovan, a security specialist/private investigator. As they are touring the plant, they come upon a body tied to a spool of blue velvet immersed in a vat of blue dye. The victim is a very much despised person in upper management at Dominion. What ensues is a hilarious and adventurous story that will keep you turning pages until the end. This is another brilliant murder mystery by Ellen Byerrum.  A must read for mystery lovers. I personally loved this book.
Death on Heels by Ellen Byerrum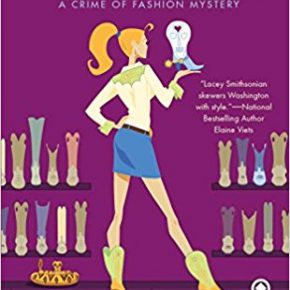 Death on Heels is another book in the A Crime of Fashion series. In this installment, Lacey Smithsonian, the fashion reporter for the Eye Street Observer in Washington DC, goes to Sagebrush Colorado to interview Cole Tucker her ex-fiancee, who has been arrested for the murder of three women. She doesn't believe that he is the murderer, until during her interview in the jail, he throws Lacey over his shoulder and makes a break for it.
He takes off and explains to her that certain people are vey interested in all of his land for the minerals under the land. Now Lacey has to decide whether her ex fiancée is a murderer or just a jerk, and if she is going to help him get to the bottom of it and try to prove his innocence. This is another page turning adventure that will keep you on the edge of your seat until the end. I definitely recommend Death on Heels for the mystery lovers out there.
Please request these books from your local neighborhood bookstore!