Storms of Deliverance by Larry Higdon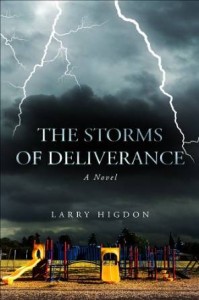 I just finished reading Larry Higdon's Storms of Deliverance and I enjoyed it.  The plot was well thought out and the characters were well developed as the story progressed.  I reached a point where I did not want to put the book down.
Now I want to read Higdon's second book, The School From Hell.  Reading the first novel will certainly help me in understanding this second novel because now I will be more familiar with each character's personalities and background.  The plot of this story is a very interesting one and kept me wondering how each character will resolve their problems.  The ending phrase "Until Ellen" makes readers want to find out if she will appear again to Johnson and start helping him and the others to begin healing and find happiness in their futures.
School From Hell
(cover photo and book not yet available)
This second novel, Horseshoe Farms (or Horseshit Elementary, as some call it) continues the saga of Katy Nguyen, from his first novel, as a professional counselor for children in Georgia.  However, upon arriving to start her new job, the school is not what she expected.  The characters are well developed and certain ones play a pivotal part in the story.  There are twists and turns to the story but with all the problems and environmental and personal dangers to the children, Katy perseveres with her life's goal that had been emblazoned on her coffee cup ––"Children Are For Loving".