Give a Girl Chaos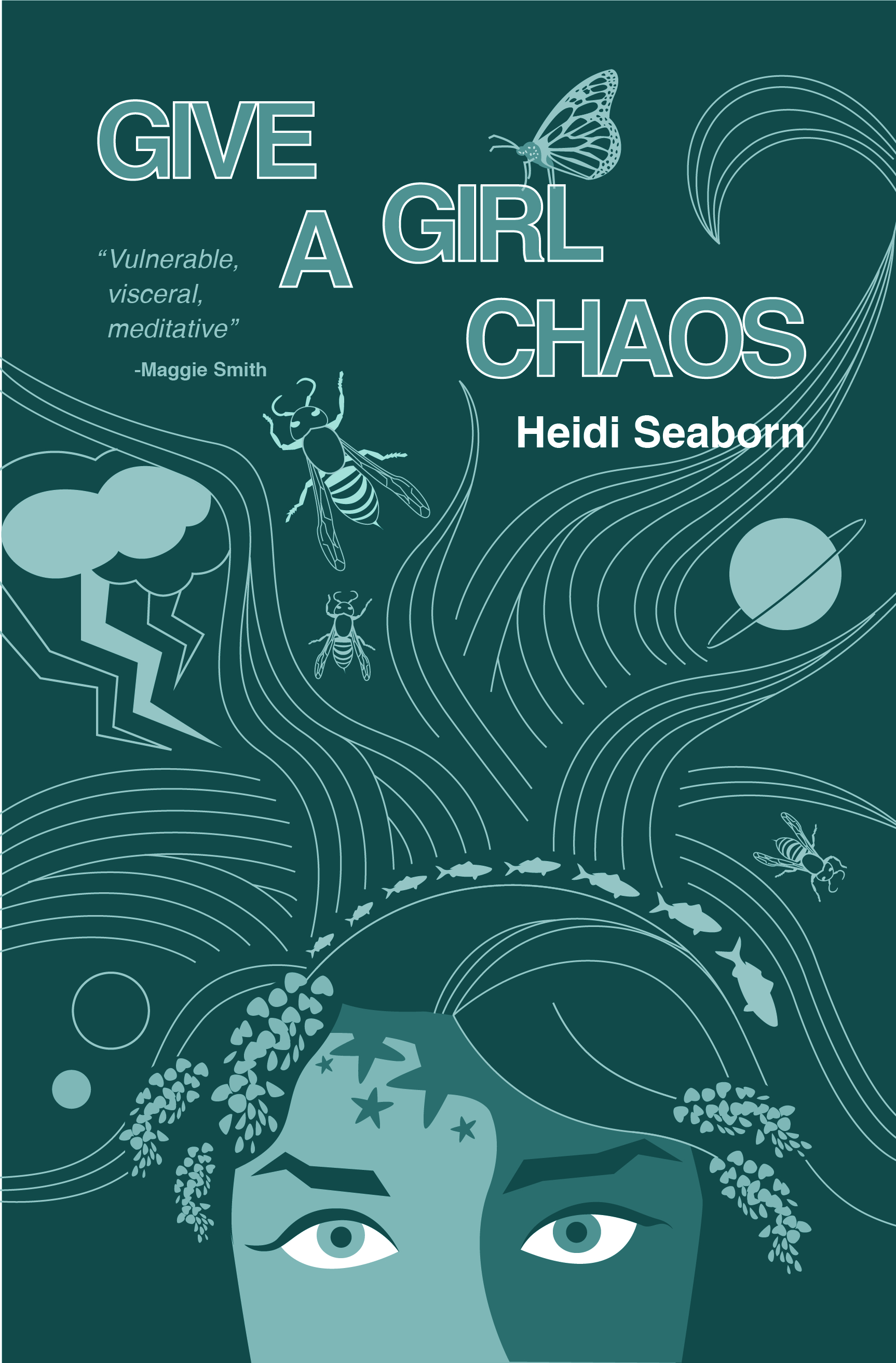 Chaos arrives screaming—born
                                                under a certain star    shifting
                                                            every day that follows
Chaos
            is an unplanned dinner party
            the neighbors stop by for a drink      and never leave
Chaos  lives in homes
                        in bottles         stashed             in the linen closet
                        in dreams  
when the lights go out       
                                                            and families turn upon themselves
Chaos is cancer
        rooting our bodies' richest soil
Chaos  never
                        travels light     over packs      overstays
                                                                        delays departures       
Chaos—
            another name for a dark heart
                                    roaming   
 back alleys of our world
seas rise     maelstroms slash
                        skies seethe
                                    fires spark                   spread                                 
O she is hungry these days
                                    this goddess of Chaos    this mother
once a girl who dreamed big
a girl who birthed a universe
imagine what she could do now
a girl who harnesses Chaos
can whip          winds into a horde
                                                of butterflies   
hush hurricanes     settle
storms             salve spirits
O give a girl a little Chaos
see what she can do
Don't bother to knock come on in
you are meant to be here
                                    sometimes                              
                                                Chaos is the way in.
Stop Motion
~after a photo of frozen monarch butterflies taken in Michoacan, Mexico by Jamie Rojo
Once in Santa Cruz
            hundreds of monarchs swirled
                        around me
     flirted
                                    with eyelashes   fingers
then flew to Mexico.
Clutter of paper tigers
                                    spread across a canvas of snow.
Wings fanned in all directions   frozen          
                                                            in flight.
Sometimes we fail to see the signs—
don't    not now   maybe never
drive when you're tired
walk alone at night
marry that man.
We fly into cold weather
                                    wings of persimmon  
                                                            gold     flash.                                   
Travel Advisory for Turkey
~A suicide bomber killed five including two Americans, and injured 36 others in a busy tourist area in Istanbul, March 19, 2016
I will not snake the Spice Bazaar maze in Istanbul,
past the sacks of psychedelic colored baharat and herbs.
I won't inhale cumin, sumac, saffron and mint.
I will not bring home tuzlu nuts and Turkish Delight
or know the bolt of Arabica coffee sipped from a demitasse
with a bite of beyaz peynir cheese.
I will not heed the imam call to prayers,
look to the minarets to guide me to the Sultanamhet mosque,
wrap my Pashmina over my head, shoulders, slip off my shoes
find my place among the women,
stand, kneel, touch my head to carpet, stand.
The prayers a requiem for the dead, the dying.
I will not haggle with the rug dealer as he and his cousins
roll open another hand-knotted Anatolian carpet, blood
red, starred with indigo and gold blossoms.
"This one. Ma'am, this one best for you."
It will not arrive on my doorstep months later
wrapped in burlap, unfurling a scent of shisha smoke.
I will not see girls, braids bouncing as they skip
to the jump rope's beat, the sing-song song.
Boys dribbling, rising to layup, block an imaginary basket.
The ball tapping from outstretched hand to hand,
skittering off down the dirt alley, mothers pulling
aside curtain doorways to scold.
I will not eat charred sheep kebaps
or drink rati and pick lüfer off the bone by the Bosphorus
imagining Ottoman trading ships navigating its length.
I will not journey to the Hattusas
as the sun illuminates history, stories, what remains
from thieves, Pergamon's curators, ancient battles
like this war: the remnant of an Imperial tapestry,
a lost province, gaming foreign powers, the Euphrates
knotted near the border, its mouth burned dry.
Beyond
            ~Krabi, Thailand 2013
Our bed smells of coconut milk. Outside
            the tide washes through splay-fingered
                        mangrove roots, leaving a lacy stitch
with each wave
            as a fisherman heaves
                        his longboat onto the beach.
An acacia tree shades
            the gardenia bush beside
                        this pink house on stilts,
                                    salt air.
A boy riding a lemon-colored motorbike,
            drops boxes of peppers
                        at the kitchen door.
                                    Across the road,
the sign stabbed
            into the grass warns
                        Entering Tsunami
                        Hazard Zone
Edging the jungle,
            a golden girl
                        nests in the pungent
                                    branches of a mango tree.
She sees beyond
            the ocean's edge,
                        the earth curving away,
pulling the tide like a blanket.
Bearing Fruit
At first I wanted to keep you                     
                        like a sweet yellow plum
I picked on a New Hampshire back road
at the slick start of day
blackberries slipping brambles, tar sticky
 as you were at birth
baby boy
            tucking your little wings
                                    against the sweat
                                                and seep of my milky body
I held you till morning
to see you in the light that bled
                                                through the window
when it came time to name you
cotton-swaddled boy
I scrawled your name
hesitated
gave you a father
gave myself away
like the bride I wasn't/was
mother so happy
mother to a boy
plucked from the ashes of a fire
forgotten
            with the thought of you angel
wind-spirited   
lifting 
you  ribbon-tailed kite
flight  flight  flight     
over fruited lands.
A Girl's Guide to the Galaxy
I hadn't seen stars in ages   sky          tarred with winter's brush
            tonight they turn on    one by one       as if stirred to life by motion
lighting a path home               I could follow it          build a house in the galaxy
                                    its milky wonder my milky tea     
would I stand on my porch at night                look for Earth—       
                                    for the girl discovering           sea stars in tidal pools
               the woman lying in a field in Bourgogne                 inhaling stars
before hitchhiking on to Florence   love waiting       counting on stars
                        to guide her up            into a Himalayan night           as the moon
summits Everest         slips into China.         
                                                                        time backbends   stretches
            a yogi              centering to nothingness                    
before exploding—
                        a burning starry universe                   
from my celestial perch
            I see     myself             raise     my son's finger
                                                to trace the big dipper   little dipper
                                    drizzling 
                                                honey onto this         
                                                            and every night.
A Clean Kitchen
Sometimes I worry that the world's got a cold heart. Will it ice over like food left too long in my freezer, little crusts of frost growing fungus under the Tupperware lids? My freezer needs to be cleaned & by that I mean the refrigerator must be cleaned, everything pulled out, shelves wiped & by that I mean the kitchen too, oven, range, cabinets & by that I mean the whole fucking house & the raised beds in the garden need to be planted & the house & the garden where I write at my desk with the dog's dirt & fur curled around my bare toes & the hum of the refrigerator reminding me it wants to be cleaned. I just read a poem from a poet that wants a clean heart, but I want a clean kitchen & a clean poem & frost-free heart.
Single Handed
Hold steady
Ease into the wind
I remember my father's
Directive—hold a firm tiller
into the wind, sails luffing.
Sail in, come up, catch the wind's
edge. I know to ride its strong thrust,
anger seething along a straining seam
blowing apart, when to fall
off, let the wind
rage on past. To need
no one, to sail solo.
How It Ends
I think of you. I see our road,
pavement worn, an elephant hide
smudged, yellow line dividing
our coming and going; you,
like the furred grass, shoulders edging
down the sloping hill
to the stone beach. Now I hear the gulls
swooping into the sea.
I've walked beneath the moon's slice
until the jagged glass under
my skin polished sea smooth. You are
my blue washed days.
We untangle our garden
exhale persimmon sun.
the Orcas breach.
In the woods behind our home
a massive hornet's nest, emptied.
A gossamer paper lantern, we
light a candle, send it burning
into the night. Ah, the hopes of hornets,
you and me.  The road ends here.
Give a Girl Chaos