Scene from 17c, by Big Dance Theater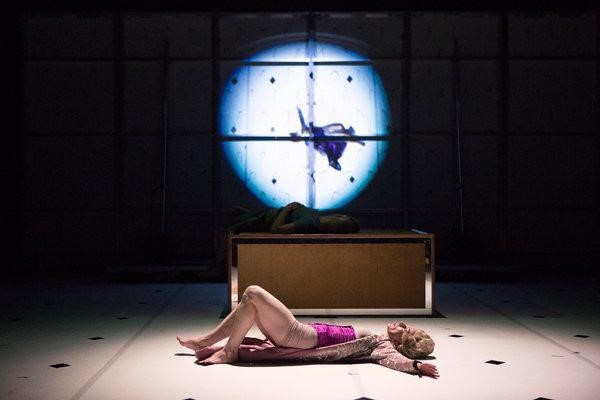 BURNING DIARIES
A review by Christopher Bernard
17c
Big Dance Theater
Zellerbach Playhouse
Berkeley, California
Diaries: those curious amalgams of introspection, examination of conscience, honesty (or the lack of it), performance of the self in the mirror of the mind, costumery of the soul, writing of one's own story, exhibitionism, exploration, assassination, and secrecy. Some claim the modern diary—part narcissistic parade before oneself, part genuine confession of faults, part self-indulgence, part self-flagellation, which today has morphed, from the soul communing with itself into social networks' exhibitionism and the genius for banality of writers like Karl Ove Knausgaard—was invented by Samuel Pepys.
Pepys was a Londoner, an administrator in the Royal Navy, and member of Parliament, who kept a regular diary for ten years, between 1660 and 1669, between the ages of 27 and 36, which was discovered and published to instant, and continuing, fascination by the public. People have been poking at Pepys ever since, with multiple editions, the earlier ones bowdlerized, the more recent ones even more complete than some might want, and including an online version, www.pepysdiary.com, which provides a typical entry for the day on which you visit (on the day I visited, it was the entry for December 14, 1665), and is constantly being annotated by fans and others.
One can find little to pity the poor fellow after exhibiting his own weaknesses with as much relish as this philandering, self-absorbed, self-promoting, epicene, self-deceiving, obsessive recorder of his own misbehavior—even if he never meant it to be read or (heaven forbid!) published!
Of course this begs the question haunting all diarists before and since: doesn't every diarist secretly hope to be read, published, honored, become "famous"? (Full disclosure: I have been myself a more or less regular diarist since I was eleven.) Of course we do! We lie if we claim otherwise; at the very least, we hope some particular person will look it over with a sympathetic eye: a parent, a lover, oneself when old, God.
We rarely daydream about a critic, scholar, artist, interrogater who, though in all good humor, is as frank about you, sir, as you seem to be about yourself.
Which brings us to 17c, which, as part of its stimulating, and much-needed, RADICAL Women's Work series, Cal Performances brought into town in mid-December: Big Dance Theater's award-winning, dry-eyed exploration, witty send-up, and political meditation on Pepys' voluminous self-revelation. And after the wave of political gains by progressive women in the last elections, it could hardly be more timely or more welcome.
The smart, juicy, often funny piece plays with dance, monodrama, dialogue, music, sketch comedy, play-within-a-play and mime to create a good-humored but well-deserved deconstruction of the life, as self-depicted, of the legendary diarist—and notorious disrespecter of women.
Pepys lays himself completely open to a feminist interrogation of his life: a compulsive philanderer, he is caught at least once by his wife in flagrante with the family maid, and he describes, briefly but indubitably, a rape. Both incidents appear in the piece, the first in an extended reading, updated to modern argot, in a very funny monolog by Paul Lazar, the second in a brief, devastating recitation of one of the diary's darkest entries. Though, unfortunately, not its darkest.
For all the comedy, tragedy, and farce of Pepys' depiction of his own life, the soul of 17c is not to be found there: that lies in the invisible words, the burning diaries, of Pepys' wife, Elizabeth, or Bess, performed with grace and wit in a 2017 Bessie Award-winning performance by Elizabeth DeMent.
Bess's silence plays in counterpoint to Pepys' logorrhea. And the two come together in clash to reconciliation, to clash again, to bedward bliss to masculine displays of economic power parading as acts of contrition, until the fatal day comes when the diarist's profound cruelty goes on display for all to see: when he discovers that Bess is also keeping a diary, rips out the pages one at a time, and at last burns them all. And he is not even ashamed to report it, though the irony of his action seems lost on him. He never seems to occur to him that the only way to spare himself eternal exposure would be to destroy his own.
The script sometimes suffers from a certain intellectual myopia (the claims in the introductory monologue that life and existence are "meaningless" are tendentious at best; my own response to such contemporary shibboleths is "prove it") and from moral anachronism: that Pepys married Elizabeth when she was fourteen needs richer exploration than a flippant self-righteousness.
The otherwise intensely clever script was written and adapted by Anne-B Parson, and includes texts from Euripides, Eugène Ionesco, and Claire Tomalin as well as from the unperformed playwright and contemporary of Pepys, Margaret Cavendish, a stripped-down version of whose satirical and "radical feminist" play, The Convent of Pleasures, was performed as a play-within-a-play. Some of 17c's most entertaining and perceptive scenes are based on the often wonderfully weird visitor comments from www.pepysdiary.com. The other players included sprightly Kourtney Rutherford and Cynthia Hopkins and a wittily voguing Mikéah Jennings.
EDITOR'S NOTE: On a personal note, Christopher Bernard was inspired to create this poem about Samuel Pepys after seeing 17c:
I Do Not Love Thee, Samuel Pepys
By Christopher Bernard
I do not love thee, Samuel Pepys.
Alas, and zounds! I cannot see
what all those readers see in thee.
Thou givest me, always, the creeps.
Inventor of the diary
as paper version of FB
in the seventeenth century,
I'll give you that, most willingly.
But nothing more. He sows who reaps.
You are too close to that which keeps
me up all night. He dreams he leaps,
to drown, who can't escape the deep.
We laugh, we glare.
But will we dare
when we're laid bare,
and Samuel peeps?
He falls who cannot rise; he sleeps.
But acts are hard, and words are cheap.
I do not love thee, cannot bear thee.
In thee I see me, Samuel Pepys.
_____
Christopher Bernard is co-editor and poetry editor of Caveat Lector. He writes on dance, drama, and art for Synchronized Chaos. His most recent book is the poetry collection Chien Lunatique.